Global Crossroad – Meaningful Volunteering Abroad
Global Crossroad is one of the leading volunteer abroad organizations in the world. Since 2003, we have been running the most affordable and highly rated volunteering abroad programs, internship abroad opportunities, summer escapes, mini- adventures, hands on medical volunteer programs, alternative spring break trips, family volunteering projects, and high school and college group programs in 18 countries across Asia, Latin America, and Africa. Our programs have been trusted by thousands of volunteers for well over a decade.
During your chosen program you will receive unparalleled in-country support from experienced staff, which will ensure your volunteer experience is safe, life changing, worthwhile, and fun. We invite you to join us, if you are thinking of making a commitment to positively impacting the world while abroad without costs being through the roof.
Featured Trips & Highlights
Volunteer Abroad Guide
Download Your Free Volunteer Abroad Guide Ebook
This comprehensive Volunteer Abroad Guide is jam-packed with comprehensive information so you can begin your life-changing adventure without a hitch. From getting started to living overseas and then returning home, you'll discover all the guidance you need to ensure it's a seamless process from the beginning to end.
Get Free Volunteer Abroad Guide Book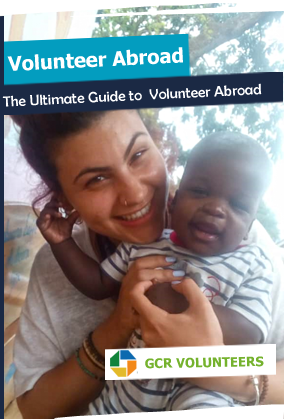 Trusted by Thousands of Volunteers Since 2003
"

The monastery where I stayed was awesome. The monks were great and treated you with great respect. I would recommend this opportunity to all men regardless of the age. I am 66 and did not have a difficult time fitting in.

– Frank (Volunteer in Nepal)
"

Our experience in Guatemala was incredible and so impactful! I highly recommend Global Crossroad. I also appreciate that there were no hidden fees or additional costs sprung upon us once we got to Guatemala. We felt and were safe the entire time we were in the country.

– Stephanie (Volunteer in Guatemala)
"

I'm sure to visit Ghana year after year. Wow!!! what can I say? My experience was truly life changing. One thing I learned for sure is that I didn't find my purpose here…My purpose FOUND ME!!!

– Dianedsy (Volunteer in Ghana)