Looking to bringing small changes in lives of people?
Tired of expensive Argentina Volunteer programs?
The best price, guaranteed; starts $454

Pay fees directly to your host families and projects

Safe and meaningful volunteer experience

It will change you forever ……………
Follow your heart of hearts and create the most fulfilling vacation you will ever have! When you volunteer in Argentina through Global Crossroad's professional humanitarian programs, you will prepare yourself for memories of a lifetime!
Argentina is a country of dramatic contrasts in its scenic landscapes and in its multicultural population. You will revel in the natural beauty of the land and the diverse, European-flavored architecture and culture in its cities. You'll visit incredible Buenos Aires, take in atmospheric Inca ruins and learn about the extremes, good and bad, of its deep history. Your heart and soul will warm in Argentina's wonderful climate and become enriched by your interactions with its cordial people. You can have a concrete effect toward improving the lives of many deserving Argentineans and reducing the enormous disparity between the haves and the have nots.
Consider joining us in our unforgettable Volunteer in Argentina program. Contact us for more information today. You and your heart will never be the same
Volunteer Programs in
Argentina
The Global Crossroad volunteer programs in Argentina are in Córdoba and Buenos Aires. Volunteers can choose one of the five projects and share love, enthusiasm and support with locals who need it the most! Global Crossroad's focus on the following programs:
Dates and
Prices
All volunteer work in Argentina (Volunteer and Spanish Language Studies) begin on the 1st and 3rd Mondays of each month, though we allow for flexibility due to travel constraints.
Global Crossroad is committed to offering quality volunteer abroad programs at a very affordable price. We strive to keep our costs low so that our volunteers benefit from the lowered program prices. The humanitarian side of the business is our passion.
Global Crossroad's application/registration fee: US $299. The application fee covers our cost of advertising, program promotion, and office expenses (rent, utilities, and staff salaries in USA office).
In addition to the application fee, volunteers are required to pay weekly program fee. You pay your weekly fee directly to your host families and projects. This way, the fees you pay will benefit those who deserve it (not for company profit).
Weeks
Home stay private room/half board
Home stay private room/no meals
Hostel shared room/ no meals
Medical/ No meals

1 Week
$510
$468
$454
$504

2 Weeks
$650
$566
$538
$638

3 Weeks
$790
$664
$622
$772

4 Weeks
$930
$762
$706
$906

5 Weeks
$1,070
$860
$790
$1,040

6 Weeks
$1,220
$948
$874
$1,174

7 Weeks
$1,350
$1,056
$958
$1,308

8 Weeks
$1,490
$1,154
$1,042
$1,442

9 Weeks
$1,630
$1,252
$1,126
$1,576

10 Weeks
$1,790
$1,350
$1,210
$1,710

11 Weeks
$1,910
$1,448
$1,294
$1,844

12 Weeks
$2,050
$1,548
$1,378
$1,978
What the fee covers or doesn't cover?
Mandatory Comprehensive Travel Insurance $3.49/day
Spanish Lessons (10hrs a week, M-F) $120/Week
Learn Spanish in
Argentina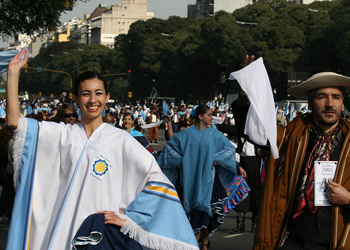 Global Crossroad offers highly affordable Spanish language classes in Argentina. These classes are only for Global Crossroad volunteers participating in our volunteer programs. In Argentina, Global Crossroad partners with effective and respectable Spanish schools. They employ qualified and experienced Spanish teachers that carry out Argentina's most thorough and valuable Spanish courses. This Spanish program is structured so that volunteers can work within their project and learn Spanish at the same time. Volunteers may take Spanish classes from 9:00-11:00 am, eat lunch and volunteer in the afternoon. Alternatively, volunteers may work in their projects in the morning and take their Spanish classes after lunch from 2:00-4:00 am. Most volunteer projects are located near the Spanish school, so volunteers may easily design their personal schedules. As a Global Crossroad volunteer in Argentina, you will immerse yourself in Argentinean culture and enhance your experience by learning and improving your Spanish.
Argentina Volunteer Program
: Room/Food/Supervision
Volunteers in Argentina working in Córdoba will stay in a hostel in a safe and centrally located area. The cost of meal is no not included in your weekly volunteer fees, so please budget about $50 a week of your meals. Throughout the volunteer project, Global Crossroad staff will constantly stay in contact with volunteers through either onsite visits or via email/telephone. With longer placements, we visit our volunteers every two weeks (when possible) and volunteers are always welcome to contact the local country coordinator at any time. If project placement is outside the capital city, then our local staff members maintain communication by email and/or phone.
NOTE: Frequently Asked Questions (FAQ) is generic information and should not be used as a definitive travel guide. Travel information and situations abroad change constantly. Participants should consult Global Crossroad or travel advisors to verify this information.