Internship In Nepal
Are you tired of the same daily routine? Do you want to advance your professional skills through an experience in cultural immersion? Have you thought about joining an internship in Nepal that will allow you to grow while adventuring through mountainous landscapes and rich culture?
Interning in Nepal is an amazing idea because you will gain so much more than just a work experience. Nepal is famous for its world-class high peaks in the Himalayan mountains, beautiful landscapes abundant in flora and fauna, and historically significant temples indicative of the country's diverse culture. Traveling here will encourage both your professional and personal growth; you will become more independent, proactive, and flexible when you're pushed outside of your comfort zone in this fascinating country.
Embarking on this incredible internship is a great opportunity. Whether you intern with an orphanage, assists doctors in our medical programs, care of elephants through conservation work, explore the Buddhist religion by teaching young monks English, contribute to photojournalism efforts, or teach English in schools – an internship like this will change your life! Not to mention that while you advance your skillset, you'll also be making a major impact on less fortunate countries and communities.
To learn more about our Nepal internship programs, Global Crossroads invites you to browse through project options below. Once you've found something that looks like a good fit send us an email and we will guide you through the rest of your journey.
Popular Internship Opportunities in Nepal
Global Crossroads offers an amazing variety of internship opportunities with many projectsto match your needs and interests. Here are a few of our most popular:
Dates and Fees
All internship programs start Monday although we allow for flexibility due to travel constraints.
Global Crossroad is committed to offering quality programs at the world's most affordable price. We strive to keep our costs low. The humanitarian side of the business is our passion.
Global Crossroad's Nepal internship program application and registration fee cost US $299.
In addition to the application fee, you are required to pay a weekly program fee. You will pay your weekly fee directly country coordinator. And he will distribute it room, food, and project. This ensures the transparency of your fee. And this way, the fees that you pay will benefit those who rightfully deserve them, and not for company profit.
The program fee for internship and volunteering is basically same in Nepal. However, unlike volunteers, interns in Nepal often work closely with guided supervision from a local project director, and a small weekly supervision fee ($25-50/ week) may be incurred in addition to volunteer program fees.
Learn more about our highly affordable volunteer program fees in Nepal.
Program Fees Cover:
Accommodation (volunteers house or host family)
Food (local food 3 times a day)
Airport pick up/Transfer
In-country support
Program Orientation
Personalized project
Pre-departure information
Certificate of completion
Fundraising ideas and letters
Discount for returning volunteers
Program Fees Exclude:
Visas
Airfare
Personal expenses on soft drinks and foods
Daily transportation
Airport return transfer
Nepal Internships vs. Volunteers Programs
In general, volunteer programs abroad focus on humanitarian outreach and project support. Volunteering is popular amongst people who want to share their love and passion for underprivileged children, impoverished communities, or conservation efforts in need of resources.
Internship programs focus on creating a real-world learning environment for interns and students so that they practice professional development and obtain new skills. Similar to volunteers, interns may work on a variety of projects (many times alongside volunteers) that benefits local communities, children, wildlife and similar projects. Teaching programs, medical outreach, and children's support are the most popular internship projects.
Accommodation and Meal for your Internship in Nepal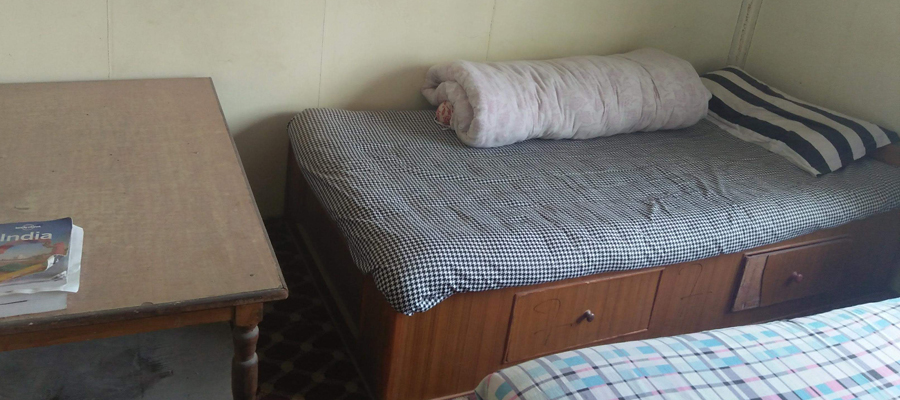 Global Crossroad arranges for shelter, food and supervision of our interns throughout their stay in Nepal. Depending on the project and location, interns will either stay in our volunteer house, or with host family or in the project site.
Accommodation is simple, clean, well equipped and is located in a safe and much reputed community. Most of the interns prefer staying with the host families to understand the country and the culture better.
We provide three meals a day i.e. breakfast, lunch and dinner. Once arrived at the project centre, you shall have an access to the in-country coordinator's mobile number and can be in frequent touch.
Learn more about your accommodation and meal plans in Nepal .
Field Support and Supervision
Once your Nepal internship program begins, our local staff members stay in constant touch with you. Interns staying in Kathmandu will see staff daily, yet all interns have access to our in-country staff. If a project is located a substantial distance from our offices, then our local staff communicates by either email or phone and visits every 2-4 weeks (if possible).
We recommend that you stop by the office once a week, if you are staying/working in the local area, to give feedback on your accommodations and service project. Many minor issues can avoid escalation with a just little extra communication. Your project will have local staff members in addition to our in-country coordination staff.
We are available for you at the local office via email and phone for your entire trip. It is our job to make sure that you are safe and healthy during your time in Nepal.
College Credit For your Internship in Nepal
We do not have provisions for college credit for internship projects. If mandatory, interns are advised to consult their own college/university and pre arrange the whole project with the concerned faculties and departments.
Global Crossroad shall provide our interns with a letter and certificate on the completion of their internship project in Nepal detailing your projects and activities. The consultations and arrangements with the university are to be done prior applying for the internship program at Global Crossroad.
Free Time
Interns joining Nepal internship opportunity may work hard entire day but they are free to do anything they like during evenings and weekends. A country with loads of temples will not fail to deliver you with varied range of temples built in different era with its own style and art.
Thamel is a place you would prefer to enjoy your evenings at and get yourself relaxed. Besides, there are many places like Nagarkot , Dhulikhel, Pokhara, Chitwan for you to explore the beautiful mountains and scenic views. We do not arrange for leisure activities and sightseeing. However our local staffs and coordinator will provide you all sorts of information on whatever you choose for.
Learn more about your free time and weekend travel opportunities in Nepal
FAQs:
Arrival and departure
Please consult our country coordinator before leaving your home country for your Nepal internship. You will need to fly into Tribhuwan International Airport, where you will then be picked up by a Global Crossroads representative. Please make sure to send us your correct flight information once you have booked your travel. If there are any changes, delays, or if you miss your flight please contact us as soon as possible. We do not offer airport drop-off service.
Visa
In order to travel to Nepal, you need to secure a tourist visa. Depending on your nationality, visa on arrival may be available. Visa extensions are possible once you have arrived to Nepal.
For more information regarding the Nepal internship tourist visa please visit:
elcome Nepal- Nepal visa information
Vaccination
CDC recommends vaccinations against: Hepatitis A, Typhoid, Hepatitis B, Japanese Encephalitis, Malaria, Rabies, Yellow Fever
For more information about vaccinations required for your internship program in Nepal, please visit CDC Website.
How can I apply for an Internship in Nepal?
Intern applications are very straightforward. Simply go to the program website, fill out the online application, and then submit it to us. We will follow up with you within 24-hours of your application submittal.
Why intern with Global Crossroads?
Global Crossroads is a non-profit organization who mission is to change the world. Established in 2003 and trusted by more than 20,000 individuals, Global Crossroads is well experienced in providing outstanding, safe, and meaningful intern experiences in Nepal. Our transparent, tax-deductible fees are the most affordable prices in the world.
Global Crossroads also connects you with unparalleled field support and heart-warming communities who will make you feel like your time spent in your host country is your home away from home.
Our Volunteer Abroad Programs
Globalcross road offers best affordable volunteer opportunities across 20 countries around the world. If you are interested in our highly impactful and rewarding volunteering opportunities in
India
,
Sri Lanka
,
Thailand
,
China
,
Cambodia
,
Nepal
,
Sri lanka
,
Bali
,
Ghana
,
Kenya
,
South Africa
,
Tanzania
,
Uganda
,
Zimbabwe
,
Morocco
,
Costa Rica
,
Ecuador
,
Peru
,
Guatemala
,
Argentina
, and,
Brazil