Internship in Thailand
Do you want to join an abroad internship to gain practical experience and make a difference in the world? Have you ever thought about exploring Thailand? Do you want to take advantage of travel and cultural immersion while advancing your career?
When you embark on an internship in Thailand, you will have the experience of a lifetime. You will embrace your adventurous and spiritual self while serving impoverished communities to develop skills that will serve your career. Practicing your ability to be adaptable, organized, flexible, and open-minded in real-world working scenarios will set you apart from the crowd when you join the job market.
Global Crossroads offers affordable internship programs in Thailand that are sure to suit your needs and interests. Some of these opportunities include childcare, teaching English in rural school or to Buddhist monks, working in Thai healthcare, and working with elephants in a conservation program. This amazing country and its kind inhabitants will give you so much more than just an abroad experience; you will learn invaluable lessons that will stick with you for the rest of your life.
Global Crossroads invites you to explore our program options by reading internship details below and contacting us once you've found the project you'd like to join. Don't hesitate to email us for any questions to concerns you may have!
Popular internship programs
Global Crossroads offers a variety of incredible internship opportunities in Thailand. Find the best programthat meets your needs and interests by browsing through some of our most popular programs below.
Help poor and deprived children by providing them with moments of learning and happiness. The poor farmers, laborers and low class families cannot afford to send their children at child care centers that are expensive.
Addressing this issue we have launched childcare internship project in Thailand that involves special child care centers founded by Buddhist temples and local government at Surin and Ayuthaya catering to the children aged between 2 to 6. Lack of manpower and resources in these centers have led to call in for interns to help the children with basic interaction and stimulation programs to develop their skills.
As a Thailand intern in the childcare/child development internship project, interns work with the child centers for 4-5 hours a day. The most major duties include teaching the training skills and techniques to painting, business, logical reasoning, creativity, gardening, household besides teaching English and other subjects like History, Mathematics, and Geography etc.
Interns can help these children with basic knowledge relating to personal hygiene, dressing, cleanliness and proper sanitation. Interns can engage the children by dancing, singing, reciting poems, acting and playing different types of games. The sole objective is to keep these children occupied with recreational activities and effective trainings. You can also help the center with the administration for its proper functioning.
Helping the little children with the most basic skills and knowledge and bringing a smile on their face would prove to be the most memorable experience of your life. Happiness doubles when shared and so your sharing happiness with the kids will not only help you understand the notion of happiness but make a difference in their lives.
This Thailand internship opportunity can help add value to your CV and boost you career. You can apply for jobs at similar centers, NGO's and INGO's further. The most unexplored tourist attractions and mystifying beauty of the tropical paradise shall add to your happiness of helping the ones who desperately need it.
You require patience and compassion while dealing and interacting with children. Hence, a coping behavior and affectionate attitude towards the children will be highly expected of you. Besides this, there are pre requisites for this internship project.
If you are interested in volunteer programs, we also offer rewarding childcare volunteer program in Thailand.
Being the most common and largely spoken language in the world, English language has tremendous scope for opportunities and growth. The primary and secondary schools in Thailand catering to the children from poor families do not meet the requirements for the ever growing English education, so we send international students to this Thailand internship trip to support these children learn English which will allow them prosper in academics and further in professional career.
During this internship in Thailand, you will teach at schools for 4-5 hours a day from Monday to Friday. Your specific intern responsibilities will depend upon your skills and interests. The most common works include teaching English and improving writing, reading, speaking and listening skills of these children. Besides English, interns can help them with other general subjects like maths, history, geography, and science.
The children can be taught about developing skills in physical strength, mental stability, logical reasoning and creativity. Different events and extracurricular activities can be arranged to keep the children engaged and active
Using your term, summer, or gap year for a Thailand internship is a rewarding experience. You get to work for a noble cause in one of the most exotic locations of the world. We provide you with the first class internship abroad experience that ensures 100% work quality and awesome travel.
The English teaching internship project will help you shine your teaching skills and makes you familiar with the classroom dynamics. It will highly benefit you if you are willing to take teaching as a profession.
You do not require any certification or qualifications to teach English. Any fluent speaker with a high command in English can apply for this internship project. The interns should be flexible and patient while dealing with the students.
If you are interested in volunteer programs, we also offer rewarding teaching English volunteer program in Thailand.
Internship in Thailand: Dates and fees
Global Crossroad is committed to offering you a quality programs at the world's most affordable price. We strive to keep our costs low. The humanitarian side of the business is our passion.
Global Crossroad's internship program application and registration fee cost US $299. The application fee covers the cost of advertising, program promotion, and office expenses (rent, utilities, and staff salaries in USA office).
In addition to the application fee, you are required to pay a weekly Thailand internship program fee. You will pay your weekly fee directly to the country coordinator, who in turn will allocate it to your host family, project and other in-country support we offer to our Internships. This way, the fees that you pay will benefit those who rightfully deserve them, and not for company profit.
The program fee for internship and volunteering is basically same in Thailand. However, unlike volunteers, interns often work closely with guided supervision from a local project director, and a small weekly supervision fee ($25-50/ week) may be incurred in addition to volunteer program fees.
Learn more about our highly affordable volunteer program fees in Thailand.
Internships vs. Volunteers Programs
In general, volunteer programs focus on humanitarian outreach and project support. Volunteering is popular amongst people who want to share their love and passion for underprivileged children, impoverished communities, or conservation efforts in need of resources.
Internship programs focus on creating a real-world learning environment for interns and students so that they practice professional development and obtain new skills. Similar to volunteers, interns may work on a variety of projects (many times alongside volunteers) that benefits local communities, children, wildlife and similar projects. Teaching programs, medical outreach, and children's support are the most popular internship projects.
Room/Food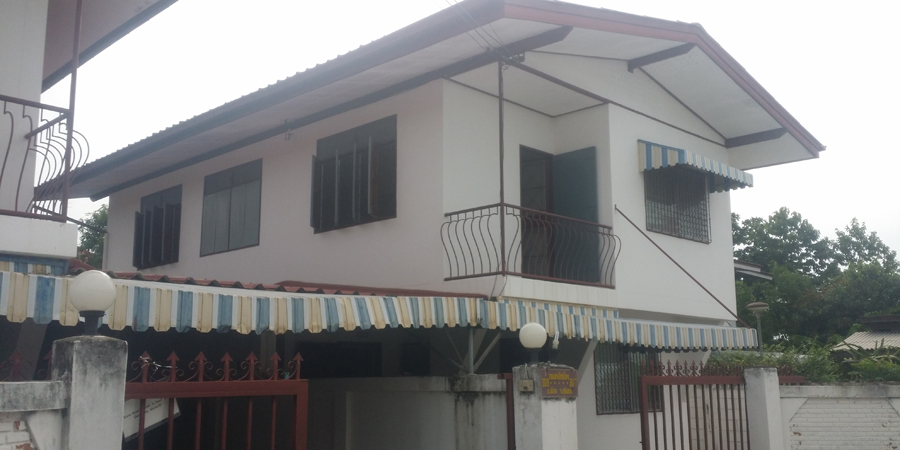 During your internship in Thailand, Global Crossroads will arrange for accommodations, meals and supervision of all our interns all throughout their stay in Thailand. Our interns will stay in our volunteer/intern house in Thailand. The house is equipped with all the basic facilities to ensure a homely environment.
The house is clean and furnished and is located in a community that is safe and secure. We do not compromise with the quality of services and security of our interns. You will share your rooms with other same gendered interns. Bathrooms are western types with regular supply of water. We have Thai meal arrangements for project in Ayutthaya i.e. breakfast, and dinner. But we don't have provisions of meal in Surin. Interns can cook their own food or eat outside.
Learn more about your accommodation and meal plans in Thailand.
Supervision and Field Support
During your internship program in Thailand, you will be directed by a group of mentors or supervisors for a proper guidance and effective learning. These supervisors are experienced and qualified in their respective fields and will ensure the interns face no problems while their stay at Thailand.
They are most likely to be the head of the project you are assigned on. You might have to pay an additional cost to the supervisors depending upon your qualifications and time allotted by the supervisors. Please communicate with our office or our country coordinator if you need personal supervision to help you in your completion of your internship project.
Free Time
After work, Thailand internship program participants can spend a relaxing time at the tropical beaches in the evenings and enjoy the rocking night life of Thailand. Our program does not arrange for sightseeing and recreational activities for our interns but our local staffs and in country coordinator will assist you in providing all the information and guide for places to visit.
On weekends, you can travel to cities like Bangkok, Chiang Mai and Phuket. Our internship projects are located in Ayutthaya and Surin. Enlisted in the UNESCO's World Heritage Site, the old capital of Thailand, Ayutthaya has many interesting things stored for you. Surin is widely famous for Buddhist temples and shrines, silk and elephants. You can make your stay memorable by experiencing Thai Boxing and Thai Massage.
You can rush your adrenaline level by indulging in water sports. Try trekking or jungle safari to air the freshness of the greenery. Be it while working or exploring, make the most out of your internship opportunity in Thailand.
Learn more about your free time and weekend exploration options in Thailand.
FAQs: Internship in Thailand
Arrival and Departure
Please make travel plans to arrive at the Suvarnabhumi International Airport in Bangkok, and then send us your flight information.
You will need to consult your internship country coordinator before departing your home country so that we can ensure we have your correct and most up to date flight information. If there is a delay or if you miss your flight for any reason, please contact us as soon as possible.
Once you arrive to Bangkok, a Global Crossroads representative will pick you up. We do not offer drop off service.
Visa
Please make sure you have secured a tourist visa before traveling to Thailand for your international student internship.
Depending on your nationality, a 'visa on arrival' may be available. You should also be aware that Thailand will allow you to extend your visa if you wish to stay in the country longer than anticipated.
To read more about visa requirements:
Thai Embassy- Thailand Tourist Visa
Vaccination
The CDC recommends receiving the following vaccinations before traveling to your internship opportunity in Thailand: Cholera, Rabies, Hepatitis B, Japanese Encephalitis, Yellow Fever, Malaria
How can I apply to an internship in Thailand?
Global Crossroads intern applications are straightforward; go to the program website, fill out the online application, and then submit it to us.
We will follow up with you within 24-hours of your application submittal.
Why go with Global Crossroads?
Global Crossroads is a non-profit organization changing the world one individual at a time. Established in 2003 and trusted by 20,000 people, GCR is well experienced in providing the highest quality internships (safe, fun, comfortable) at the most affordable price. In fact, our tax-deductible fees are the most affordable prices in the world.
Global Crossroads also connects you with an amazing team of field support while your participating in your Thailand internship. Heart-warming community members will treat you as if you are family and make you feel like your host country will forever be your home away from home.
Our Volunteer Abroad Programs
Globalcross road offers best affordable volunteer opportunities across 20 countries around the world. If you are interested in our highly impactful and rewarding volunteering opportunities in
India
,
Sri Lanka
,
Thailand
,
China
,
Cambodia
,
Nepal
,
Sri lanka
,
Bali
,
Ghana
,
Kenya
,
South Africa
,
Tanzania
,
Uganda
,
Zimbabwe
,
Morocco
,
Costa Rica
,
Ecuador
,
Peru
,
Guatemala
,
Argentina
, and,
Brazil