Medical Volunteering Costa Rica!
Are you ready for an exciting adventure abroad that's going to kick start your medical career? Would you like to be mentored by experienced healthcare professionals while traveling in paradise?
Costa Rica is a true traveler's paradise. Friendly locals, lush rainforests, beautiful beaches, amazing weather, imposing volcanoes, rolling mountains, and a kaleidoscope of plant and animal life are just a few of the wonders you'll find. Costa Rica is a tiny country, but it seems to hold worlds and worlds inside its borders. Come find out for yourself!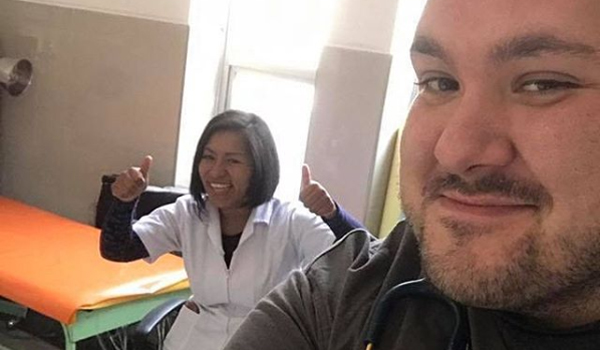 Costa Rica Medical volunteer program is an eye-opening opportunity for you. You'll shadow the local doctors and nurses and get to observe patients being treated up close and personal. In the process, you will gain priceless medical experience abroad.
Contact Global Crossroad today to start advancing your medical career in Costa Rica!
Volunteer Responsibilities & Impacts
At this exciting medical project, you'll be shadowing and observing local doctors or nurses as they see, diagnose, and treat their patients in either a clinic or a hospital setting. If you are pursuing a specialty in medicine and are looking for experience in a particular field, let us know and we can select the best placement for you.
a medical volunteer in Costa Rica will have a huge impact on your future career in the healthcare profession. You'll learn so many things from this experience and gain practical real-world skills you are sure to use later on in life with your own patients. An international internship looks great on a resume, too, and will really set you apart from the crowd.
*Keep in mind you will not be allowed to treat patients or join in on procedures due to strict regulations regarding the medical field and the legality involved. You will learn by up-close observation and shadowing, and still have an amazing and educational experience.
Skills and Qualifications
We welcome enthusiastic medical students and healthcare professionals to join our medical volunteer opportunity in Costa Rica. You'll need to furnish your student id, or proof of certification from an accredited medical institution. Bring a passion for medicine and the desire to learn.
An intermediate grasp of the Spanish language is necessary to make the most out of this program, as the doctor will be treating the patients in their native language. If you'd like to work on your Spanish, speak to us about enrolling in a language program and learn while you travel!
Each day volunteering abroad is an exciting adventure because you are always doing and learning something new. You'll be soaking up so much valuable medical knowledge, and in your free time, you'll be in tropical Costa Rica!
You can expect to volunteer an average of 5 hours per day, Monday-Friday, as a healthcare volunteer in Costa Rica. Your actual hours will vary based on your final placement, but here' s a sample schedule to give you an idea of what to expect.
First Day: On your first day, you will be escorted to your placement by our helpful local coordinator and introduced to the medical professionals you'll be working with. You'll meet the local project staff, and then head into an informative orientation that will get you started volunteering abroad on the right foot.
Orientation: Learn all about your project, what's expected of you, your schedule, safety protocol you'll need to follow, and have a brief talk on the customs and culture of Costa Rica.
Weekdays: A typical volunteer day as Costa Rica medical volunteer might look something like this:
7.00 to 7.30 AM​: Enjoy a nice breakfast with your local host family. Rice, beans, eggs, fresh fruit, and coffee are the usual fare.
7.45 AM:  Head out to the local clinic or hospital and spend the day peeking behind the curtain of the examination room and seeing how real doctors and nurses treat patients day in and day out.
12.00 PM: Break for lunch. Go back to your host family's home and eat with them, or ask for a lunch to go, and eat at your project site. This is a great chance to bond with your fellow Costa Rica medical volunteers, or the local project staff.
3.00 PM: After all that learning and professional skill development, you deserve a break! Hit up a local beach or have a siesta and enjoy the beautiful scenery around you.
6.45 PM: Enjoy dinner around the table with your welcoming Costa Rican host family. Rice and beans will likely make it on your plate again, this time with salad, a protein, and maybe some plantains. Practice your Spanish and learn more about the laidback Pura Vida lifestyle this country is famous for.
Medical Volunteering Costa Rica: Dates and Fees
Dates: Volunteer in Costa Rica
All volunteer programs in Costa Rica start every Monday of each month. However, if there is travel constrains, you can start any project on any day.
Fees: Volunteer In Costa Rica
Global Crossroad is committed to offering the most affordable and highest quality volunteering programs in Costa Rica. We strive to keep our costs low. The humanitarian side of the business is our passion.
Global Crossroad's volunteer program in Costa Rica application and registration fee cost US $299. The application fee covers the cost of advertising, program promotion, and office expenses (rent, utilities, and staff salaries in USA office).
In addition to the application fee, you are required to pay a weekly program fee. You will pay your weekly fee directly to the country coordinator, who in turn will allocate it to your host family, project and other in-country support we offer to our volunteers. This way, the fees that you pay will benefit those who rightfully deserve them, and not for company profit.
Program fees cover:
Accommodation (volunteer house or host family)
Food (local food 3 times a day)
In-country support
Personalized project
Pre-departure information
Certificate of completion
Fundraising ideas and letters
Discount for returning volunteers
Program fees exclude:
Visas
Airfare
Personal expenses on soft drinks and foods
Daily transportation
Airport return transfer
Airport Pickup /Transfer Packages for Puntarenas and –Ciudad Cortes, please click here to find the details
We will manage the following airport transfer services for you:
Option one: If you arrive in international Airport of Juan Santa Maria -SJO, Alajuela early in the morning (before 12 PM), you will be able to come to Ciudad Cortes in the same day by bus. In this case, it is possible to purchase the following pick up service package:
Osa/Pick Up (same day service- for one person): $50
Includes: airport picks up, transfer to the bus station, orientation and assistance and again to the bus station. The last time we recommend leaving from San Jose to Ciudad Cortes is on the bus at 2:30 PM (volunteer should land before 12:00 PM for this option)
Option two: If you arrive after 12 PM in Alajuela, you will stay one night in Hostel Dorm Room in San Jose, before transferring to Ciudad Cortes the next day.
Osa/Overnight Hostel Dorm Room with Transfer (for one person): $70
Includes: Transfer to a hostel from the airport, where you will spend the night. Dinner will be provided. Overnight stay will be in 10 people mixed gender hostel dorm room, and transfer to a bus station in the morning. The orientation and assistance will be at the bus station.
Option Three:If you arrive after 12 PM in Alajuela, you will stay one night in the family home (private room) in San Jose before transferring to Ciudad Cortes the next day.
Osa/Overnight Family Home with Transfer (for one person): $90
Includes: Picks up from the airport and transfer to a private family home to spend the night. Dinner will be provided. Transfer to the bus station in the morning, and orientation and assistance at the bus station.
The volunteering overseas in Costa Rica program fees will cover expenses that will begin on the first day of the program (usually the first or third Monday of the month) to the last day of the program. If you arrive before the first day of the program or you decide you stay beyond your program's last day, you will be responsible for the additional expenses, which would typically be around $30 a day for room and meals at a hostel.
Accommodation and Meal
During your medical volunteer program in Costa Rica, we make sure you have a safe, clean, comfortable place to stay, and three local healthy meals a day. You'll be staying in the home of one our socially respected and welcoming host families, an amazing chance to become fully immersed in the Costa Rican culture.
Safety and In Country Support
Your safety is our number one priority. When you volunteer in medical program in Costa Rica, we have you covered every step of the way. We offer you support before and during your travels, a carefully vetted trip, and the guidance and support of our fantastic in-country team.
Medical Volunteering Costa Rica: FAQs
Global Crossroad has been helping volunteers since 2003, and we've fielded our fair share of questions over the years. Here's some information we've compiled to provide you with some answers we thought you might be looking for:
Arrival and Departure
You will fly into Juan Santamaria International Airport in San Jose, Costa Rica. Your airport pickup is included in your volunteer fee, and we will have someone waiting for you when you land who will take you safely to your accommodations.
When you complete your healthcare volunteering program in Costa Rica, you will need to arrange your own departure transportation as it is not included in your volunteer fee. Just speak to the local project staff if you need advice on booking a taxi to the airport.
Visa
You may be eligible to simply ask for a visa stamp after your arrival at the airport in San Jose as you pass through immigration. However, do your research to learn the requirements for your home country before heading out on your Costa Rica medical volunteer trip.
Most volunteers will be eligible for a 90-day tourist visa. You should know you will need to provide proof of onward travel. If you have a round trip ticket, this will serve as all the proof you need. Research the visa requirements at the official Immigration site of Costa Rica:
Vaccination
The first step to protecting yourself while volunteering in Costa Rica in medical program is to get up to date on your vaccines. Make an appointment with a knowledgeable doctor at least a few weeks before you travel.
You should be up to date on your routine vaccines, as well as Hepatitis A & B and Typhoid. can also find information on CDC website.
Why Medical Volunteering Costa Rica?
Travel with a purpose
You've been dying to head to Costa Rica and check out all those beautiful beaches, lush rainforests, and friendly locals you've been hearing so much about. Indulge your desire to travel but get valuable professional experience and learn as much as you can while you're at it!
Watch real-life medical professionals in action
You can learn a lot from books and classrooms, but there's nothing like sitting in on a real-life consultation when a doctor sees a patient, listens to their concerns, finds a diagnose, and makes a treatment plan. Observe doctors and nurses doing their work up close and personal!
Boost your medical career
You're working hard to earn your degree and start your career, and volunteering in healthcare opportunity in Costa Rica can give your future profession a big boost! Learn valuable skills, make contacts, and set yourself apart from other candidates by undertaking an exciting internship abroad!
Get a new perspective on medicine
Medical care is approached differently all over the world. Gain insight into a foreign healthcare system, and benefit from looking at medicine from a new, unique, and different perspective than the one you are used to back in your home country.
Contact Global Crossroad to learn more about becoming a medical volunteer in Costa Rica!
Other Volunteer Opportunities Available in Costa Rica:
childcare,
coffee plantation,
teaching,
veterinary,
indigenous tribe and much more. 

For more information on our exciting programs in Costa Rica, contact us today.



Medical Programs available in other countries: