Summer Volunteer & Travel Adventure Costa Rica (4 weeks)
Exploring a Natural Paradise
Come to beautiful Costa Rica - a tropical paradise and one of the world's best destinations for both socio- and eco-tourism. An abundance of opportunities for conservation amid white sand beaches makes Costa Rica an excellent destination for everyone from sunbathers and surfers to scientists and teachers.
Excitement awaits either the adventurer - in the country's rainforests and on top of its steaming, active volcanoes - or those seeking relaxation and the enjoyment of "la pura vida" - the good life in Costa Rica! Global Crossroad's summer volunteering and travelling opportunity in Costa Rica provides you with a month-long adventure in Costa Rica - splitting time between volunteering in community services projects, cultural immersion and amazing travel to some of this country's most amazing sites.
Welcome and orientation training(1 Day)
You will be met by Global Crossroad's local representative upon arrival in the wondrous city of San Jose. After a brief orientation, you can relax and settle into your accommodations in preparation for the next day's Spanish language lessons. Over the next twenty days, acquire a working level of the Spanish language - ensuring your enjoyment of this abroad adventure.
Volunteer Service Project (22 Days)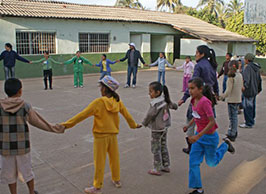 For the next phase of the Costa Rica summer volunteer abroad program, you will teach in a local resource poor schools You will teach from 3 to 5 hours each day, 5 days a week. In Costa Rica, each school has its own on staff English teacher who assists our volunteers with teaching methods, offers advice on solving communication barriers and provides suitable curricula for the classrooms.
English teaching volunteers do not have to be native English speakers. You should be interested in teaching other subjects like math, and science can also do so, but please let us know this before you start your project. The schools in Costa Rica are closed during the holidays and exam periods. During these times, Global Crossroad will organize alternative tasks for you, such as assisting in an orphanage.
Explore Costa Rica (4 days)
After serving the communities and children of Costa Rica as part of your summer volunteering program in Costa Rica, and acquiring some insightful perspective into the local culture, you will set out on an unforgettable journey to the tropical dry forest and gold coast of Costa Rica. You will have the opportunity to take surf lessons and explore the pristine and picturesque beaches of Guanacaste, go zip lining and waterfall rappelling, take a day trip to a turtle island, and even have the opportunity to hold a sloth!
Program: Summer Volunteer & Travel Adventure Costa Rica
Highlights: Community work, culture, and travel
Arrival and Departure: San Jose International Airport
Special Requirement: Good health for Travel
Accommodations/Meals: Hostel, host family, or hotel; three meals a day
Duration: 4 Weeks
Program fee: $2,439 for 4 weeks, which includes 4 day guided tour
Summer Volunteer Program in Costa Rica Complete Itinerary
Day 0: Arrival: Welcome to Costa Rica!
Upon arrival in Costa Rica for your best summer volunteering program in Costa Rica, you will be met at San Jose's International Airport by a member of Global Crossroad's local staff in Costa Rica. From the airport, you will be taken to Global Crossroad's group house for a brief orientation, followed by an introduction to your town and home then concluding the day with a rest period in preparation for the next day's orientation.
Day 1: Introduction and Orientation
Meet with Global Crossroad's local staff members, facilitate a general question/answer sessions, discussion on program itinerary, general orientation on history, culture, tradition, and other important issues (health, safety), and exploration of nearby areas in free time
Days 2-23: Volunteer Work (22 days)
You will teach in a local school on the Pacific coast as part of your summer volunteering opportunity in Costa Rica. You will teach from 3 to 5 hours each day, 5 days a week. Volunteer work includes teaching English (grammar, vocabulary, pronunciation, speaking, writing, listening, etc.) to students from pre-school to high school for 2-4 hours per day. At these projects, you will work with and assist the full time teacher. You will help teach regular English classes and also tutor the children and help them with their homework.
Days 24-28
Explore Costa Rica
Day 24: Surf and Beach Day
Costa Rica is famous for its beautiful beaches and world-class surf. It is also a great place to learn to surf. Today, you have the opportunity to take a surf lesson. You will learn the basics and get out there in the waves with your surf instructor. When you are not catching waves, you are relax or take a walk on the pristine beach.
Day 25: Zip Lining and Waterfall Rappelling
There is nothing quite like zip lining through the dense and beautiful jungle in Costa Rica. You will get a view of the forest like no other! This will be quite an adventurous and fun filled day. Zip lining and waterfall rappelling is an absolute must if you are in Costa Rica and through your best summer volunteering program in Costa Rica, you have the special opportunity to do both.
Days 26: Day Trip to Turtle Island
Off the coast of the Nicoya Peninsula is Turtle Island. A stunning little island that you will get to spend the day on! This is a great place to go snorkeling, fishing, swimming, and exploring. You will get to experience locally caught and incredibly fresh seafood and a taste small village life. You can relax under a palm tree or take a long stroll. This will be an unforgettable day in a magical place.
Days 27: Exotic Animals Day
Want to feed and interact with exotic tropical animals? Take the chance to get up close and personal with many types of exotic animals with us. You might even get the chance to hold a sloth!
Day 28
Closing of the program and transfer to airport
Summer volunteering program in Costa Rica itineraries are merely samples and may change to meet the needs of the volunteers and changes in the field conditions. This itinerary will be revised and finalized during orientation program.
Prices and Dates
Program Fee:
$2,439 for 4 weeks, which includes 4 day guided tour
Fees Cover
Room (volunteer house, host family) and local food 3 times a day during the entire volunteering period
Room (volunteer house, economy hotel) and local food 3 times a day during travelling
Local transportation while travelling, (primarily local buses)
Airport pickup and drop off
Entry fees during travel
Insurance
In-country support
Fees do not cover
Visa
Airfare
Personal expenses on soft drink and food
Daily transportation costs during the volunteering period
Any tips to guides, gifts to projects