Sri Lanka
Volunteer Programs
Sri Lanka Volunteer Programs
Passionate about serving and helping the disadvantaged?
Looking for inexpensive programs to volunteer in Sri Lanka?
The best price, guaranteed; starts $155

Pay fees directly to your host families and projects

Safe and meaningful volunteer experience

It will change you forever .......
A vacation in Sri Lanka is always a fascinating experience. When you combine this exotic vacation with our Volunteer in Sri Lanka program, however, you create the experience of a lifetime, one you will never forget!
The traditional, smiling people of Sri Lanka match the sunny clime and ancient culture from which they come. Sri Lanka is a land full of wonder, a sought-after travel destination with abundant beauty and paradisiacal niches of glory.
A heartbreaking civil war kept a generation in bondage, but is thankfully now a thing of the past. Its ravages have left a need for much restoration, and you can be a part of nurturing the new peace now just beginning to blossom in this beautiful country. Join with Global Crossroad and volunteer in Sri Lanka, and just watch while hope renews before your very eyes and through your very own efforts!
Contact us today, while you're thinking about it. We'll be happy to send you more information on our wonderful volunteer programs.

Volunteer Programs in
Sri Lanka
Dates and
Prices

All volunteer work in Srilanka begin on the 1st and 3rd Mondays of each month, though we allow for flexibility due to travel constraints.
Global Crossroad is committed to offering quality volunteer abroad programs at a very affordable price. We strive to keep our costs low so that our volunteers benefit from the lowered program prices. The humanitarian side of the business is our passion.
Global Crossroad's application/registration fee: US $299. The application fee covers our cost of advertising, program promotion, and office expenses (rent, utilities, and staff salaries in USA office).
In addition to the application fee, volunteers are required to pay weekly program fee. You pay your weekly fee directly to your host families and projects. This way, the fees you pay will benefit those who deserve it (not for company profit).
Duration
Projects in Galle
Millennium Elephant
Pinnewala Elephant

5 Weeks
$625
$1,000
$1,300

6 Weeks
$730
$1,180
$1,550

7 Weeks
$835
$1,360
$1,800

8 Weeks
$940
$1,540
$2,050

9 Weeks
$1,045
$1,720
$2,300

10 Weeks
$1,150
$1,900
$2,550

11 Weeks
$1,255
$2,080
$2,800

12 Weeks
$1,360
$2,260
$3,050
What the fee covers or doesn't cover?
Airport Pickup and Transfer to Galle (2 hours) $85
Airport Pickup and Transfer to Kegalle (80 KM) $125
Transfer from Galle to Kegalle (3 hours) $125
Language and Culture $250
Mandatory Comprehensive Travel Insurance $3.49/day
Sri Lanka Volunteer Program:
Accommodations/Meals/Field Support
In Global Crossroad's volunteer in Sri Lanka program weekly fees include management of volunteers' meal plans and accommodations throughout projects and travel options. Three meals a day (breakfast, lunch and dinner) will be provided and will consist of local ingredients and feature traditional cuisine choices for Sri Lanka. Our meal program can accommodate vegetarian needs; however, we are not able to provide for other dietary restrictions. Food and drinks outside of mealtimes are the volunteer's responsibility. In most cases, there are restaurants and markets nearby the homes in which our volunteers stay.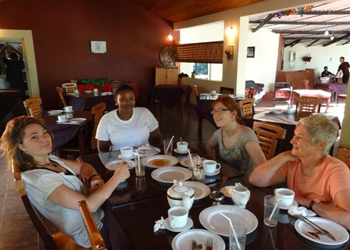 During your volunteer work in Srilanka, we normally place our volunteers with a host family. Volunteers usually have a single bedroom, but may occasionally share a room with another volunteer of the same gender. Our host families are chosen carefully and are esteemed community members, who have experience in the realm of hosting international travelers. Host family residences are in comfortable, clean and safe neighborhoods and rooms are simply furnished and tidy. Staying with a host family can offer the support system a volunteer will crave during their program and it is a great way to learn about a host country's culture and customs. Most volunteers who have stayed with a host family note that their stay truly enriched their entire experience abroad. Orphanage volunteers might have the opportunity to stay with the children as many orphanages provide private rooms for international volunteers. These volunteer rooms will normally be shared with a volunteer of the same gender.
A unique and important part of Global Crossroad's successful volunteer abroad programs is our volunteer support in-country. We put safety and comfort first as we deliver enriching and consistent experiences for our international travelers. Our support is multi-faceted while volunteers are in Sri Lanka and our staff is in contact with our volunteers on a regular basis either with face-to-face visits or via phone/email. Key support comes from our country coordinator and in-country field staff. These individuals are employed by our company and committed to ensuring your experience the best it can be. Your chosen project staff and host family offers support as well, and they are familiar with working with international volunteers and accustomed to answering questions and providing guidance. Volunteers also have access to our country coordinator's mobile number for emergencies. With longer assignments, our field staff visits regularly (every 2-4 weeks) to ensure the experience is meeting your expectations. Sometimes an assignment may be too far to visit physically, so staff members will touch-base via phone/email. You are also welcome to stop in the offices at any time. You are never alone.
Specific details regarding accommodations, food and contact details for our local coordinator will be provided in personalized volunteer placement documentation prior to arrival.
NOTE: Frequently Asked Questions (FAQ) is generic information and should not be used as a definitive travel guide. Travel information and situations abroad change constantly. Participants should consult Global Crossroad or travel advisors to verify this information.