Volunteer in Sri Lanka
Would you like to volunteer abroad while traveling the world? Are you interested in giving back while you explore beautiful Sri Lanka? Volunteering in Sri Lanka is a perfect way to create the experience of a lifetime.
Ravaged by civil war until a decade ago, Sri Lanka is now a sought-after tourist destination. Learn to surf off one of the country's beautiful beaches, experience an appealing blend of religions, explore ancient Buddhist temples, experience a yoga retreat, take in gorgeous landscapes, see the most diverse wildlife outside of Africa, and be surprised by the Sri Lanka's warm and welcoming people.
Despite its beauty, Sri Lanka is still struggling to recover from a quarter century of civil war. Much of the country's people are trapped in a cycle of poverty, with those in rural areas affected the most. These rural districts lack access to satisfactory education, leading to illiteracy and unemployment, with children affected to a greater degree. A quarter of the population does not have enough to eat, causing malnutrition and slowed growth.
Today, Sri Lanka needs volunteers more than ever.
There are many volunteer opportunities in Sri Lanka for the kind-hearted. You can choose to volunteer in an orphanage, or teach English to local children and Buddhist monks. Work in the medical field or in elephant conservation.
Help children and their families when you volunteer in Sri Lanka and be a part of lasting change in their lives and communities.
Join a Global Crossroad volunteer program and see lovely Sri Lanka through the eyes of the local people. Click below to get started.
Volunteer in Sri Lanka Programs
Global Crossroad offers variety of exceptional volunteering and special programs such as summer volunteer travel (4 weeks), mini volunteer travel (2 weeks), hands on medical camp, family volunteering, among others, to meet your volunteering as well as travelling need. Please feel free to choose any program you love and contact us for more information.
Special Programs (Volunteer + Travel, Group)
All Volunteer programs in Sri Lanka start every Monday. However, Global Crossroad is very flexible and understands that various travel constraints that you might face.
All Volunteering work in Sri Lanka options are available year around, except at times programs like a Volunteer teaching English overseas program might be closed for various holidays and vacations. Also, some programs are seasonal due to extreme weather conditions. Between the project link and a Global Crossroad representative, all of this specific information regarding programs dates will be available to you. If a program is unavailable, we will provide an alternative program for you to join.
Prices: Volunteer in Sri Lanka
Global Crossroad is committed to offering the most affordable and highest quality Sri Lanka Volunteer trips. We strive to keep our costs low. The humanitarian side of the business is our passion.
Global Crossroad's Volunteer opportunity in Sri Lanka application and registration fee cost US $299. The application fee covers the cost of advertising, program promotion, and office expenses (rent, utilities, and staff salaries in USA office).
In addition to the application fee, you are required to pay a weekly program fee. You will pay your weekly fee directly to your host family and project. This way, the fees that you pay will benefit those who rightfully deserve them, and not for company profit.
| Duration | Projects in Galle | Medical Project | Kegalle Elephant | Pinnewala Elephant |
| --- | --- | --- | --- | --- |
| 1 Week | $155 | $310 | $335 | $325 |
| 2 Weeks | $310 | $510 | $620 | $600 |
| 3 Weeks | $415 | $710 | $905 | $875 |
| 4 Weeks | $520 | $910 | $1,190 | $1,150 |
| 5 Weeks | $625 | $1110 | $1,475 | $1,425 |
| 6 Weeks | $730 | $1310 | $1,760 | $1,700 |
| 7 Weeks | $835 | $1510 | $2,045 | $1,975 |
| 8 Weeks | $940 | $1710 | $2,330 | $2,250 |
| 9 Weeks | $1,045 | $1910 | $2,615 | $2,525 |
| 10 Weeks | $1,150 | $2110 | $2,900 | $2,800 |
| 11 Weeks | $1,255 | $2310 | $3,185 | $3,075 |
| 12 Weeks | $1,360 | $2510 | $3,470 | $3,350 |
Airport Pickup and Transfer to Galle (2 hours)- $85

Airport Pickup and Transfer to Kegalle (80 KM) - $90

Airport Pickup and Transfer to Pinnawala (80 KM) - $125

Transfer from Galle to Kegalle or vice versa (3 hours) - $125

Language and Culture - $250
Program fees cover:
Accommodation (volunteers house or host family)
Food (local food 3 times day)
In-country support
Personalized project
Pre-departure information
Certificate of completion
Fundraising ideas and letters
Discount for returning volunteers
Program fees exclude:
Visas
Airfare
Personal expenses on soft drinks and foods
Daily transportation
Airport return transfer
The Volunteering programs in Sri Lanka fees will cover expenses that will begin on the first day of the program (usually the first or third Monday of the month) to the last day of the program. If you arrive before the first day of the program or you decide you stay beyond your program's last day, you will be responsible for the additional expenses, which would typically be around $30 a day for room and meals at a hostel.
Accommodations and Meals: Volunteer in Sri Lanka
Global Crossroad's volunteer programs in Sri Lanka weekly fees include management of volunteers' meal plans and accommodations throughout projects and travel options. Three meals a day (breakfast, lunch and dinner) will be provided and will consist of local ingredients and feature traditional cuisine choices for Sri Lanka. Our meal program can accommodate vegetarian needs; however, we are not able to provide for other dietary restrictions. Food and drinks outside of mealtimes are the volunteer's responsibility. In most cases, there are restaurants and markets nearby the homes in which our volunteers stay.
During your volunteering work in Sri Lanka, we normally place our volunteers with a host family. Volunteers usually have a single bedroom, but may occasionally share a room with another volunteer of the same gender. Our host families are chosen carefully and are esteemed community members, who have experience in the realm of hosting international travelers. Host family residences are in comfortable, clean and safe neighborhoods and rooms are simply furnished and tidy. Staying with a host family can offer the support system a volunteer will crave during their program and it is a great way to learn about a host country's culture and customs.
Most volunteers who have stayed with a host family during their volunteering overseas in Sri Lanka project note that their stay truly enriched their entire experience abroad.
Orphanage volunteers might have the opportunity to stay with the children as many orphanages provide private rooms for international volunteers. These volunteer rooms will normally be shared with a volunteer of the same gender.
Specific details regarding accommodations, food and contact details for our local coordinator will be provided in personalized volunteer placement documentation prior to arrival for your volunteer opportunity in Sri Lanka.
Safety and Field Support
Our number #1 priority is the safety of our volunteers. Global Crossroad is a leading volunteer organization serving thousands of volunteers. We pride ourselves on providing the safest, highest quality, and most professional programs to our volunteers since 2003. Our dedicated team works closely from start to finish with each volunteer (and parents/guardians) to ensure a successful, satisfactory, and safe volunteering experience.
Below is a list of our safety and field support features that will demonstrate the level of support and safety each of you will receive while volunteering abroad.
1. Country Coordinator and Field Staff :
In each country, where we operate, we have a very strong and dedicated team of country coordinators and local staff members to support and take care of you. All of our country coordinators and field staff are highly experienced and responsible individuals. They have been running volunteer abroad program for many years. They have served thousands of volunteers, so they understand your needs and know how to run safe, rewarding, and meaningful volunteer abroad program for you.
Our In-country staff is responsible for a number of things. Below are some of the main services that they will provide:
Airport pick-up and transfer to host family or work site
Management of room and food in host family/hostel
Orientation of local country, culture, host family, safety, and related issues
Introduction to your host family and project staff
Periodic follow up visits or calls (1-2 week intervals) to ensure everything is going smoothly
Advice for solving any issues, problems, or concerns
2. Airport Greeting
We are dedicated to keeping you save and comfortable from your point of your arrival until your point of departure. We will always receive our volunteers at the airport and transfer them safely. Depending upon the country in which you choose to volunteer, our coordinator, local staff, or a professional transfer company employee will greet you at the airport.
3. Orientation and safety discussion
Regardless of where you join the Global Crossroad volunteer program, our program starts with an in depth discussion on safety, history, cultural people, religion, life, and do's and don'ts. Depending upon the country, these orientation programs range from a few hours to three days. During orientation, we explain the different aspect of safety and general guidelines to help keep yourself safe while volunteering abroad.
4. Safe Host Family and Accommodation
While volunteering abroad, the majority of the time you will reside with a local host family, hostel, or similar accommodation. We always carefully select the host families and other forms of accommodations to make sure that you will be safe and comfortable. In all destinations, we have selected host families who are socially respected and responsible. Most of our host families have hosted international volunteers before, so they completely understand your needs. Your host family will always take care of you and keep you safe.
Similarly, all of our volunteer houses and hostels are located in very safe locations. These hostels are always guarded by security guards or supervised by the local staff very frequently to make sure that you are safe and secure. Also you will be staying with other volunteers from all over the world. You will never be alone.
5. Comprehensive Insurance and Evacuation Plan
While volunteering abroad, you will be covered by international insurance. This protects you in case something unforeseen happens. It is mandatory that all volunteers obtain a travel insurance policy when volunteering abroad. Global Crossroad offers one of the most comprehensive insurance packages from a third party. Our insurance policy provides excellent protection in the event that a health-related issue occurs, an accident, or other unpredictable incidences.
6. Placement with Other Volunteers
Global Crossroad is happy to place you with other volunteers (depending on availability) if this is something that would make you feel safer.
Any international travel requires caution and awareness; volunteering abroad is no exception. We suggest that all volunteers consult their own government advisory office before making the decision to participate in any overseas volunteering opportunities. International travel presents risks, especially with the modern day threat of international terrorism.
The U.S. State Department issues travel warnings and advisories in many countries for American travelers. These travel advisories and warnings frequently change, as situations in each country transform.
These links provide valuable travel information:
It is also wise to consult the Center for Disease Control for health related information and issues that might come up during your time volunteering abroad. Check out www.cdc.gov for possible health risks. One must also keep in mind that the sanitary conditions in developing countries are likely very different from those in your home country. It is also strongly advised that you do not drink the tap water and do not eat food from street vendors.
Most Frequently Asked Questions:
Volunteer in Sri Lanka
APPLICATION - INFORMATION
VISA INFORMATION
PLACEMENT INFORMATION
ARRIVAL AND DEPARTURE INFORMATION
LIVING ACCOMMODATIONS INFORMATION
HEALTH AND SAFETY
MONEY
COMMUNICATION
CULTURE & CUSTOMS
Free Time Options
MORE INFORMATION ABOUT SRI LANKA
NOTE: Frequently Asked Questions (FAQ) is generic information and should not be used as a definitive travel guide. Travel information and situations abroad change constantly. Participants should consult Global Crossroad or travel advisors to verify this information.
Mr. Noel Michael Ferreira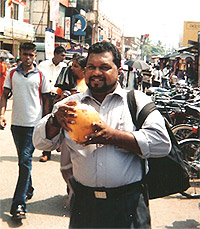 Born in Galle , the Southern province of Sri Lanka , Mr. Ferreira has an in-depth knowledge of Sri Lankan history, culture, and social issues. Before joining Global Crossroad, he worked abroad for 15 years as a supervisor and manager in an international company. He is very grateful to have the opportunity to help and assist the people who had been badly affected by the Tsunami Disaster of December 26, 2004 through Global Crossroad Tsunami Reconstruction Project. His love, passion and concern for the children and the community is visible through his support to the tsunami survivors in Sri Lanka .
Education
Studied up to General Certificate Exam, Advance Level, English Medium from Sri Lanka
Experience
Mr. Ferreira is an active social worker. He is affiliated with many local, social and youth organizations. He has been actively working to promote peace, understanding, and friendship through community work. He has already worked with more than 500 volunteers in Sri Lanka .
Interest
Mr. Ferreira is devoted to improve the day-to-day lives of his community through various services and supports and he also encourages the volunteers to get involved into projects like orphanage, teaching English and reach the children and their community in dire need. He basically thrives for a challenge and benefit the humankind.