Volunteer in Tanzania Opportunities
Are you searching for an affordable, safe, and meaningful way to travel abroad? Would you like to explore Tanzania while improving the lives of its people? You can do both when you volunteer in Tanzania.
In Tanzania, you'll encounter a country of captivating beauty, from the snows of Mount Kilimanjaro to the arid plains of the Serengeti. Located in the eastern part of Africa, Tanzania embodies Africa's beauty. You can hike the dormant Oi Doinyo Lengai volcano or explore trails in Arusha National Park. Go on safari in the Serengeti and camp out in luxury. See the Great Wildebeest Migration and get to know the Maasi people.
Despite its beauty, Tanzania is among the least developed countries in the world, with half the population living in poverty. Progress has been made over the last decade; however, lack of infrastructure, access to education, high unemployment, and gender inequality all contribute to poverty in Tanzania. HIV/AIDS and other diseases have devastated the country.
Today, Tanzania needs volunteers more than ever.
Experience this fascinating country by volunteering in Tanzania. Work in an orphanage or with underprivileged children and women, teach English or computer skills, be part of a medical project or HIV/AIDS program, or support women's empowerment.
Use your skills and abilities to help improve the lives of the Tanzanian people when you volunteer in Tanzania.
Contact us today to receive information about beginning your life-changing volunteer-abroad experience in Tanzania, today!
Volunteer in Tanzania Programs
Global Crossroad offers variety of exceptional volunteering and special programs such as summer volunteer travel (4 weeks), mini volunteer travel (2 weeks), hands on medical camp, family volunteering, among others, to meet your volunteering as well as travelling need. Please feel free to choose any program you love and contact us for more information:
Special Programs (Volunteer + Travel, Group)
All volunteering in Tanzania programs start each Monday, though we allow for flexibility due to travel constraints.
Prices: Volunteer in Tanzania
Most affordable prices for quality volunteer work in Tanzania are through Global Crossroad. We strive to keep our costs low. The humanitarian side of the business is our passion.
Global Crossroad's volunteer abroad in Tanzania application and registration fee cost US $299. In addition to the application fee, volunteers are required to pay weekly program fee. You pay your weekly fee directly to your host families and projects. This way, the fees you pay will benefit those who deserve it (not for company profit).
| Duration | All Other Projects | HIV | Medical project |
| --- | --- | --- | --- |
| 1 Week | $175 | $225 | $425 |
| 2 Weeks | $300 | $400 | $550 |
| 3 Weeks | $425 | $575 | $675 |
| 4 Weeks | $550 | $750 | $800 |
| 5 Weeks | $675 | $925 | $925 |
| 6 Weeks | $800 | $1,100 | $1,050 |
| 7 Weeks | $925 | $1,275 | $1,175 |
| 8 Weeks | $1,050 | $1,450 | $1,300 |
| 9 Weeks | $1,175 | $1,625 | $1,425 |
| 10 Weeks | $1,300 | $1,800 | $1,550 |
| 11 Weeks | $1,425 | $1,975 | $1,675 |
| 12 Weeks | $1,550 | $2,150 | $1,800 |
Please apply for volunteers visa since volunteers are not allowed to use tourist visa to work as a volunteer,
Program fees cover:
Accommodation (volunteer house)
Food (local food 3 times a day)
Program Orientation
In-country support
Personalized project
Pre-departure information
Certificate of completion
Fundraising ideas and letters
Discount for returning volunteers
Program fees exclude:
Volunteers visa fee $250. Pleases see volunteers visa requirement in Tanzania http://tanzaniaembassy-us.org/?page_id=76
Airfare
Personal expenses on soft drinks and foods
Daily transportation
Airport return transfer
C permit can be received upon arrival.
Accommodations and Meals: Volunteer in Tanzania
During your volunteering trip to Tanzania program, Global Crossroad's weekly fees include management of volunteers' meal plans and accommodations throughout projects. Three meals a day (breakfast, lunch and dinner) will be provided and will consist of local ingredients and feature traditional cuisine choices.
Our volunteer program in Tanzania meal program can accommodate vegetarian needs; however, we are not able to provide for other dietary restrictions. Food and drinks outside of mealtimes are the volunteer's responsibility. In most cases, there are restaurants and markets nearby the homes in which our volunteers stay.
In Tanzania, Our volunteers stay in our Volunteer house. This concept is a permanent Volunteer house set up especially for international volunteers. There are several bedrooms at our volunteer house and volunteers will normally share a room with a same gender volunteer. There are community rooms and a television. The environment is very relaxed and social and a great place to unwind after a busy day. The kitchen and bathrooms are shared, and there is running water and "western-style" toilets. The neighborhood is very safe and clean. There are many amenities nearby like internet cafés, grocery stores, restaurants and mass transit stops.
If there are a large number of volunteers during your timeframe, you will stay with a host family. Volunteers staying with a host family usually have a single bedroom, but may occasionally share a room with another volunteer of the same gender. Our host families are chosen carefully and are esteemed community members, who have experience in the realm of hosting international travelers. Host family residences are in comfortable, clean and safe neighborhoods and rooms are simply furnished and tidy. Staying with a host family can offer the support system a volunteer will crave during their program and it is a great way to learn about a host country's culture and customs.
In Country Support
A unique and important part of Global Crossroad's successful volunteer abroad programs is our volunteer support in-country. We put safety and comfort first as we deliver enriching and consistent experiences for our international travelers. Our support is multi-faceted while volunteers are in Tanzania and our staff is in contact with our volunteers on a regular basis either with face-to-face visits or via phone/email. Key support comes from our country coordinator and in-country field staff. These individuals are employed by our company and committed to ensuring your experience the best it can be. Your chosen project staff and host family offers support as well, and they are familiar with working with international volunteers and accustomed to answering questions and providing guidance.
Volunteers also have access to our country coordinator's mobile number for emergencies. With longer assignments, our field staff visits regularly (every 2-4 weeks) to ensure the experience is meeting your expectations. Sometimes an assignment may be too far to visit physically, so staff members will touch-base via phone/email. You are also welcome to stop in the offices at any time. You are never alone.
Specific details regarding accommodations, food and contact details for our local coordinator will be provided in personalized volunteer placement documentation prior to arrival.
Free Time Options: Volunteer in Tanzania
Our volunteer abroad in Tanzania projects are located in and around Arusha and Moshi. Arusha is one of the bigger cities in the north of Tanzania and sits at the base of Mount Meru, which is not far from the Tanzanian border. It is well-known African congress center and contains the site where the International Tribunal for the Rwandese Genocide was held. When volunteering Tanzania, you will be exposed to a lot of the rich history that makes up this fascinating country.
Safari tours to the Serengeti, N'gorongoro, Manyara , and Tarangire usually launch in Arusha. The city is also an excellent base for visiting the Arusha National Park, where you can experience a wide range of habitats and animals during your time off from your volunteer work in Tanzania. There are lakes that serve as a gathering point for a wide variety of waterfowl. The summit of Mount Meru is nearby and Moshi is approximately a 90-minute drive from Arusha.
Moshi sits on the lower slopes of Mount Kilimanjaro. It is an often over-looked tourist destination, but it actually offers many intriguing cultural opportunities. Moshi is in the middle of a major coffee growing region. Central Moshi is busy and colorful making it an interesting walking excursion. The area around the market and Mawenzi Road is recommended when you are not putting in time at your volunteering abroad in Tanzania project, as there is a slight Asian flavor to the area and a Hindu temple, several mosques, and Indian traders. You will have plenty of free time to experience this amazing country.
Here are some helpful links for more amazing things to do during your free time from your volunteer work in Tanzania:
Safety and Field Support
Our number #1 priority is the safety of our volunteers. Global Crossroad is a leading volunteer organization serving thousands of volunteers. We pride ourselves on providing the safest, highest quality, and most professional programs to our volunteers since 2003. Our dedicated team works closely from start to finish with each volunteer (and parents/guardians) to ensure a successful, satisfactory, and safe volunteering experience.
Below is a list of our safety and field support features that will demonstrate the level of support and safety each of you will receive while volunteering abroad.
1. Country Coordinator and Field Staff :
In each country, where we operate, we have a very strong and dedicated team of country coordinators and local staff members to support and take care of you. All of our country coordinators and field staff are highly experienced and responsible individuals. They have been running volunteer abroad program for many years. They have served thousands of volunteers, so they understand your needs and know how to run safe, rewarding, and meaningful volunteer abroad program for you.
Our In-country staff is responsible for a number of things. Below are some of the main services that they will provide:
Airport pick-up and transfer to host family or work site
Management of room and food in host family/hostel
Orientation of local country, culture, host family, safety, and related issues
Introduction to your host family and project staff
Periodic follow up visits or calls (1-2 week intervals) to ensure everything is going smoothly
Advice for solving any issues, problems, or concerns
2. Airport Greeting
We are dedicated to keeping you save and comfortable from your point of your arrival until your point of departure. We will always receive our volunteers at the airport and transfer them safely. Depending upon the country in which you choose to volunteer, our coordinator, local staff, or a professional transfer company employee will greet you at the airport.
3. Orientation and safety discussion
Regardless of where you join the Global Crossroad volunteer program, our program starts with an in depth discussion on safety, history, cultural people, religion, life, and do's and don'ts. Depending upon the country, these orientation programs range from a few hours to three days. During orientation, we explain the different aspect of safety and general guidelines to help keep yourself safe while volunteering abroad.
4. Safe Host Family and Accommodation
While volunteering abroad, the majority of the time you will reside with a local host family, hostel, or similar accommodation. We always carefully select the host families and other forms of accommodations to make sure that you will be safe and comfortable. In all destinations, we have selected host families who are socially respected and responsible. Most of our host families have hosted international volunteers before, so they completely understand your needs. Your host family will always take care of you and keep you safe.
Similarly, all of our volunteer houses and hostels are located in very safe locations. These hostels are always guarded by security guards or supervised by the local staff very frequently to make sure that you are safe and secure. Also you will be staying with other volunteers from all over the world. You will never be alone.
5. Comprehensive Insurance and Evacuation Plan
While volunteering abroad, you will be covered by international insurance. This protects you in case something unforeseen happens. It is mandatory that all volunteers obtain a travel insurance policy when volunteering abroad. Global Crossroad offers one of the most comprehensive insurance packages from a third party. Our insurance policy provides excellent protection in the event that a health-related issue occurs, an accident, or other unpredictable incidences.
6. Placement with Other Volunteers
Global Crossroad is happy to place you with other volunteers (depending on availability) if this is something that would make you feel safer.
Any international travel requires caution and awareness; volunteering abroad is no exception. We suggest that all volunteers consult their own government advisory office before making the decision to participate in any overseas volunteering opportunities. International travel presents risks, especially with the modern day threat of international terrorism.
The U.S. State Department issues travel warnings and advisories in many countries for American travelers. These travel advisories and warnings frequently change, as situations in each country transform.
These links provide valuable travel information:
It is also wise to consult the Center for Disease Control for health related information and issues that might come up during your time volunteering abroad. Check out www.cdc.gov for possible health risks. One must also keep in mind that the sanitary conditions in developing countries are likely very different from those in your home country. It is also strongly advised that you do not drink the tap water and do not eat food from street vendors.
Most Frequently Asked Questions:
Volunteer in Tanzania
APPLICATION - PROCESS/VISA
VISA INFORMATION
PLACEMENT INFORMATION
ARRIVAL AND DEPARTURE INFORMATION
LIVING ACCOMMODATIONS INFORMATION
HEALTH AND SAFETY
MONEY
COMMUNICATION
CULTURE & CUSTOMS
CLIMATE
ADDITIONAL INFORMATION
NOTE: Frequently Asked Questions (FAQ) is generic information and should not be used as a definitive travel guide. Travel information and situations abroad change constantly. Participants should consult Global Crossroad or travel advisors to verify this information.
Mr. Fredrick Kimani-
Tanzania Coordinator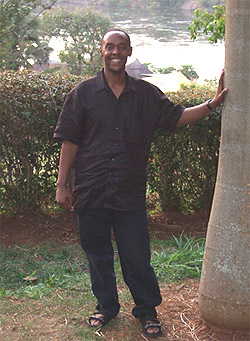 Fredrick has been involved in numerous volunteer programs in Africa and has been Global Crossroad's In-Country Coordinator for Tanzania for the past year and a half. Fredrick also organizes the week-long Language and Cultural Immersion program which volunteers find quite useful in ensuring the improved enjoyment and success of their volunteer projects - proving significant in teaching volunteers aspects of the language spoken in Tanzania as well as the cultures residing in this wondrous land. Fredrick's primary goal to meet and exceed the expectations of all volunteers participating in Tanzania 's projects has made proved his vital role as an In-Country Coordinator.
Education
Fredrick has an Advanced Diploma in Education as a diploma in Computer Science with a strong background in Community Management in addition to numerous training hours in HIV/AIDS-awareness and counseling.
Experience
Over five (5) years' experience teaching Mathematics and Biology
A long-running history of working within the international volunteer industry - helping over 100 international volunteers from abroad.
Interest
Fredrick has a great desire to provide assistance to the many in-need and at-risk children of Tanzania - encouraging volunteers to spend time with these children: dedicating their time and energy and making a much-needed improvement in their lives through the power resulting in simple human interaction. Fredrick enjoys reading novels, go to the movies, watching soccer, traveling, dancing, music and (more importantly) exchanging ideas with volunteers and other members of the global community