Intern South Africa
Do you want to participate in an abroad program that will give you real-world experience while supporting local communities? Have you ever thought about being an intern South Africa in a safe and meaningful program?
Joining an opportunity in South Africa will offer many opportunities for personal and professional growth. Your time in South Africa will be rewarded by cultural immersion and global perspective. Our projects are widely reviewed and very popular which implies that interning with us will give you more benefits---bolstering your resume, learning professional habits, learning from the ground level, mentored by experienced supervisors, travelling to most exotic landscapes and immersed onto vibrant culture.
Global Crossroads facilitates an incredible array of internship programs in South Africa where you can learn and practice valuable skills and engage with your future career choice in professionally supervised cross-cultural setting. You can choose the project of your choice amongst orphanage work, English teaching, HIV/AIDS awareness, social service and daycare. We will work with you to select the best program for you needs, interest, and area of study if you aren't sure which project you should select.
To begin your internship adventure, Global Crossroads invites you to read through our popular program outlines below. We welcome your queries regarding South African projects sent via email and will be more than glad to reply them.
Popular Internship Opportunities in South Africa
Are you ready to embrace South African culture and your passion for learning? Embark on one of the most rewarding experiences of your life. We've listed some of our most popular internship programs below.
South Africa orphanage internship program is well-planned and well-structured working platform for international interns where they accomplish different tasks to support local orphans and to enrich their professional and personal growth.
Our interns with orphanage project carryout different activities in close supervision and guidance of experienced local team of staffs. As an intern, you will teach English and subjects like math, science and physical education, arrange fun-learning and extracurricular activities, reinforce life-skills and help the project with various administrative tasks, future plans and awareness programs on personal hygiene, healthcare and nutrition.
During this South Africa internship in orphanage project, you will gain on-field proficiency and appropriate valuable job skills in professionally built work-setting. Along with travelling onto exotic local landscapes and cultural immersion, internship provides you with a standout work experience that opens a window to your future career in social sector.
Basic interactive English language is required from intern-applicants to participate in this internship project. In addition, interests in social service and childcare of interns largely count in the project.
If you are interested in our rewarding childcare volunteer program in South Africa, please feel free to contact us.
This teaching internship is tailored to meet the demands of English teaching and the needs of aspirant teachers in a well-structured and supervised professional platform. The project equally benefits local South African schoolchildren by making them competent in English language skills.
As a teaching intern, you will be assigned as teacher or an assistant depending upon your qualification, skill and confidence. As intern, you will teach English language and other subjects to local students, arrange fun-learning, creative, extra-curricular and sport activities, organize field and project trips, help local teachers with lesson plans, curriculum development, fundraising and future plans.
When you intern in South Africa provides you with an exclusive professional work-setting where you can acquire and practice teaching skills. Teaching internship is run and managed by qualified supervisors further helping you to explore and clarify your career aspirations and shore up your portfolio. Furthermore, you will get a chance to explore the incredible land and waterscapes with immersion onto vigorous South African culture.
Basic and interactive English language skills are required for you to participate in this project. Other than this, there are no other prior experiences or qualifications necessary for intern applicants. However, qualities like interests in teaching and love and passion for children largely fits the project.
If you are interested in our rewarding teaching volunteer program in South Africa, please feel free to contact us.
If you are interested in amazing volunteer opportunities in South Africa, please feel free to contact us.
Intern South Africa: Dates and Fees
All internships start every Monday of each month. However, if there is travel constrains, you can start any project on any day.
Global Crossroad is committed to offering the most affordable and highest quality work in South Africa. We strive to keep our costs low. The humanitarian side of the business is our passion.
Global Crossroad's term, gap year, and summer internship in South Africa applications and registration fees cost US $299. The application fee covers the cost of advertising, program promotion, and office expenses (rent, utilities, and staff salaries in USA office).
In addition to the application fee, you are required to pay a weekly program fee . You will pay your weekly fee directly to the country coordinator, who in turn will allocate it to your host family, project and other in-country support we offer to our Internships. This way, the fees that you pay will benefit those who rightfully deserve them, and not for company profit.
The program fee for internship and volunteering is basically same in South Africa. However, unlike volunteers, interns often work closely with guided supervision from a local project director, and a small weekly supervision fee ($25-50/ week) may be incurred in addition to volunteer program fees.
Learn our highly affordable volunteer program fees in South Africa.
South Africa Internships vs. Volunteers Programs
In general, volunteer programs focus on humanitarian outreach and project support. Volunteering is popular amongst people who want to share their love and passion for underprivileged children, impoverished communities, or conservation efforts in need of resources.
Internship programs focus on creating a real-world learning environment for interns and students so that they practice professional development and obtain new skills. Similar to volunteers, interns may work on a variety of projects (many times alongside volunteers) that benefits local communities, children, wildlife and similar projects. Teaching programs, medical outreach, and children's support are the most popular internship projects.
Intern South Africa: Room/Food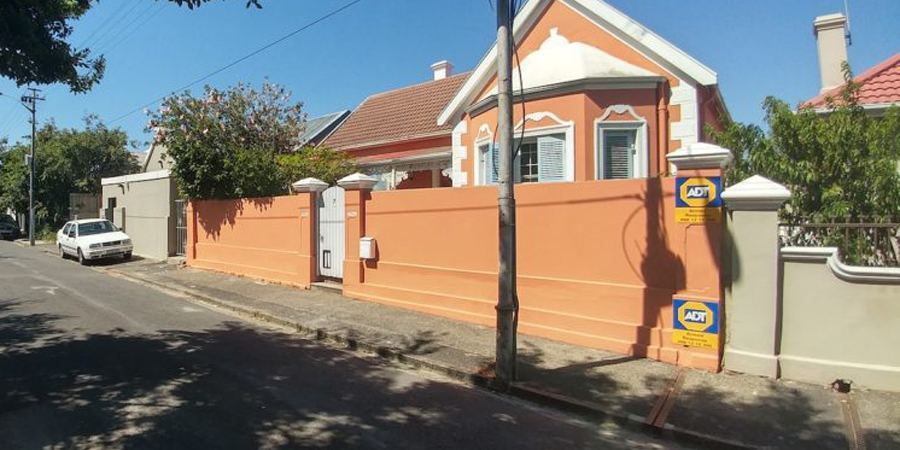 Our international interns are provided with accommodations in our well managed volunteer/intern house. The house is located in a safe and clean neighborhood and is near to internet cafes, local markets, local bus stop, police station and departmental store. The accommodation provides comfortable bedrooms, shared and furnished kitchen, television and shared bathrooms with running water and clean bathrooms.
Interns will receive two meals of South African cuisine each day. Breakfast normally consists of cereal and toast; and dinner is a nutritious home cooked local meal (meat & vegetables, rice or potatoes & salad).
Learn more about your accommodation and meal plans in South Africa.
Supervision and Field Support
While working in a South Africa internship program with Global Crossroads, your internship project is supervised by experienced and qualified professionals. In most of the cases, the head of the project will serve as the supervisor of your internship program. The supervisors are experts in their respective fields where they will help you with any problem you have and mentor you p till the completion of the project.
College Credit
Global Crossroads does not provide college credit for its internship projects. Our local office or your supervisor will provide you with a letter and certificate on the completion of your program verifying your work as an intern and your job responsibilities as an intern. If you need college credit for your internship, please contact your own university, college or professors prior applying.
FAQs: Intern south Africa
Arrival and Departure
You will need to make travel arrangements to arrive in the Cape Town International Airport. Before you depart your home country, please consult our country coordinator so we know that you are well and prepared for you travels.
Our airport representative will pick you up once you've landed in South Africa, so please make sure you have sent us correct flight information and please contact us if there is any delay or if you miss your flight.
We do not offer drop off service.
Visa
You will need to secure a tourist visa before arriving to your South Africa intern project. Depending on your nationality, a 'visa on arrival' may be available. Visa extensions are possible through South Africa's department of Immigration if you decide you would like to spend more time in the country after you've arrived.
Vaccination
You should ensure that you receive proper vaccinations before departing for you internship in South Africa. The CDC recommends vaccinations against: Rabies, Hepatitis A-B, Yellow Fever, Malaria, Meningitis, Typhoid
Why intern with Global Crossroads?
You should explore South Africa internship opportunities through Global Crossroads because we are an honest and proud non-profit organization whose mission is to change the world one individual at a time. With plenty of experience (established in 2003) and trusted by more than 20,000 individuals, Global Crossroads provides exciting, safe, and life-changing experiences for all of our volunteers and interns. Not to mention, our transparent, tax-deductible fees are the most affordable prices in the world.
During your time abroad, Global Crossroads will connect you with unparalleled field support and heart-warming communities who will make you feel like your time spent in your host country is your home away from home.
Our Volunteer Abroad Programs
Globalcross road offers best affordable volunteer opportunities across 20 countries around the world. If you are interested in our highly impactful and rewarding volunteering opportunities in India, Sri Lanka, Thailand, China, Cambodia, Nepal ,Sri lanka, Bali, Ghana , Kenya, South Africa , Tanzania , Uganda, Zimbabwe, Morocco, Costa Rica , Ecuador, Peru, Guatemala , Argentina , and, Brazil