Quick Links
Volunteer in Morocco!
Are you looking for a fulfilling and immersive volunteer work in Morocco? Do you wish to explore the unique lifestyle, culture and wonders of Morocco?
Morocco is a delightful North African country offering diversity and an exotic experience for all travelers. It is a country that effortlessly blends tradition and modernity in its every aspect. Morocco's immense past and richness combined with its natural wonders makes it one of the best destinations to visit in the world.
Morocco's natural beauty includes the beautiful sand dunes and oasis of the Sahara desert; the breath taking mountains, plateaus and valleys dominated by the magnificent Atlas Mountains and the spectacular waterfalls. Morocco is equally rich in its culture and history which can be seen in its intricate mosques, ancient Roman ruins, delightful old towns, coastal villages and warm friendly people.
However, despite its abundance and beauty, Morocco today faces substantial challenges today that is affecting the country's overall development. The country is in need of reforms in both economic, social and environmental front, and suffers from lack of healthcare facilities, education and sanitation leading to bigger problems such as poverty, gender inequality, environmental pollution and lack of general awareness.
Morocco is in need of volunteers more than ever today. Global Crossroad has a variety of volunteer opportunities in Morocco located in the capital Rabat and surrounding cities that you can explore. In Morocco, volunteers can follow their passion and make a difference in the field of their choice. We offer volunteer activities in the field of Childcare, Education and Women Empowerment. We also provide internship opportunities for students in the field of Healthcare, Journalism & NGO support. Both our internship and volunteer programs in Morocco will provide enable you to make a positive impact in the community and gain a life-changing experience.
Volunteer in Morocco and help improve the lives of the vulnerable people while working closely with the local community. Contact Global Crossroad for further information and choose a program of your choice!
Available Volunteer Programs in Morocco
Childcare
Teaching English or French
Working with Women
Available Internship Programs in Morocco
Midwifery and Nursing
Journalism
NGO Support and Human Rights
Read on to find a program that speaks to you!
Childcare Volunteer
Many children in Morocco come from underprivileged and low income background. Some of the children in this program are orphaned or have special needs. Volunteer work in Morocco with the children requires you to be a caregiver, friend and mentor to these disadvantaged children. You will motivate the children and help them achieve their dreams. You will organize various activities for the children that includes both fun and learning. You can also come prepared to share your skills and teach dance, music, art & crafts, language, sports etc. to the children. Through this volunteer program in Morocco, you will get the chance to enrich the lives of some very deserving children.
Program requirement: Volunteers do not need prior experience for this program.
Program duration: This program is available from 1 week up to 3 months.
Teaching English or French Volunteer
Morocco lacks quality education for the students coming from low income backgrounds and the local schools are often underfunded and understaffed.
By joining our Teaching English or French volunteer program Morocco, you will support the local schools and help provide English and French language skills to the students. Learning universal language such as English or French will definitely brighten the future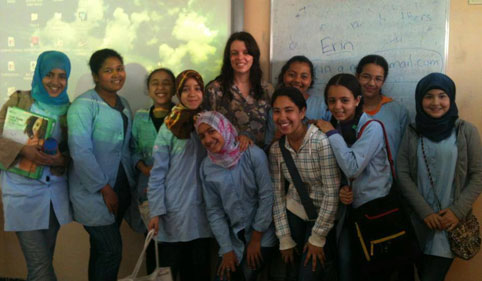 for these poor children and help them secure good jobs in future. Volunteers will teach the children and motivate them, run educational workshops and conduct various learning activities. Volunteers may also be asked to assist the local teachers and help in school administration work or developing curriculums etc.
Program requirement: Volunteers can choose to teach either English or French. Though, you do not need prior experience for this program, you need to be knowledgeable and fluent in the language you are teaching.
Program duration: This program is available from 1 week up to 3 months.
Working with Women Volunteer
Women from the poor communities in Morocco are discriminated and face many challenges. Lack of education, unemployment, gender inequality and awareness about legal matters can cause these women to be trapped in a cycle of dependency, poverty, violence and abuse. Many women receive no assistance and are unable to support themselves or their children. By joining our volunteer work in Morocco, you can provide a chance for these disadvantaged women to come out of their situation and work towards a better future. You can support the women with education, computer skills and teach them skills like making handicrafts and sewing which will help with generating income. You will also encourage the women to make productive decisions and help them in their general well-being.
Program requirement: Volunteers should have at least a basic or intermediate level of French as many of the local women do not speak English.
Program duration: This program is available from 1 week up to 3 months.
Midwifery and Nursing Internship
This program is a perfect for students who are passionate about healthcare and wish to explore the healthcare system in a different country. In our Morocco Internship program, interns will work under the guidance of local hospital staffs observing the daily tasks or actively assisting the staffs depending on the capability and skills of the student.
Interns will assist with labor and other medical procedures.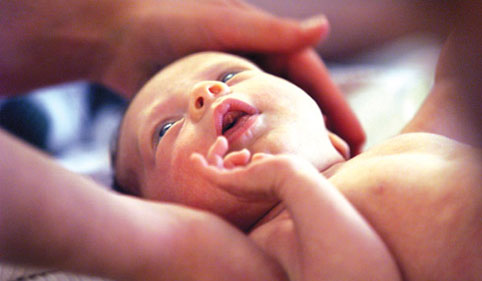 Interns will get a chance to shadow medical professionals, improve their medical skills, explore their career field and gain a valuable experience helping those in need.
Program requirement: Interns should have a background in medicine, midwifery or nursing. Interns should have at least a basic level of French. Interns should submit a formal letter that explains why they wish to join the Internship in Morocco and provide their CV in French.
Program duration: Internship is available for a minimum of 1 month up to 3 months.
Journalism Internship
This is an interesting program for aspiring student journalists. Interns in this program will be working in some of the major local or international new agencies in Morocco. Interns may be placed in Rabat or Fez. In the Morocco Internship program, interns will work under the guidance of their assigned mentor. They will assist with writing and editing articles and other media activities. Through this Internship program, you will be able to gain hands on experience with journalism work.
Program requirement: Interns should be from journalism or any media background. Interns should speak French, English for this program.
Program duration: Internship is available for a minimum of 2 months up to 6 months.
NGO Support and Human Rights Internship
Interns joining this program must be passionate about working for the community keeping in mind its sustainable development. You must also have a sound knowledge of human rights and social challenges.
In this Morocco Internship program, your responsibilities will vary depending on the needs of the community and the skills and expertise you can offer. Interns will work in local NGO's and assist the local staffs by brainstorming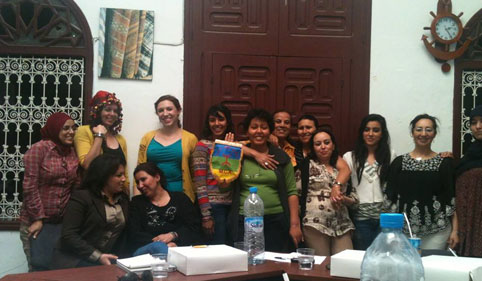 solutions and coming up with new ideas. You will support the workings of the NGO by helping with activities such as program planning and administrative tasks. Your efforts will help improve the quality of life for the people of Morocco and uplift the local communities.
Program requirement: Students from various backgrounds such as psychology, education, law, conflict resolution and others are welcome to join this program. Interns should have at least a basic level of French. Interns should write a formal letter that explains why they wish to join the Internship in Morocco and provide their CV in French.
Program duration: Internship is available for a minimum of 5 weeks up to 6 months.
Volunteer in Morocco: Skills & Qualifications:
Volunteers must be 18 years or older.
Volunteers must at least have a high school education.
Volunteers must provide a criminal background check.
Volunteers/Interns must fulfill the specific requirements of the program they have selected
Volunteer in Morocco: Fees & Program Dates
Program Dates:
Global Crossroad Volunteer Programs in Morocco begins on the 1st and 3rd Mondays of each month, except during the month of Ramadan festival. Volunteers can participate in our volunteer programs anywhere from 1 week up to 3 months. Our Morocco Internship programs have a minimum volunteering duration that depends on the program chosen.
Our Fees
Most affordable prices for quality volunteer work in Morocco are through Global Crossroad. We strive to keep our costs low. The humanitarian side of the business is our passion.
Global Crossroad's volunteer abroad in Morocco application and registration fee cost US $299. In addition to the application fee, volunteers are required to pay weekly program fee. You pay your weekly fee directly to your host families and projects. This way, the fees you pay will benefit those who deserve it (not for company profit).
Program fees cover:
Accommodation (volunteer house or host family)
Food (breakfast & dinner-only for volunteers staying with host family)
Airport pick up
Program Orientation
In-country support
Certificate of completion
Discount for returning volunteers
Program fees exclude:
Visas
Airfare
Personal expenses on soft drinks and foo
Daily transportation
Airport return transfer
Volunteer in Morocco: Accommodations and Meals
Volunteers in Morocco will be provided accommodation in a secure and safe neighborhood in Rabat, the capital of Morocco where all our program are located. Interns for Journalism Program may be placed in Rabat or Fez. Volunteers can choose to stay with a host family or in a volunteer residence (single or double occupancy). The rooms are comfortable, clean and neat. Volunteers/Interns may have to share a room with another volunteer/intern of the same gender.
Breakfast and dinner is provided for volunteers in Morocco staying with host family while volunteers staying in our volunteer residence will have access to kitchen with refrigerator and a stove. Volunteers are required bring their own towels. Volunteers will have access to the wifi and showers. Volunteers staying with the host family are expected to respect the cultural beliefs of the family and follow their daily routine.
Free Time
As a volunteer in Morocco, you will have your evenings and weekend free. You can make most of your free time by exploring around and enjoying the wonderful delights of Morocco. Here are some information on the different leisure activities offered in Morocco.
Go for a hike or bike ride to explore the hidden areas and rural villages. You can also choose to ride in a horse or camel.
Explore the spectacular beaches and delightful coastal villages. You can also enjoy water activities like swimming, water skiing, surfing, kite surfing, jet skiing and windsurfing.
Explore the imperial cities Marrakech, Rabat, Meknes and Fez. Also, visit the grand mosques and the bustling local markets.
Experience the concerts and the numerous amusement and theme parks.
Safety and In-Country Support
Our volunteer's safety is of utmost concern to us. We have carefully planned each and every aspect of your volunteer work in Morocco to ensure that you will have a safe and hassle free experience. Global Crossroad offers pre-trip support prior to your arrival in Morocco. As soon as you arrive in Morocco, our local country coordinator will be there to pick you up from the airport and guide you throughout your time in Morocco, also providing you with useful tips and suggestions.
It is completely safe to travel to Morocco for volunteer work and programs. We ensure that you will be guided by our local country coordinator from the time of your arrival in Morocco till the day you depart. However, we request volunteers to respect the local culture and traditions, and show a sound judgment.
Frequently Asked Questions- FAQ
Arrival and departure
Though there are a few international airports, volunteers in Morocco can choose to arrive at the Rabat-Salé Airport in Rabat which is the closet airport and is located only 20 minutes away from the program site by a taxi. Global Crossroad representative will receive you at the airport. During your departure, you can take the help of our local country coordinator to book a taxi to the airport.
Visa
The Citizens of following nationalities do not visa for entry into Morocco - America, United Kingdom, Canada, Australia & New Zeeland, Japan and European Union countries.
However, citizens of all other countries are required to get a valid visa for entry into Morocco. For further information on the visa and fees, please contact your nearest Morocco Embassy.
Vaccination
Make sure to get up to date on your vaccines before you arrive for your volunteer work in Morocco. Also, take proper precautions during your time in Morocco.
Recommended vaccines for travelers to Morocco include: Hepatitis A, Hepatitis B, Typhoid and Rabies. In addition, make sure to stay updated on your routine vaccines - MMR, DPT, Chicken pox, Polio and yearly Flu shots.
Please take the advice of your doctor on the vaccines. You can also find information on Centers for Disease Control and Prevention.
For further readings:
Vaccination
Volunteer Health and Safety.
Page updated: 5th December, 2019