Volunteer in Cambodia
Are you seeking a volunteer program in Cambodia that is ethical, reputable, and affordable? Would you like to learn new life and career skills? Accomplish this and more when you volunteer in Cambodia.
Visit the ruins of Angkor in Siem Reap. Tour the cosmopolitan capital of Phnom Penh and then rest on some of the country's beautiful, unspoiled beaches. Explore jungles, see wildlife, experience busy markets, and eat unique, delicious food. All this and more await you in mysterious Cambodia. Volunteer abroad in Cambodia for a life-changing experience.
In spite of strong progress in combating poverty since the late 20th century, more than 30 percent of the population in Cambodia still lives in poverty. As is the case in most of the third world, the largest percentage of those impoverished live in rural areas. Lack of education, access to clean water, and decent health care all contribute. The country is still recovering from the brutal Pol Pot regime that murdered millions in the 1970s, which slowed development as well.
Today, Cambodia needs volunteers more than ever.
You can help by joining any of the important volunteer opportunities available in Cambodia. Volunteer in an orphanage, teach English in a rural school, work with non-profits providing in-country aid, or support community development. If you have a medical background (professional or educational), you'll find opportunities in general health care placements and HIV/AIDS awareness programs.
Gain new life and career skills and make new friends for life while you work to make life better for those less fortunate.
Request information about volunteering in Cambodia and choose a program that speaks to you!
Volunteer in Cambodia Programs
Global Crossroad offers variety of exceptional volunteering and special programs to meet your volunteering as well as travelling need. Please feel free to choose any program you love and contact us for more information:
Dates: Volunteer in Cambodia
All volunteer programs in Cambodia start every Monday of each month. However, if there is travel constrains, you can start any project on any day.
Prices: Volunteer in Cambodia
Global Crossroad is committed to offering the most affordable and highest quality Cambodia volunteer trips. We strive to keep our costs low. The humanitarian side of the business is our passion.
Global Crossroad's volunteer program in Cambodia application and registration fee cost US $299. The application fee covers the cost of advertising, program promotion, and office expenses (rent, utilities, and staff salaries in USA office).
In addition to the application fee, you are required to pay a weekly program fee. You will pay your weekly fee directly to the country coordinator, who in turn will allocate it to your host family, project and other in-country support we offer to our volunteers. This way, the fees that you pay will benefit those who rightfully deserve them, and not for company profit.
Duration
Teaching
Orphanage
HIV/AIDS
Medical project
NGO/
Community Development
2 Weeks
$350
$550
N/A
3 Weeks
$444
$650
N/A
4 Weeks
$550
$750
$550
5 Weeks
$635
$935
$635
6 Weeks
$720
$1,020
$720
7 Weeks
$830
$1,130
$830
8 Weeks
$940
$1,240
$940
9 Weeks
$1,035
$1,435
$1,035
10 Weeks
$1,130
$1,530
$1,130
11 Weeks
$1,205
$1,605
$1,205
12 Weeks
$1,280
$1,680
$1,280
Program fees cover:
Accommodation (volunteer house or host family)
Food (local food 3 times a day)
Airport pick up (arrival)
Program Orientation
In-country support
Personalized project
Pre-departure information
Certificate of completion
Fundraising ideas and letters
Discount for returning volunteers
Program fees exclude:
Visas
Airfare
Personal expenses, soft drinks and snack/extra food
Daily transportation expenses
Airport return transfer
Accommodations and Meals: Volunteer in Cambodia
While volunteering in Cambodia, Global Crossroad's weekly fees include management of volunteers'meal plans and accommodations throughout projects. Three meals a day (breakfast, lunch and dinner) will be provided and consist of local ingredients and feature traditional cuisine choices for Cambodia. Generally, volunteers have breakfast at a local restaurant or at their accommodations or project. Dinners tend to be at accommodations and lunch is sometimes offered by the project. Food and drinks outside of meal times are the volunteer's responsibility. In most cases, there are restaurants and markets nearby the places in which our volunteers stay during their volunteer work in Cambodia timeframe.
During your volunteer opportunity in Cambodia, we normally place our volunteers in a guesthouse or with a host family depending on project location. The main guesthouse we assign is located in the center of Phnom Penh City near the Olympic Stadium and the Orussey Market. It is very comfortable and has a large roof terrace with hammocks, a TV, Internet access, and many amenities nearby. Staff members for our accommodations are chosen carefully and most have experience in the realm of hosting international travelers. Occasionally, volunteers receive rural placements in the provincial capitals and will stay with a host family.
Specific details regarding accommodations, food, and contact details for our local coordinator will be provided in personalized volunteer placement documentation prior to your arrival for your Cambodia volunteer experience.
Safety and Field Support
Our number #1 priority is the safety of our volunteers. Global Crossroad is a leading volunteer organization serving thousands of volunteers. We pride ourselves on providing the safest, highest quality, and most professional programs to our volunteers since 2003. Our dedicated team works closely from start to finish with each volunteer (and parents/guardians) to ensure a successful, satisfactory, and safe volunteering experience.
Below is a list of our safety and field support features that will demonstrate the level of support and safety each of you will receive while volunteering abroad.
1. Country Coordinator and Field Staff :
In each country, where we operate, we have a very strong and dedicated team of country coordinators and local staff members to support and take care of you. All of our country coordinators and field staff are highly experienced and responsible individuals. They have been running volunteer abroad program for many years. They have served thousands of volunteers, so they understand your needs and know how to run safe, rewarding, and meaningful volunteer abroad program for you.
Our In-country staff is responsible for a number of things. Below are some of the main services that they will provide:
Airport pick-up and transfer to host family or work site
Management of room and food in host family/hostel
Orientation of local country, culture, host family, safety, and related issues
Introduction to your host family and project staff
Periodic follow up visits or calls (1-2 week intervals) to ensure everything is going smoothly
Advice for solving any issues, problems, or concerns
2. Airport Greeting
We are dedicated to keeping you save and comfortable from your point of your arrival until your point of departure. We will always receive our volunteers at the airport and transfer them safely. Depending upon the country in which you choose to volunteer, our coordinator, local staff, or a professional transfer company employee will greet you at the airport.
3. Orientation and safety discussion
Regardless of where you join the Global Crossroad volunteer program, our program starts with an in depth discussion on safety, history, cultural people, religion, life, and do's and don'ts. Depending upon the country, these orientation programs range from a few hours to three days. During orientation, we explain the different aspect of safety and general guidelines to help keep yourself safe while volunteering abroad.
4. Safe Host Family and Accommodation
While volunteering abroad, the majority of the time you will reside with a local host family, hostel, or similar accommodation. We always carefully select the host families and other forms of accommodations to make sure that you will be safe and comfortable. In all destinations, we have selected host families who are socially respected and responsible. Most of our host families have hosted international volunteers before, so they completely understand your needs. Your host family will always take care of you and keep you safe.
Similarly, all of our volunteer houses and hostels are located in very safe locations. These hostels are always guarded by security guards or supervised by the local staff very frequently to make sure that you are safe and secure. Also you will be staying with other volunteers from all over the world. You will never be alone.
5. Comprehensive Insurance and Evacuation Plan
While volunteering abroad, you will be covered by international insurance. This protects you in case something unforeseen happens. It is mandatory that all volunteers obtain a travel insurance policy when volunteering abroad. Global Crossroad offers one of the most comprehensive insurance packages from a third party. Our insurance policy provides excellent protection in the event that a health-related issue occurs, an accident, or other unpredictable incidences.
6. Placement with Other Volunteers
Global Crossroad is happy to place you with other volunteers (depending on availability) if this is something that would make you feel safer.
Any international travel requires caution and awareness; volunteering abroad is no exception. We suggest that all volunteers consult their own government advisory office before making the decision to participate in any overseas volunteering opportunities. International travel presents risks, especially with the modern day threat of international terrorism.
The U.S. State Department issues travel warnings and advisories in many countries for American travelers. These travel advisories and warnings frequently change, as situations in each country transform.
These links provide valuable travel information:
It is also wise to consult the Center for Disease Control for health related information and issues that might come up during your time volunteering abroad. Check out www.cdc.gov for possible health risks. One must also keep in mind that the sanitary conditions in developing countries are likely very different from those in your home country. It is also strongly advised that you do not drink the tap water and do not eat food from street vendors.
Most Frequently Asked Questions:
Volunteer in Cambodia
Application Information
Visa Information
Project Information
Arrival and departure Information
Living Accomodation and Food
Health and Safety
Money
Communication
Culture and Religion
Free Time Options: Volunteer in Cambodia
Placements while volunteering in Cambodia are available in Phnom Penh, Pursat and several other provinces. Phnom Penh is a charming, yet rapidly developing city situated where three great rivers come together (the Mekong, Tonle Sap, and Bassac rivers). The town offers many tourist attractions such as the Royal Palace, National Museum, Wat Phnom, and the Toul Sleng Genocide Museum. It is a perfect base for afternoon, day, or weekend trips to the other provinces and the coast.
Phnom Penh has a wide range of international cuisine restaurants, colorful markets, Internet cafés, and a wealth of other interesting places off the beaten track. In the other provinces, volunteers will usually stay in the provincial capitals, which are mostly quiet, and medium sized cities with basic amenities like traditional Cambodian restaurants, markets, and laundries.
Pursat, for example is a peaceful provincial capital of Pursat Province, which has at present 270,000 residents living on the banks of the Stung Pursat River that flows through the city. The city is located on the main railway line and the main bus route from Phnom Penh to Battambang. The bus trip to Phnom Penh takes around 4 hours and 3 hours to Battambang. These cities offer worthwhile and easy weekend-trips from you volunteer opportunity in Cambodia project location.
Over long weekends, when you are part of a volunteer program in Cambodia, you will have the opportunity to explore the country and should take some time to visit the main attractions of Cambodia, particularly the majestic temples of Angkor Wat in Siem Reap province and the beautiful coconut beaches of Sihanoukville. For this trip, a minimum of 3 or 4 days should be planned and, when possible, take the Friday off from your volunteer work in Cambodia!
The 15 Most Memorable Attractions In Cambodia
Top things to do
Top 10 Things to Do in Cambodia
Additional Information
NOTE: Frequently Asked Questions (FAQ) is generic information and should not be used as a definitive travel guide. Travel information and situations abroad change constantly. Participants should consult Global Crossroad or travel advisors to verify this information.
Coordinator: Mrs. Gabi Vogel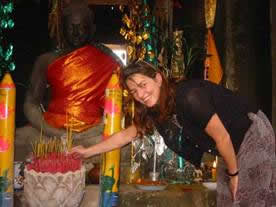 Mrs. Gabi Vogel was born in Osnabrück , Germany . She worked as a Project Manager in Germany for 15 years before she came to Cambodia with the Church Development Service Germany (EED) program in 2005 to support the partner organizations. After learning the basic Khmer language, the culture, the history and the political situation of Cambodia , she decided to settle down with her husband in the capital Phnom Penh . Presently she is working as a Project Coordinator with the local non-government organization STAR Kampuchea to build up democracy and to exchange cultural and work experience in one of the poorest countries in the world. She is also coordinating the program "Volunteer Action for Cambodia."
Education
She studied at the University of Applied Sciences Cologne and holds an Engineering Degree in Photo Technology. She also has additional qualification of Multi Media and is a certified Internal Auditor.
Experience
15 years of experience working as a Project Manager, Coordinator and a Trainee Supervisor in the areas of Photography, Public Relation and Advertising.
She has widely travelled South East Asian regions. She was highly impressed by the rich variety of cultures and religions of these countries and finally Mrs. Vogel decided to live in Cambodia.
Interest
As a development aid worker she loves to support the Cambodian partner organizations by strengthening democracy, peace and justice. She is working for the volunteer program because she feels that specialized knowledge is urgently needed in Cambodia and every volunteer does a great job by working with the organizations bringing them new impulses and fresh ideas. And she also feels that it is a great opportunity for all to learn from one another every day. Her experience and the fact that she is a foreigner in the country is a perfect precondition to help the volunteers to come to Cambodia .