Turtle Conservation Volunteer in Antigua, Guatemala
Are you passionate about wildlife conservation efforts and want to make a difference? Do you want to help the endangered sea-turtles on the beaches of Guatemala? Then you should join our Turtle Conservation volunteer opportunities in Guatemala!
The beaches of Guatemala were once brimming with a huge population of sea-turtles during the nesting season. But,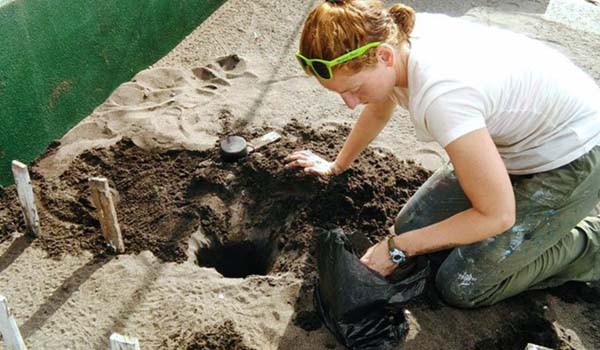 unfortunately, the population of turtles in Guatemala has been decreasing over the past few decades due to unsustainable and harmful fishing practices, devastating human impacts, increased tourism, and habitat destruction. There is also a high demand for turtle products in the market, which leads to turtles being hunted and their eggs stolen from their nests. All these factors have endangered sea-turtles and they are in urgent need of your help!
By joining this Turtle Conservation volunteer program, you will gather crucial data that will be used to further research on sea-turtles and come up with effective ways to safeguard and protect them. You will get an amazing opportunity to work hands-on with sea-turtles under professionals and aid in their conservation. You will make a positive impact in the population of sea-turtles and help this endangered species thrive. With your support, the sea-turtles will be able to live long and safe lives that also benefits many other marine species.
Are you interested in helping the incredible sea-turtles? If your answer is yes, contact Global Crossroad today to learn more about our Turtle Conservation volunteer in Guatemala!
Volunteer Responsibilities & Impact
During your Turtle Conservation volunteer in Guatemala, you will work under the supervision of scientists and turtle experts to save sea turtles in a number of ways. Your duties and responsibilities will vary spending on the needs of the project, the season and your specific skill set. Work hours may be in the morning, afternoon, evening or night.
You will be assisting with collection of data and count the nesting females, eggs, hatchlings and tag the turtles. You will rescue the injured and sick turtles and assist with their recovery so they can be safely returned back to the ocean. You will safeguard the nesting turtles and their eggs by patrolling the beaches. You will rescue injured turtles, relocate the eggs and when the hatchlings emerge, you will help them make their way back into the ocean. You will also educate the local community about the importance of conserving this ancient species and take part in beach cleaning activities.
The Turtle Conservation volunteer in Guatemala project provides an amazing opportunity for volunteers to join marine conservation efforts. You will also get the opportunity of a lifetime to work with experienced conservationists and learn from them while gaining hands-on experience with the amazing sea-turtles. You will feel fulfilled knowing your time volunteering abroad has made a real and lasting difference in the lives of many animals.
Skills and Qualifications
There are no specific skills or qualifications required for the Turtle Conservation volunteer in Guatemala. What you will need is a passion for helping animals and conservation work. You will be working outdoors for long periods of time and doing manual labor, so you need to be physically fit. Volunteer schedules may change suddenly and you may be required to work in both day and night shifts. So, you will also need to be flexible and hard-working, and able to live in a remote area with limited facilities.
We welcome enthusiastic volunteers over the age of 18 from around the world. Volunteers who are at least 16 can also volunteer on their own with parental consent. Volunteers below the age of 16 can volunteer only if accompanied by a parent, guardian or faculty leader.
Basic Spanish skills will be helpful though not mandatory. If you cannot speak Spanish, we recommend enrolling in our Spanish Language Studies program. You can spend a whole week doing an immersion class before you begin your project or take classes while you volunteer.
Program Dates & Fees
Program Dates
Global Crossroad volunteer programs begin every Monday year-round. We still allow flexibility if you have travel constraints. Volunteers can join our programs from 1 week up to 12 weeks.
Fees
Global Crossroad is committed to offering the most affordable and highest quality Antigua, Guatemala volunteer trips. We strive to keep our costs low. The humanitarian side of the business is our passion.
Global Crossroad volunteer opportunity in Antigua, Guatemala application and registration fee costs US $299. The application fee covers the cost of advertising, program promotion, and office expenses (rent, utilities, and staff salaries in the USA office).
In addition to the application fee, you are required to pay a weekly program fee. You will pay your weekly fee directly to your host family and project (via the country coordinator). This way, the fees that you pay will benefit those who rightfully deserve them, and are not for company profit.
| Weeks | Program Fees |
| --- | --- |
| 1 Week | N/A |
| 2 Weeks | $810 |
| 3 Weeks | $1,075 |
| 4 Weeks | $1,330 |
| 5 Weeks | $1,580 |
| 6 Weeks | $1,830 |
| 7 Weeks | $2,080 |
| 8 Weeks | $2,330 |
| 9 Weeks | $2,580 |
| 10 Weeks | $2,830 |
| 11 Weeks | $3,080 |
| 12 Weeks | $3,330 |
Mandatory comprehensive travel insurance $3.49 a day »
Spanish Lessons (2 hours per day) $55 per week
How your fee is allocated?
Program fees cover:
Shared Accommodation with host family
2 meals per day (Breakfast & Dinner)
Airport Pick up
Special Project Surcharge
In-country support
Program Orientation
Project Management
Volunteer Certificate
Discount for returning volunteers
Program fees exclude:
Visas
Airfare
Miscellaneous personal expenses, soft drinks, food, etc.
Daily transportation
Airport return transfer
The volunteer programs fees in Antigua, Guatemala cover expenses from the first day of your program to the last day of your program. If you arrive before the first day of the program or you decide you stay beyond your program's last day, you will be responsible for any additional expenses.