Construction Volunteer in Guatemala, Antigua
Are you passionate about helping the people and communities in Guatemala? Are you looking for a Construction volunteer program and wish to share your skills? Then you should join our Construction Volunteer Program in Antigua, Guatemala!
While the tourist areas in Guatemala are beautiful and up-to-date, the poorer and rural areas are often run down and lack basic facilities. Many communities are in desperate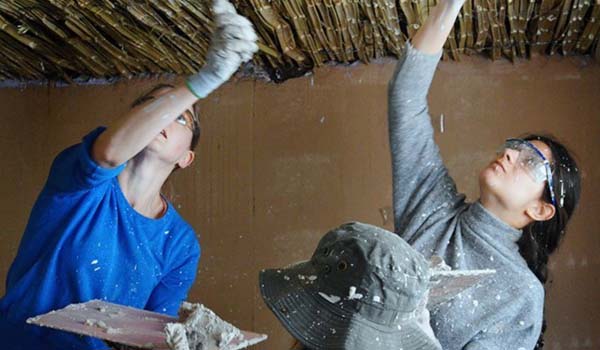 need of infrastructures. We have plenty of construction and renovation volunteer opportunities in place to improve local homes, schools and public buildings.
In the construction project, you will participate in various construction projects depending on your skills and credentials. You will work to build, create, repair, paint, renovate, or make improvements to different places within the communities like community centers, housing, local school and churches. Your support will provide much needed facilities to those in need and improve their quality of life and the community's overall morale.
By joining the Construction Volunteer in Guatemala, you will also gain valuable construction and building skills under professional guidance and with the support of a like-minded team. Your effort will provide a better future for many children and people. In the past, our volunteers have had a positive effect on the community, and the local citizens really appreciate the program.
Help uplift the local communities of Guatemala today! Contact us today to learn more about our Construction volunteer in Guatemala Antigua!
Volunteer Responsibilities & Impact
In the Construction volunteer program in Antigua, Guatemala, you will work under the guidance of an experienced local foreman and assist with various duties depending on your skill set, capabilities and needs of the project at the time of your volunteering. You will help build or renovate housing, schools, and churches and community centers.
If you have specialized skills in construction like masonry, carpentry or electrician etc., you will be assigned specialized tasks. General duties may include digging, removing dirt, carrying and laying bricks, plastering, excavation work, mixing cement, plastering, painting, cleaning and other needs.
The Construction Volunteer in Guatemala, Antigua volunteer project provides an amazing opportunity to work alongside like-minded people and professional construction workers and learn about both traditional and modern building methods in Latin America. Your support will leave a lasting impact in the lives of many people and provide hope for the communities.
Skills and Qualifications
No specific qualifications are required to join the construction project in Antigua, Guatemala, though the work could be physically demanding. You must be physically fit and be able to do manual work. You must also be a hard worker, flexible and able to follow instructions. You need to bring gloves, work boots, safety glasses.
Although anyone over the age of 18 is welcome to volunteer in the construction project. Volunteers who are at least 16 can also volunteer on their own but need parental consent. Volunteers below the age of 16 can volunteer only if accompanied by a parent, guardian or faculty leader.
Though not mandatory, it will be helpful to have basic Spanish skills. If you wish to learn Spanish, we recommend enrolling in our Spanish Language Studies program. You can do a full-week immersion course before starting your project or take classes while you volunteer.
Program Dates & Fees
Program Dates
Global Crossroad volunteer programs begin every Monday year-round. We still allow flexibility if you have travel constraints. Volunteers can join our programs from 1 week up to 12 weeks.
Fees
Global Crossroad is committed to offering the most affordable and highest quality Antigua, Guatemala volunteer trips. We strive to keep our costs low. The humanitarian side of the business is our passion.
Global Crossroad volunteer opportunity in Antigua, Guatemala application and registration fee costs US $299. The application fee covers the cost of advertising, program promotion, and office expenses (rent, utilities, and staff salaries in the USA office).
In addition to the application fee, you are required to pay a weekly program fee. You will pay your weekly fee directly to your host family and project (via the country coordinator). This way, the fees that you pay will benefit those who rightfully deserve them, and are not for company profit.
| Weeks | Construction Prject |
| --- | --- |
| 1 Week | $465 |
| 2 Weeks | $810 |
| 3 Weeks | $1,075 |
| 4 Weeks | $1,330 |
| 5 Weeks | $1,580 |
| 6 Weeks | $1,830 |
| 7 Weeks | $2,080 |
| 8 Weeks | $2,330 |
| 9 Weeks | $2,580 |
| 10 Weeks | $2,830 |
| 11 Weeks | $3,080 |
| 12 Weeks | $3,330 |
Mandatory comprehensive travel insurance $3.49 a day »
Spanish Lessons (2 hours per day) $55 per week
How your fee is allocated?
Program fees cover:
Shared Accommodation with host family
2 meals per day (Breakfast & Dinner)
Airport Pick up
Special Project Surcharge
In-country support
Program Orientation
Project Management
Volunteer Certificate
Discount for returning volunteers
Program fees exclude:
Visas
Airfare
Miscellaneous personal expenses, soft drinks, food, etc.
Daily transportation
Airport return transfer
The volunteer programs fees in Antigua, Guatemala cover expenses from the first day of your program to the last day of your program. If you arrive before the first day of the program or you decide you stay beyond your program's last day, you will be responsible for any additional expenses.
Accommodations and Meals
When you volunteer in Guatemala, we take care of your housing and food, so you can relax and enjoy your volunteering. You'll have the extraordinary chance to experience our culturally immersive homestay experience.
You'll stay in the clean, safe, and comfortable home of one of our socially respected host families, possibly sharing a room with fellow volunteers of the same gender. You'll share two local meals a day (breakfast and dinner) with your host family, which will also give you a chance to try new food and practice your Spanish!
Learn more about your housing and food in Antigua, Guatemala.