Internship programs in Ecuador
Ecuador's most affordable internship placements start at $266 per week

Pay fees directly to your host families and projects.

Safe and meaningful internship experience

Feel free to choose from wide range of programs that suits your interest, career choice and area of study.
Global Crossroads internship programs in Ecuador provides opportunities to inspire young students and graduates to work in areas of teaching, orphanage work, healthcare, street children and conservation. Our interns are assigned to perform various activities in a way to help them learn valuable job-skills and professionalism in mentorship and guidance of experienced experts. These internship programs are tailored to our each aspiring interns' personal interests, career choice and academic learning.
Our internship projects are located in the most fabulous places of Ecuador and are meant to serve the underprivileged and disadvantaged communities. As internship schedules are flexible, you will get a lot of time to ramble around the local places and explore exotic and vibrant culture of the country.
Our Internship in Ecuador website provides you with detailed information regarding projects including start dates, duration, prices, food, accommodation and location among others. We suggest you to select a program that suits you the most and apply with simple and easy procedures. For any additional information regarding projects, you can simply send us an email which we will timely reply with necessary support.
Dates: Internship in Ecuador
All Internship programs in Ecuador start every Monday of each month. However, if there is travel constrains, you can start any project on any day.
Prices: Internship in Ecuador
Global Crossroad is committed to offering the most affordable and highest quality Ecuador Internship trips. We strive to keep our costs low. The humanitarian side of the business is our passion.
Global Crossroad's Internship opportunity in Ecuador application and registration fee cost US $299. The application fee covers the cost of advertising, program promotion, and office expenses (rent, utilities, and staff salaries in USA office).
In addition to the application fee, you are required to pay a weekly program fee. You will pay your weekly fee directly to your host family and project. This way, the fees that you pay will benefit those who rightfully deserve them, and not for company profit.
div class="col-md-12 col-lg-12 col-sm-12 col-xs-12 table-responsive pade_none">
| Weeks | Quito | Galapagos |
| --- | --- | --- |
| 1 Week | $266 | $573 |
| 2 Weeks | $427 | $816 |
| 3 Weeks | $588 | $1,059 |
| 4 Weeks | $749 | $1,296 |
| 5 Weeks | $910 | $1,514 |
| 6 Weeks | $1,071 | $1,721 |
| 7 Weeks | $1,232 | $1,933 |
| 8 Weeks | $1,393 | $2,140 |
| 9 Weeks | $1,554 | $2,359 |
| 10 Weeks | $1,715 | $2,559 |
| 11 Weeks | $1,876 | $2,778 |
| 12 Weeks | $2,037 | $2,984 |
Program fees cover:
Accommodation (volunteer house or host family)
Food (local food 3 times a day)
Airport Pick up/Transfer
Program Orientation
In-country support
Personalized project
Pre-departure information
Certificate of completion
Fundraising ideas and letters
Discount for returning volunteers
Program fees exclude:
Visas
Airfare
Airfare Galapagos
Personal expenses on soft drinks and foods
Daily transportation
Airport return transfer
Food (if you are volunteering on the Galapagos Islands); Please allot $60-$70 a week to cover the cost of your meals)
The Internshiping programs in Ecuador fees will cover expenses that will begin on the first day of the program (usually the first or third Monday of the month) to the last day of the program. If you arrive before the first day of the program or you decide you stay beyond your program's last day, you will be responsible for the additional expenses, which would typically be around $30 a day for room and meals at a hostel.
Teaching Internship in
Ecuador
English teaching career has a global future. Teaching internship in Ecuador assists local schoolchildren acquire basic conservational English while helping interns learn teaching and classroom skills in getting an edge in the near-future job market.
You will be assigned as a teacher or an assistant in a private or a public school. As an intern, you will teach Basic English to local schoolchildren, develop their conversational skills with innovative fun-learning activities, support teachers in curriculum development, create awareness about healthcare, sanitation and hygiene and assist school with various administrative tasks.
Landing in teaching internship in Ecuador is a great way to learn valuable job-skills in supervised and recommended work-setting. When it comes to future career and strengthening your resume, it's like getting your foot in the door. Apart from bolstering your resume, you will get a chance to explore local Ecuadorian places and culture in-between your flexible internship schedules.
There are no specific qualifications or prior experiences needed for you to get involved in this project. However, dedicated and enthusiastic interns with passion in teaching are highly encouraged to apply. Beginner to intermediate knowledge of Spanish language skill is preferred but not as a requirement. We provide language immersion program for our interns simultaneously or one-week prior to the project start.
Orphanage Internship in
Ecuador
Many Ecuadorian children live in orphanages all across the country. Orphanage internship project in Ecuador is deeply rooted to provide valued and authentic work experience to global students and interns while they learn and practice relevant skills to support and assist the project children.
Our interns in this project involve in activities including teaching English, helping children with their homework, assignments and chores, arranging recreational and innovating learning tools, organizing sport activities and participating in location-specific duties like routine maintenance and construction.
Orphanage internship program in Ecuador offers rare opportunities to work alongside experienced supervisors to gain hands-on experience in the field that matches your academic learning and career choice. Attending the program, you will craft leadership and professionalism that relate in fulfilling your future career dreams.
You don't require any of the experiences or qualifications to apply for this program because we run orientation and thorough instructions right before the project starts. Beginner to intermediate Spanish language skill is preferred but not as a requirement. We conduct a Spanish language immersion program prior or simultaneously to the project to make your internship stay more worthwhile.
Medical Internship in
Ecuador
Many health hazards and serious circumstances in Kenya will bring you with lots of exposure and opportunities to exercise your skills and test your proficiency. Healthcare and medical internship project offers a learning of a lifetime for aspiring doctors, nurses and medical practitioners aiming to bring a positive impact in the lives of many. For those who want to lend a hand, join our Kenya internship project and start sowing your seeds now.
As a medical intern of the project you will carry out activities like observing and supporting local doctors and nurses, organizing and leading healthcare seminars and camps, assisting pre-established health centers and awaring public about sanitation, healthcare, hygiene and sanitation.
In true sense, medical internship in Ecuador is more than just an internship. Through our program, you will enter your line of work to bridge the gap in-betweens your academic learning and professional world. During project, you will explore potential medical careers, gain valuable work-skills, bolster your portfolio, immerse onto vibrant Ecuadorian culture and learn more about yourself.
Interested students and graduates should show an ID or credentials to prove their medical qualifications and expertise prior coming to the project like an identity of medical student or nurse or paramedic or EMT or public health. Beginner to intermediate skill of Spanish language is necessary for the project. If you have a poor or no language skill as such, we conduct a short-term language immersion program prior to or simultaneously the project duration.
Internship in Street Children
Project
As the Ecuadorian population doubled in the past decade, the number of abandoned children who eventually ended up in streets equally rose. Street children are helped by many across-the-country projects by getting them off the streets and providing them with a secure and healthy environment.
Your tasks as an intern in street children project of Ecuador is to teach English, music, mathematics, computer skills, assist with children's daily homework, assignments and chores. You will also educate children about personal care, sanitation and cleanliness. You will also counsel the children and help them reintroducing to their families and societies. Your tasks in the project will be assigned as per your interests and skills.
The hands-on experience that you will encounter as an intern in street children project enhances your skills and potentials. You will gain enriching real-world experience and enjoy social outings with interns from across the world. You will find your experience as an intern being aligned with your interests, career priorities and academic learning.
Beginner to intermediate skill of Spanish language is preferred for you to participate in this project, yet this is not a requirement. If your command over the language is poor, we recommend you to enroll in our short-term and language-intensive program to make your internship more rewarding. Other than this, there are no other pre-requirements.
Conservation Internship in
Ecuador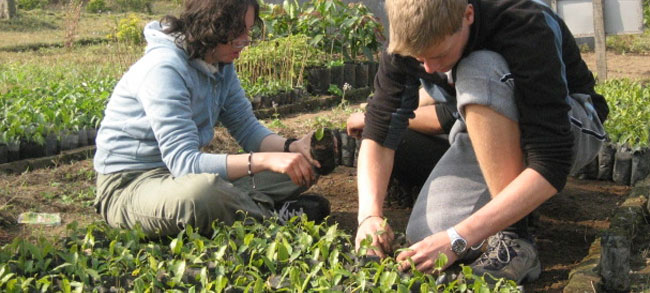 Some land and waterscapes in Ecuador are huge biological and marine reserves and different factors are posing a threat to these biodiversities in recent times. Conservation internship in Ecuador aims to provide a platform for global students and graduates to help them learn various valuable skills and an insight of rich and incredible natural heritages.
As an intern in conservation internship project in Ecuador, you will be involved in afforestration, trails maintenance, assist in organic and sustainable farming, acquire deep knowledge of marine creatures and ecosystem and apply innovative measures to conserve and preserve endangered flora and fauna.
During the project, you will learn valuable and transferable job-skills and practice them in professional work-setting in close guidance of conservation specialists. You will also acquire in-depth knowledge of beautiful marine life, the threat posed and measures to thwart the ongoing heritage depletion.
There are no qualifications or prior experiences required to take part in conservation internship project in Ecuador. However, interns with good physical conditions ready to walk around on foot and lift equipments are best fitted for the project.
Supervision and Field
support
While working as an intern in Ecuador with Global Crossroads, your internship project is supervised by experienced and qualified professionals. In most of the cases, the head of the project will serve as the supervisor of your internship program. The supervisors are experts in their respective fields where they will help you with any problem you have and mentor you p till the completion of the project. Depending on your qualification and time allocated for your project, you might need to pay an additional fee of $25-$50 per week to supervisors. Please communicate with our office or our country coordinator if you need personal supervision to help you in your completion of your internship project.
College credit for internship project in
Ecuador
Global Crossroads does not provide college credit for its internship projects. Our local office or your supervisor will provide you with a letter and certificate on the completion of your program verifying your work as an intern and your job responsibilities as an intern. If you need college credit for your internship, please contact your own university, college or professors.
Room/
Food
Our international interns in Ecuador are provided with accommodations in a home base or with host families. Our home base is located in a safe and clean neighborhood and is near to internet cafes, local markets, local bus stop, police station and departmental store. Our home base provides comfortable bedrooms and community areas. There is a shared and furnished kitchen, television and shared bathrooms with running water and clean bathrooms. Depending on the project locations, intern accommodations are also made with host families. These families are well experienced in hosting international interns and volunteers for a very long time. Staying with host families will further immerse into the beautiful culture and Ecuadorian way of life.
Three meals—breakfast, lunch and dinner are served to interns. We also provide vegetarian meals to interns which they must mention about it on their application forms. The fee you kindly pay to our programs is not inclusive to other meals and beverages except for three meals.
Specific details regarding accommodations, food and contact details of the local coordinator and the supervisor will be provided in a personalized internship placement document prior to your arrival.
Free
time
Our internship projects have flexible schedules and are stationed in the most alluring and incredible places of the country, so you will have a lot of time to explore the arresting local landscapes and immerse onto vibrant local culture. Although we don't generally arrange activities for our interns, our local staffs will assist you accordingly with information and support for your various free time activities. There is lots of travelling and fun options which our local team of staffs will help you choose the best options.