Wildlife Volunteer Costa Rica (Natuwa)!
Do you have a passion for wildlife and want to help rescue and rehabilitate animals in the rainforest? Have the jungles of Costa Rica been calling out to you?
Costa Rica is home to dense, sprawling rainforests that carpet much of the country in a thousand shades of green. Even more plentiful are the varieties of life present in this spectacular destination, from towering trees and colorful, exotic plants to jaguars, sloths, monkeys, macaws, toucans, ocelots, tapirs, and so much more.
Unfortunately, despite amazing efforts made by the government and many dedicated non-profits in Costa Rica to preserve and restore the natural world, wildlife is under threat from human encroachment into their habitat. They face electrocution on power lines, being hit by cars, fed by tourists, and the illegal pet trade. They need your help now more than ever.
At this exciting project, you'll be volunteering at a wildlife sanctuary in Costa Rica, helping to care for animals who for various reasons are unable to be released back into the wild. You'll also help rescue and rehabilitate animals who are injured, orphaned, or confiscated from the pet trade.
Contact Global Crossroad today to learn more about volunteering with wildlife in Costa Rica!
Volunteer Responsibilities & Impacts
You'll be working at a wildlife sanctuary and rescue center. You'll provide daily care to animals in the sanctuary such as jaguars, sloths, monkeys, and 200 macaws, also part of a breeding and release program. You will also help in the rescue and rehabilitation of injured or confiscated animals. You'll assist with babies in the nursery, give tours, and plant trees.
Volunteering with wildlife in Costa Rica will have a tremendous impact on the animals you care for, and the future of the rainforest. Ensure that the sanctuary animals have clean fully enriched enclosures, fresh food and water, and the best possible life they can. Help others on their journey back into the wild on this amazing volunteer experience abroad.
Programs:
You will find yourself getting involved in a variety of exciting ongoing projects at the rescue center. Keep reading to learn all about them!
Caring for the animals in the sanctuary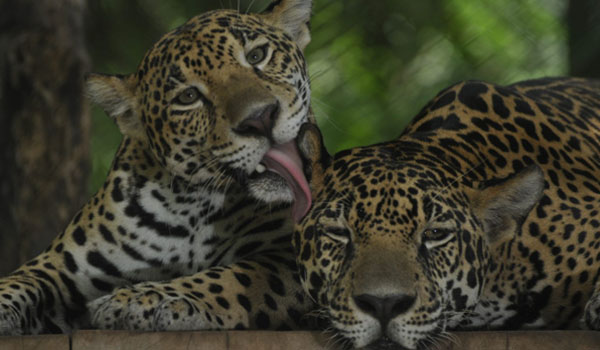 The goal of this wildlife project is to release as many animals as possible back into the wild, but the reality is sometimes this just isn't possible. Sometimes animals are too injured, cannot feed themselves, or have become too dependent on humans to successfully survive on their own. Make sure they have clean enclosures, healthy fresh food, and the best possible care.
Wildlife Rehabilitation
For those animals with a chance at release, Costa Rica wildlife volunteers help assist on their journey back into the wild. This involves many tasks like physical therapy, developing climbing challenges, foraging for wild foods, and observing the animals as they practice and build up strength and skills. The end goal is a triumphant release into the rainforest.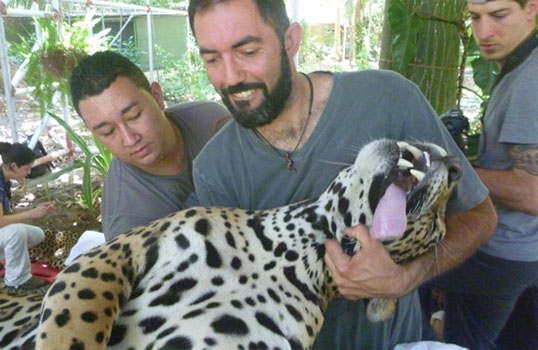 Enrichment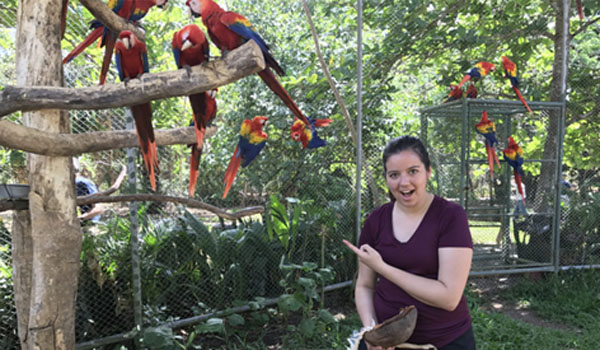 One of the primary tasks of caring for animals in captivity is environmental enrichment. Their enclosure is their whole world, and whatever they have you have to place in there and keep up. Enrichment ranges from refreshing natural plants to creating unique ways to present food to simulate foraging to finding creative ways to solve problem behaviors.
Macaw Conservation
The sanctuary has 200 macaws, many victims of the pet trade. Some are non-native species like the rare Hyacinth, but many are the native Scarlet Macaw. When you volunteer in Costa Rica in wildlife conservation program, you'll help with a much-needed breeding and release program working to restore the numbers of this iconic species back into their rainforest home.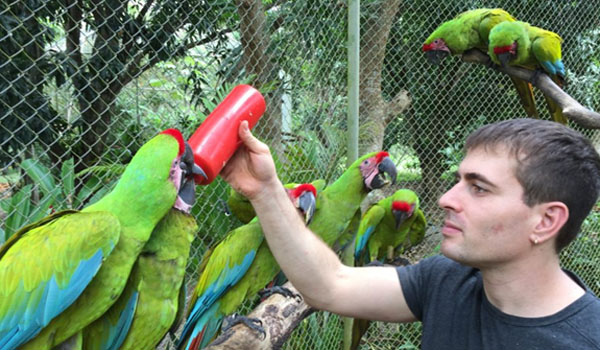 Plant Trees
Help plant native tree species, and do your part restoring the rainforest! Each tree that is planted will become shelter and food for countless species, and one day will become a giant towering in the rainforest thanks to your humble efforts when it was just a seedling. Reforestation efforts are needed to restore the jungle and its biological corridors.

Give Educational Tours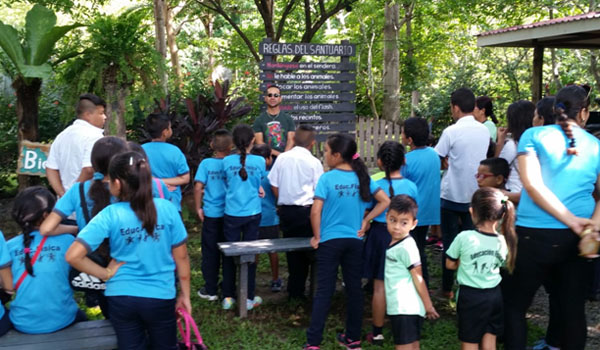 You'll have the chance to share all your newfound knowledge with sanctuary visitors from around the world while volunteering in Costa Rica at a wildlife sanctuary. This is an amazing chance to educate tourists on how to respect wildlife and spread the truth about the horrors of the pet trade. Open minds and inspire others!
Assist in the Wildlife Nursery
Sadly, many baby animals such as sloths, monkeys, birds, and anteaters end up being abandoned by their mothers or lose them due to tragedies like car accidents or electrocutions. You'll assist in the wildlife nursery keeping up with the endless demands of these hungry baby's feeding schedule.
*If you have to hold a baby to feed it while volunteering with wildlife in Costa Rica, please resist the urge to cuddle and talk to it. Both of these behaviors will lead to its dependence on humans, being too trusting, and may prevent them from ever being able to be released back into the wild and living the free life they deserve.
Skills and Qualifications
You don't need to be a scientist or a veterinarian to help wildlife, and even volunteers with no background with animals can help out! If you do possess a background or specialized skills, though, let us know and we can find even more ways for you to help. Longer term voluntary positions are sometimes available.
What you will need is to be 18, and ready to volunteer with wildlife in Costa Rica that need your help. You'll be in the rainforest, so be prepared to work in the sun and the rain. You must always respect the wild nature of the animals, and never attempt to hold, cuddle, or treat the animal like a pet, for its well-being and your safety.
Spanish will be helpful at this project but is not required. If you'd like to work on your Spanish while you're in Costa Rica, ask us about our language programs that allow you to learn while you travel.
The first thing to know about working with wildlife is the work can be extremely variable, and sometimes involves work at night. Since you'll be rescuing animals, an emergency may come in outside of normal working hours. The animals must be fed and the enclosures cleaned on a regular schedule, but expect other activities to pop up at a moment's notice.
You can expect to volunteer an average of 5 hours per day, Monday-Friday, as a wildlife volunteer in Costa Rica. Your actual hours will vary based on your final placement, but here' s a sample schedule to give you an idea of what to expect.
First Day: You'll be brought to the wildlife sanctuary by our in-country coordinator. You'll take a tour of the sanctuary, and meet all the amazing animals, wildlife professionals, and fellow volunteers you'll be working with.
Orientation: You'll go over very important safety rules for working with the wildlife and find out all about what you'll be doing and your schedule.  
Weekdays: A typical volunteer day might look something like this:
7.00 to 7.30 AM​: Begin the day with a breakfast shared with your fellow volunteers.
7.45 AM:  Head to the animal kitchen to prepare the food for the animals, and make sure everyone in the sanctuary has fresh food, water, and a clean and enriched enclosure. Later you might go on a wildlife release, plant trees, or whatever adventure awaits you each day!
12.00 PM: Lunch is the best time to connect with local project staff and your fellow Costa Rica wildlife volunteers. Talk about what's going on with the animals that day and make like-minded friends from around the world.  
3.00 PM: You'll have time in your day to relax. The sanctuary is in the rainforest, so explore the natural world around you!
6.45 PM: Dinner will once again be shared with your fellow volunteers, another chance to learn about other cultures and see the world in a new way.
Wildlife Volunteer Costa Rica: Dates and Fees
Dates: Volunteer in Costa Rica
All volunteer programs in Costa Rica start every Monday of each month. However, if there is travel constrains, you can start any project on any day.
Fees: Volunteer In Costa Rica
Global Crossroad is committed to offering the most affordable and highest quality volunteering programs in Costa Rica. We strive to keep our costs low. The humanitarian side of the business is our passion.
Global Crossroad's volunteer program in Costa Rica application and registration fee cost US $299. The application fee covers the cost of advertising, program promotion, and office expenses (rent, utilities, and staff salaries in USA office).
In addition to the application fee, you are required to pay a weekly program fee. You will pay your weekly fee directly to the country coordinator, who in turn will allocate it to your host family, project and other in-country support we offer to our volunteers. This way, the fees that you pay will benefit those who rightfully deserve them, and not for company profit.
| Duration | Wildlife Conservation |
| --- | --- |
| 1 Week | $294 |
| 2 Weeks | $462 |
| 3 Weeks | $693 |
| 4 Weeks | $924 |
| 5 Weeks | $1155 |
| 6 Weeks | $1386 |
| 7 Weeks | $1617 |
| 8 Weeks | $1848 |
| 9 Weeks | $2079 |
| 10 Weeks | $2310 |
| 11 Weeks | $2541 |
| 12 Weeks | $2772 |
Mandatory comprehensive travel insurance $3.49 a day »
No Spanish Language Program with the Turtle Conservation Project
Wildlife Conservation Program - Transportation from Airport Juan Santamaria $100/one way
Note: Volunteers need to pay US $50 to the country coordinator to proceed the application.
How is your fee allocated?
Program fees cover:
Accommodation (host family)
Food (local food 3 times a day)
Airport Pick up/Transfer
Program Orientation
In-country support
Personalized project
Pre-departure information
Certificate of completion
Fundraising ideas and letters
Discount for returning volunteers
Program fees exclude:
Visas
Airfare
Personal expenses on soft drinks and foods
Daily transportation
Airport return transfer
Osa Peninsula (Airport Pick up and Transportation)
The Osa Turtle Conservation site is 100 miles from San Jose. Here are the details of the airport pick up and transfer fee.
Airport Pick, first night at a hotel in San Jose $45
Sanjose to Punterenas by bus $8
Punterenas to Osa by bus $6
You will pay your airport pick up/transfer cost directly to staff in Costa Rica
Pacuare (Airport Pick Up and Transportation)
Pacuare Turtle Conservation site is 80 miles from San Jose. There are two options for you to choose from.
Option one- organized by IFRE Volunteers
Airport Pick, spend the first night in a hotel in San Jose $45
(If you arrive before 2 p.m. you can go directly to the project by taxi without staying in a hotel.)
San Jose to Pecaure in a private taxi $150
The boat transportation cost is 35$
Option two- travel by yourself to the project
If your flight arrives early in the morning, or before 10 a.m., you can choose to go to the project directly by public bus
San Jose to Siquirres $6
Siquirres to Las Vegas de Imperio $3
The boat transportation cost is 35$
Bus Departure time from San Jose: 11 a.m.
Directions - traveling to your project
From the Gran Terminal del Caribe of San José, take the 11:00 a.m. bus to Siquirres. You will arrive at Siquirres around 1:15 p.m.
From the terminal at Siquirres walk to La Estación Intercantonal, also called Parada de los Calvos, (300m). (If you are not sure, just ask people where you can get on a bus to Las Vegas de Imperio).
Take the 2:30 p.m. bus to Las Vegas de Imperio, getting off at the last stop.
A staff member will be waiting for you there. The boat transportation cost is 35$ per person, both trips.
You will pay your airport pick up/transfer fee directly to staff in Costa Rica: Map
Gran Terminal del Caribe of San Jose: Map
The volunteering overseas in Costa Rica program fees will cover expenses that will begin on the first day of the program (usually the first or third Monday of the month) to the last day of the program. If you arrive before the first day of the program or you decide you stay beyond your program's last day, you will be responsible for the additional expenses, which would typically be around $30 a day for room and meals at a hostel.
Accommodation and Meal
When you join wildlife volunteer program in Costa Rica, you'll share comfortable, clean, safe housing with your fellow volunteers. You'll have access to WiFi and shared bathrooms, showers, and washing machines and be served three meals per day.
You're going to be living in the jungle, so we recommend bringing along your own headlamp (ideally with a red-light option, to protect the vision of nocturnal wildlife you might work with), lots of bug spray, and your own mosquito net.
Free Time and Weekend Exploration
The sanctuary is located deep in the rainforest where the animals belong, though a small store is one km away. Most of your free time in the evenings will be spent in nature and bonding with fellow volunteers. On your days off, you can catch a bus or taxi to Puntarenas, a city with beautiful beaches and charming cafes.
Learn more about the exciting destinations you can visit in Costa Rica.
Safety and In Country Support
We have your safety in mind at all times when planning your Costa Rica wildlife sanctuary volunteer trip. We carefully vet every aspect of your trip, and as long you follow important safety precautions when working with wildlife you shouldn't need to worry about a thing. You'll have the guidance and support of our in-country team.
Wildlife Volunteer Costa Rica: FAQs
If you have a few questions about traveling abroad, you're not alone. Global Crossroad gets questions from prospective volunteers just like you every day. We've put together some helpful info here to give you the answer you're searching for.
Arrival and Departure
You'll fly into Juan Santamaria International Airport in San Jose, Costa Rica. Your airport pickup is included in your volunteer fee, and we'll have someone waiting for you when you land who will take you safely to your accommodations.
Visa
You may be eligible to simply ask for a visa stamp after your arrival at the airport in San Jose. However, do your research to learn the requirements for your home country before heading out on your Costa Rica wildlife sanctuary volunteer experience.
Most volunteers will be eligible for a 90-day tourist visa. You should know you will need to provide proof of onward travel. If you have a round trip ticket, this will serve as all the proof you need. Research the visa requirements at the official Immigration site of Costa Rica:
Vaccination
It's important for any traveler to get up to date on vaccines before heading abroad. Make an appointment with your doctor to discuss your upcoming trip.
Since you'll be volunteering in Costa Rica with wildlife, you might want to consider the Rabies vaccine as an extra precaution. Though the virus is virtually non-existent in Costa Rica, you will be at a much higher risk for being bitten by a wild animal so should keep this in mind. It takes several boosters, so start well in advance of your travels.
You should be up to date on your routine vaccines, as well as Hepatitis A & B and Typhoid. can also find information on CDC website.
Will I be assisting the veterinarian?
Unless you are experienced in veterinary medicine and your help is needed in the clinic, your Costa Rica wildlife volunteer work will be primarily caring for the animals in the sanctuary and assisting with their rehabilitation after the clinic team has already treated their medical needs. Even volunteers with no animal experience at all have an important role to play!
Why Wildlife Volunteer Costa Rica?
Work with rainforest animals!
The variety of animals you will meet and work with at the sanctuary will boggle your mind. Over 500 animals make their home there, and many more are on their way back out into the wild. You'll work with sloths, monkeys, jaguars, ocelots, macaws, tapirs, and more!
Gain experience in the wildlife field
If you're pursuing a career in the wildlife field, or you've just always wanted to work with animals, this is the project for you! Gain valuable zookeeping and wildlife rehabilitation skills and do your part to help save the rainforest!
Make like-minded friends from around the world
One of the best parts of volunteering at a wildlife sanctuary in Costa Rica is all the great friends you'll make from around the world that share your love for animals. From the local project staff to your fellow volunteers, you'll make friendships that could last a lifetime.
Help save the planet!
From wildlife rescue to promoting ethical tourism to planting trees, this impactful project will have you doing your part to save the environment in a variety of exciting ways.
Contact Global Crossroad to learn more about volunteering with wildlife in Costa Rica!
Other Volunteer Opportunities Available in Costa Rica:
No matter your passion or interests, we offer a variety of life-changing, volunteer programs in Costa Rica such as
Caribbean Sea Turtle Conservation (Pacuare)
Sea Turtle Research and Conservation (Osa Peninsula)
Wildlife Research and Sea Turtle Conservation (Reserva Playa)

For more information on our exciting programs in Costa Rica, contact us today.