Is Volunteer Abroad For Me?
Is spending a week, or more in another country sharing your skills something that you could do?
We understand first time volunteers have lots of questions – and our friendly staff are always happy to help answer them.

Since 1998 we have placed many thousands of people from all backgrounds and age groups on rewarding volunteer abroad programs.
Volunteer with integrity, knowing that 100% of the program fee you pay is given directly to those involved with your host project.
Learn more about whether taking on a challenge outside of your comfort zone is the right move for you.
Guaranteed lowest program fees in the US – starting from $100 - $200 per week.
18 countries, 200 projects and thousands of happy volunteers since 2003.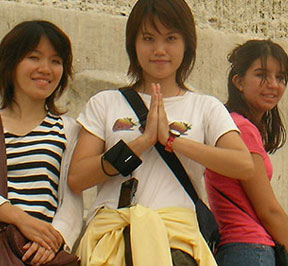 If you are wondering whether or not you should volunteer abroad, this article will introduce some factors for you to consider as you make your decision.
It's important to understand that volunteering abroad is a commitment to spend your time and energy helping people in need. While you will be living in another country and will have the opportunity to travel,
it shouldn't be thought of as just a vacation. Your main focus should be on having as much of a positive impact on your surroundings as you can.
Making the decision to volunteer abroad is becoming increasingly popular, so it's not surprising that you are also considering this option.
Perhaps you have a friend that has volunteered abroad and has told you countless stories about the people he/she has met and the gratifying work he/she has done.
The truth is, there are hundreds of different volunteer organizations with hundreds of different projects to choose from. Some people have amazing experiences, while others realize it wasn't the best choice.
The majority of people who volunteer abroad, however, have life changing experiences, and there are thousands of online reviews you can read to prove that.
It's important to do as much research as you can before you make your decision, but before you do that, consider the points below to help you determine if volunteering abroad is the right choice for you.