Medical Internship in
Guatemala
Medical internship in Guatemala is an imperative part of your academic qualification in medical and healthcare. It helps you gain on-the-job experience and helps you build up your skills and resume while serving poor and underprivileged Guatemalan communities in a close guidance and mentorship of experienced professionals.
As a medical intern in Guatemala, your activities are set in a way to help you practice your skills and academic learning in a real-world experience. You will help local doctors, nurses and paramedics, organize and participate in health camps and seminars, take patients' vitals and document their medical histories, make local denizens aware of personal healthcare, sanitation and hygiene, help with immunizations and help the local hospital or health center with administrative tasks.
Medical internship gives you a unique insight of working in real-world environment. The experience leads you to great references and experiences so as to bolster your resume and make fit for future job opportunities.
Our intern-applicants should show the proof of any of the medical or healthcare experiences or academic learning such as an ID of medical student, nursing, paramedics, public health or EMT. Beginner to intermediate skill of Spanish language is preferred in the project. If your Spanish is poor, we suggest you to take our short and intensive language course just before the start of the project.
Internship in Street Children
Project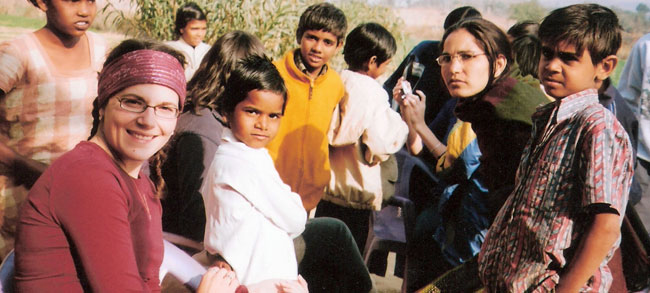 There are around 20000 Guatemalan families living around garbage sites, among them are children growing up in worse conditions. Street children project supports these children living in exploitation and helps them to grow in safe and healthy childhood.
Internship in street children project in Guatemala is designed in a way to provide adequate job-skills and insight to international interns whilst they help the project.
Role of our interns in street children project of Guatemala is designed in such a way to benefit the both---interns and project children. You will generally focus in education and overall development of the project children. You will help with their homework, activities, daily chores, personal care and food.
While your stay in Guatemala as an intern in street children project, you will get practical experience, improve your job opportunities, experience teamwork, become aware of ongoing development of the sector you choose the most, bolster your resume and explore breathtaking Guatemalan landscapes and cultures.
Room/
Food
Our international interns in Guatemala are provided with accommodations in a home base or with host families. Our home base is located in a safe and clean neighborhood and is near to internet cafes, local markets, local bus stop, police station and departmental store. Our home base provides comfortable bedrooms and community areas. There is a shared and furnished kitchen, television and shared bathrooms with running water and clean bathrooms. Depending on the project locations, intern accommodations are also made with host families. These families are well experienced in hosting international interns and volunteers for a very long time. Staying with host families will further immerse into the beautiful culture and Guatemalan way of life.
Three meals—breakfast, lunch and dinner are served to interns. We also provide vegetarian meals to interns which they must mention about it on their application forms. The fee you kindly pay to our programs is not inclusive to other meals and beverages except for three meals.
Global Crossroad has provisions for three meals per day; breakfast, lunch and dinner. Breakfast and dinner is served at the home base and lunch is normally arranged at project center. A personalized internship placement document will be presented to you detailing the accommodations, food and contact details of the local coordinator and the supervisor prior to your arrival.
Free
time
Our internship projects have flexible schedules and are stationed in the most alluring and incredible places of the country, so you will have a lot of time to explore the arresting local landscapes and immerse onto vibrant local culture. Although we don't generally arrange activities for our interns, our local staffs will assist you accordingly with information and support for your various free time activities. There is lots of travelling and fun options which our local team of staffs will help you choose the best options.