Volunteer Teaching Computer in Tanzania!
Do you want to make a difference in the life of disadvantaged children? Are you interested in exploring the beautiful country of Tanzania while helping children learn valuable computer skills? Join this life-changing computer teaching volunteer opportunity in Tanzania.
Tanzania is one of the most beautiful countries in the world, with stunning natural scenery and fascinating wildlife around numerous national parks in the country. The culture is world-famous for its mixture of the Arab and tradition African influence.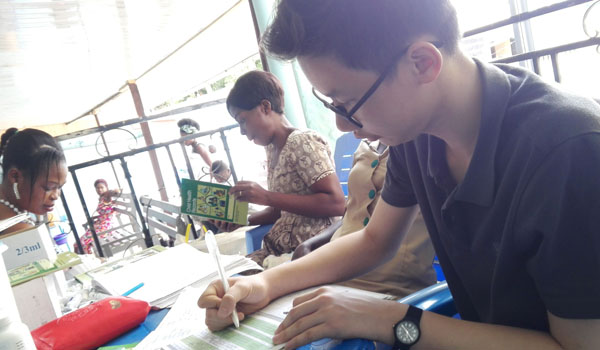 Sadly, Tanzania is also a developing country that struggles with poverty, more than half of its population lives under poverty levels making it difficult to afford basic needs like food and shelter. Thus, many poor families especially in rural areas are unable to provide good education to their children, which continue to elevate the cycle of repeated poverty.
Computer skills are in high demand in Tanzania, but the schools in deprived rural areas lack sufficient materials and teachers to provide them. Therefore, the children there don't get the same standard of computer skills teaching as the children living and studying in wealthier areas do.
When you join this computer teaching volunteer program in Tanzania, you will have an opportunity to help young students and teachers to enrich their computer skills. This is an important and exciting way to give back to disadvantaged children, alongside the chance to experience the rich culture of a new country.
Become a volunteer working with children teaching computer skills for a rewarding and fulfilling experience. If you want to change lives and make a positive impact in Tanzania and the world in general contact Global Crossroad about this exciting opportunity today.
Volunteer Responsibilities & Impacts
As a computer volunteer teacher in Tanzania, you will help 5 to 12 year old students grasp the skills needed to operate a computer. You have the power to brighten your students' future, and teaching computer literacy to the disadvantaged students of Tanzania in schools alongside local teachers is indeed an experience of a lifetime. Daily tasks on a teach computer skills in Tanzania program include:
Teaching children fundamental computer skills
Facilitating sessions for both teachers and children on how to operate 'Word'
Instructing how to run 'Excel'
Helping develop databases (volunteers with advanced skills)
Working as a primary teacher and/or teacher's aide
Helping school administrators with daily tasks
Computer teaching volunteering program in Tanzania is a very meaningful project.  Your valuable skills and lessons will greatly change the quality of life for children. In turn the skills will be carried to the future and practiced throughout their lives to make a meaningful living for future generations.
Skills and Qualifications
No specific qualifications are needed to join volunteer teacher in Tanzania, however adequate written and spoken English language skills are highly recommended to better serve your students and augment your life-changing volunteering experience. You should be able to communicate fluently in English, but English doesn't necessarily have to be your native language.
It's also essential that you enjoy working with children, have a good character, and be flexible, patient, caring, creative, responsible and resourceful individual as well.
Working in Tanzania, your day will be fun and filled with exciting experiences. Everyday you will have the opportunity to share your passion and computer skills with children and change lives positively forever.
We work with different schools and centers in Tanzania and each one have their own different needs, schedule and activities, there is no fixed schedule or exact daily itinerary. However, be prepared to give a helping hand at all times in different tasks and activities.
Here is sample daily schedule:
First Day: On your first day of volunteering in teaching program in Tanzania, you will be escorted to the school or center by a local coordinator and introduced to the local staff you will be working with. The day will be spent getting to know them and the students and learning the facilities and your duties.
Weekdays: A typical volunteer weekday will look like this:
7.00 to 7.30 AM: Your host family will serve you a delicious home cooked breakfast to start the day on a full stomach and with positive energy.
7.45 AM:  You will then set out for a great and rewarding day of teaching vital computer skills to children and helping out with school administrative tasks.
12.00 PM: Lunch will be served, which you can eat together for an opportunity to get to know your colleagues and students on a deeper level.
3.00 PM: Work ends around this time and you are free to travel home, prepare for the next day or do some shopping and sightseeing in the nearby area.
6.45 PM: An authentic Tanzanian home cooked meal will culminate your day, which you'll enjoy together with your host family, giving you a chance to learn more about their culture and way of life.
Volunteer Teaching Computer in Tanzania: Dates and Fees
Dates: Volunteer In Tanzaia
All volunteering in Tanzania programs start each Monday, though we allow for flexibility due to travel constraints.
Volunteer Teaching Computer in Tanzania is not available from 18th December to 5th January.
Fees: Volunteer in Tanzania
Most affordable prices for quality volunteer work in Tanzania are through Global Crossroad. We strive to keep our costs low. The humanitarian side of the business is our passion.
Global Crossroad's volunteer abroad in Tanzania application and registration fee cost US $299. In addition to the application fee, volunteers are required to pay weekly program fee. You pay your weekly fee directly to your host families and projects. This way, the fees you pay will benefit those who deserve it (not for company profit).
| Duration | Computer Teaching Project |
| --- | --- |
| 1 Week | $205 |
| 2 Weeks | $360 |
| 3 Weeks | $515 |
| 4 Weeks | $670 |
| 5 Weeks | $825 |
| 6 Weeks | $980 |
| 7 Weeks | $1,135 |
| 8 Weeks | $1,290 |
| 9 Weeks | $1,445 |
| 10 Weeks | $1,600 |
| 11 Weeks | $1,755 |
| 12 Weeks | $1,910 |
Note : 50/week surcharge for medical project
Mandatory comprehensive travel insurance $3.49 a day »
How your fee is allocated?
Please apply for volunteers visa since volunteers are not allowed to use tourist visa to work as a volunteer,
Program fees cover:
Accommodation (volunteer house)
Food (local food 3 times a day)
Program Orientation
In-country support
Government medical permit
Personalized project
Pre-departure information
Airport pick up
Certificate of completion
Fundraising ideas and letters
Discount for returning volunteers
Program fees exclude:
Business visa fee. Pleases see volunteers visa requirement in Tanzania http://tanzaniaembassy-us.org/?page_id=76
Airfare
Personal expenses on soft drinks and foo
Daily transportation
Airport return transfer
C permit can be received upon arrival.
Accommodation and Meal
During your Tanzania teaching volunteering program, you will stay with one of our wonderful local host families. They are selected based on their respectability in the community and ability to provide a safe, secure and comfortable place for you to live. To ensure your comfort the home also features electricity, running water and western-style toilets. They will provide you with three delicious home cooked meals a day and provide plenty of chances for you to get to know them and their culture better.
Safety and In Country Support
Your safety is our number one priority, and we take significant steps to make sure you always feel safe, comfortable and taken care of. We support you with any necessary aid before you arrive in Tanzania, and your in-country coordinator will be available for emergency situation. In addition we offer comprehensive insurance and evacuation plan to ensure safety.
Teaching Computer in Tanzania: FAQs
Arrival and departure
You will be required to fly into Kilimanjaro International Airport, Tanzania. It is always advisable for you to be in Tanzania one day before the start of your project.
Global Crossroad makes specific arrangements for your airport pickups. We will require for you to provide final flight confirmation details once your ticket processing is over. Our local representative will be there to pick you up after your arrival in the Kilimanjaro International Airport. Make sure to provide our country coordinator with the correct flight details before your departure to Tanzania
However, airport drop-off at the conclusion of your project is not included in the price, and needs to be arranged once you are in the country..
Visa
For you to join Tanzania teaching volunteer program, you need to have a business visa (not tourist). Certain Nationals belonging USA, UK, Australia and Canada get visa on arrival at the airport. You can get a business visa by visiting the nearby Tanzanian embassy. Kindly have a look at the following link to get more information about visa formalities and more
Vaccination
You will need to get certain vaccinations. We highly recommend for you to visit the Center for Disease Control's website for traveler's health recommendations. These are certain CDC recommend vaccinations for Tanzania: hepatitis A, hepatitis B, typhoid, yellow fever, rabies, meningitis, polio, measles, mumps and rubella (MMR), Tdap (tetanus, diphtheria and pertussis), chickenpox, shingles, pneumonia and influenza that you need for volunteering.
Why volunteer in Tanzania with computer teaching program?
You will be getting good exposures to Global computer classroom setting
Taking part in computer teaching volunteer opportunity in Tanzania is a good chance for you to experience computer education system that is practiced in Tanzania. In this process you engage and experience local computer curriculum and syllabus that are taught in schools in Tanzania.
You will make computer education accessible to children of Tanzania
Due to extreme poverty most people in Tanzania struggle to learn computers, as it's either too expensive or out of their reach. By volunteering in teaching computer project, you'll be making computer learning easily reachable and approachable to the impoverished kids in Tanzania
You will make an effort to develop love for Computers amongst the underprivileged children
More often than not impoverished children are deprived of getting good computer education due to poverty. Volunteering in Tanzania in teaching program allows you to actively teach computers to the impoverished children. You will create a congenial environment of interactive computer learning giving them a promise of better brighter future prospects.
You will get an opportunity for you to practice international computer teaching methods
You gain valuable work experience of teaching computer in a foreign country by joining this program. This exposure and knowledge gained will change your perspective and change the lives of these children on a positive note.
Great chance for you to experience new cultures and traditions
Participating in Tanzania volunteer opportunity in teaching computers brings you closer to the students and locals alike. The time spent here allows you to experience their unique cultures, traditions and learn the local language along while impacting valuable computer skills to the children as well.
Other Volunteer Opportunities Available In Tanzania
No matter your passion or interests, we offer a variety of life-changing, volunteer programs in Tanzania such as
work provide healthcare,
teaching English,
volunteering with HIV/AIDS victims,
volunteering in an orphanage,
women empowerment project and much more. 
For more information on our exciting programs in Tanzania, contact us today.
Teaching Computer Volunteer Programs in Other Countries
Other than this teaching computer program in Tanzania, we also offer great volunteer opportunities with orphans in many countries cross the world.
Check out some of our most popular volunteering in teaching computer programs below.