Summer Volunteer and Safari Program Tanzania (4 weeks)
Explore the Serengeti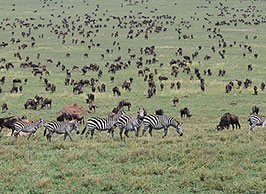 Tanzania, the country containing Mount Kilimanjaro - the highest snow capped mountain in Africa - is filled with exciting extremes. Its beautiful beaches, popular safari trips down into the land of the Serengeti National Park, and various other adventurous activities make Tanzania even more attractive.
Global Crossroad's summer volunteering program in Tanzania allows participants to take part in a most meaningful volunteer journey while serving local orphanages and experiencing - firsthand - the always-friendly and ever-smiling Tanzanians.
Orientation and Discussion (1 Day)
Meet with Global Crossroad's local staff members, participate in a general question/answer sessions, discussions on program itinerary, and general orientation on the Global Crossroad best summer volunteering program in Tanzania, as well as learn the history, culture, tradition, and other important issues (health, safety) in Tanzania. In your free time (evening), explore the nearby areas.
Service Projects in Arusha and Moshi (22 days)
For the following days of your summer volunteering opportunity in Tanzania, you will work in an orphanage - sharing your love and time with the needy children in various parts of Tanzania, teaching them basic conversational English and encouraging them to face the challenging world where English is becoming more and more of a necessity. In their free time from your Tanzania summer volunteer abroad program, you can hike to nearby bazaars and/or hillside villages; explore the beauty of mesmerizing Tanzania - gaining first-hand experiences of Tanzanian lifestyle, culture, and values.
Tanzanian Safari and Excursions (5 days)
After spending quality time with the destitute children of Tanzania, you will then embark on a four-day tour, taking them through the highlights of the unrivalled parks of northern Tanzania while living in tents - recapturing the original spirit of the safari. This safari includes a walking safari through the Masai Land, the N'gorongoro Crater (one of the major attractions of Tanzania and one of the wonders of the natural world), the Serengeti (one of the best-known wildlife sanctuaries in the world hosting over 3 million large mammals); and Lake Manyara National Park (an ornithologists' paradise dually noted for its elusive tree-climbing lions).
Program: Summer Volunteer Program in Tanzania
Highlights: Volunteer service project and safari
Departure and End Point: Kilimanjaro International Airport
Accommodation/Meals: As per itinerary
Duration: 4 Weeks
Start Date: June 25, 2018
End Date: July 20, 2018
Program Fee:$1,899 for 4 weeks, which includes 4 days/3 nights of safari
Summer Volunteer Program in Tanzania Complete Itinerary
Day 1: Orientation
All three meals included.
Day 2-23: Work in an Orphanage or other Service Project
Enjoy the warm and welcoming hospitality of Tanzanian people living while living with a host family or working with local people. Experience the rich Tanzania culture and tradition and the day to day lifestyle of the local people. Hike in the villages and explore Tanzania life during your free time from your commitment to this summer volunteering opportunity in Tanzania.
Day 24: Start of Safari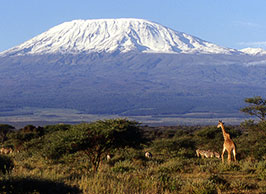 Pick up at your home base after breakfast and transfer to Lake Manyara for full day safari with picnic lunch. Although one of the smaller Tanzanian parks (325 sq. km.) in the Rift Valley, Manyara National Parks boasts a large lake. During the months of July through April, the lake waters are tinged pink from the hundreds of greater and lesser flamingos who feed there. Other features of the park include its stable herds of elephants and buffalos, enormous troops of baboons and its famous tree climbing lions. Dinner and overnight: Camp Vision guesthouse or campsite at Mto wa Mbu village.
Day 25: Transfer to Seronera
Transfer to Seronera in the middle of the Serengeti. Picnic lunch and wildlife observation on the way. This most famous game park in the world encompasses nearly 15,000 sq. km and is unrivaled anywhere for its seasonally shifting concentrations of herbivores. Nearly 1.5 million wildebeest, 500,000 gazelle and 250,000 zebra completes a cyclical annual migration within the ecosystem between November and June. The Serengeti is also known for its large prides of lion, cheetah, wild dogs and leopard.
Day 26: Full Day Safari in Serengeti
Day 27:
Moving Safari in Serengeti
Day 28: N'gorongoro Crater
After breakfast, the group will arise to an early morning safari before traveling to the N'gorongoro Crater in the afternoon. The N'gorongoro Conservation Area is located on the Far East area of the Serengeti and contains four distinct habitats – all offering unparalleled game viewing opportunities year round. Some of the phenomenal safari experiences include such epic observations such as the Great Migration – tens of thousands of zebra and wildebeest stampeding across the Serengeti. Also contained within N'gorongoro area is world-renowned archeological sites of Laetoli where some of the oldest proof of human existence can be found – footprints over 3.6 million years old. After lunch we will return back to home base.
Prices and Dates
Start Date: 21-June-2021
End Date: 16-July-2021
Program: $1,899 for 4 weeks, which includes 4 days/3 nights of safari
Fees cover:
Room (volunteer house, host family) and local food 3 times a day during volunteering
Room (volunteer house, camp) and local food 3 times a day during safari
Domestic, in-park transportation in a modified 4-wheel-drive vehicle
Services of a professional safari guide
All wildlife reserve entry fees and camping fees
Comprehensive insurance
Airport pickup
Airport drop-off
Fees do not cover:
Airfare
Visa
Tips (for safari guide and/or camp staff)
Other items of personal consumption (i.e. soft drink, bottled water, etc.)
Domestic transportation during volunteering
Visa & C-permit fees