About Nepal
Volunteer Project-Nepal
English Teaching to Buddhist Monks
Due to winter activities, the monk teaching project is not available from the last week of December to 2nd week of February. Please confirm this with us before applying for the program.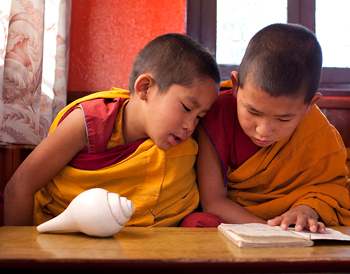 Program:

Volunteer in Nepal

Projects:

Teaching Buddhist Monks in Nepal

Start Dates:

1st and 3rd Mondays of each month

Departures:

Tribhubhan Airport, Kathmandu

Language Need:

Fluency in English

Accommodation and meals:

Homebase, residential or host family and Nepali meals three times daily

Working Hours:

25-35 hours per week

Activities:

teaching English to young Buddhist monks and local students
Overview of the Project
More than 150,000 Tibetans live in exile in India, Nepal and Bhutan. Of those exiled, nearly 20 percent live in Nepal, where they are now free to practice their religion and rebuild their cultural heritage. As a result of this, there are several large monasteries in and around the surrounding mountains of Kathmandu where monks live and devote their lives to Buddhism. But lately, with globalization and other developments, there is a great need and desire for young monks to learn English. As there are no English teachers in the monasteries, our volunteers stay there with the monks and teach daily classes. Volunteers really enjoy this project, as they not only get to learn about, observe and even participate (if they choose) in the culture and Buddhist practices in the monastery, but they also find the monks to be enthusiastic students and incredibly appreciative of their work!
Role of Volunteer
As a volunteer in Teaching Buddhist Monks Program, you will provide basic conversational English instruction to young monks. Volunteers also organize games, paintings, drawings and other creative activities. As a unique facet of this placement, volunteers will witness and participate in traditional Buddhist rituals. Gaining insight to Nepalese language and culture is a good idea – consider enrolling in our one week Nepal Language Studies & Cultural Immersion program.
Skills/Qualification Needed
There are no specific qualifications needed to join our teaching Buddhist Monks program in Nepal. However, volunteers must be respectful of the monks' high social status and their attention to commendable life rules. Only very focused and disciplined volunteers should join this project.
Volunteer in Nepal: Project Locations and Free Time Options
Most Global Crossroad volunteers are placed in and around Kathmandu, Nepal's capital and core city, and in Pokhara, which is also about 4-5 hours west of Kathmandu and famous as a starting point for many wonderful treks.
Kathmandu stands at 4600 feet and the Kathmandu valley is only slightly smaller than Singapore in terms of area. The city sits in a bowl created by four major mountains: Shivapuri, Phulchowki, Nagarjun and Chandragiri. Kathmandu has two sister cities nearby, Patan or Lalitpur, and the area is often referred to as Tri-City. In Kathmandu, urban adventures are plentiful. A city unlike any Western city experience, Kathmandu calls to travelers offering adventure and discovery at every turn. Immersing in the city can overwhelm your senses with all the traffic, noise, colors and city chaos, but there is serenity, outside the city's mainstream, in simple temples and peaceful courtyards. Kathmandu is the starting point for most adventures in Nepal, so the tourism infrastructure is solid and dependable. Volunteers can find many free time activities ranging from participating in a simple Buddhist ceremony to a 7-day trek in the Himalayas.
In Pokhara, volunteers will have many things to do and experience. Pokhara is the end point for the famous Annapurna Circuit trek and the starting point for a dozen more treks through the mountains of the Annapurna Range, including through Jomsom and to the Upper Mustang region, where a King still rules his small kingdom and people are mostly of ethnic Tibetan background.
The area around Phewa Lake is full of tourist hotels, restaurants and night time entertainment. But if you travel just outside of Pokhara, you can still witness the traditional lifestyle of Gurungs and Magars, the indigenous people of the region.