Learn Nepalese before you start your work. You'll learn to communicate with basic Nepalese words and as a result, will undoubtedly start your volunteer project full of confidence. You'll also learn about how Nepalese culture functions, learn about religion and customs of Nepal. During the week, you'll also be involved in a tour of Kathmandu city, where you'll visit places of religious and cultural significance. Most of our volunteers have found the program thoroughly informative and extremely helpful.
First week
Day One:
Introduction and Orientation
You'll start your day in Nepal with introduction and orientation in Global Crossroad's office. In the program, you'll hear about health and safety issues in Nepal, the history, culture and customs of Nepal. These are issues that are very relevant to you while you're working in Nepal. So pay attention and ask lots of questions. You can even prepare yourself for it by reading few things about Nepal before the program. The Instructor will tell you more as you ask questions.
Program:

Culture & Language Nepal

Start Dates:

1st and 3rd Mondays of each month

Departures:

Tribhubhan Airport, Kathmandu

Language Need:

none

Accommodation and meals:

hostel, hotel and Nepali meals three times a day

Working Hours:

None

Activities:

Vary with daily diary, please see details above
* Language and culture program is only available for a long term volunteers.
In the afternoon, venture out to discover Kathmandu for yourself. The city is a hustle and bustle. You can walk down to Asan and discover vibrant road side market. Or go to Thamel, backpacker's haven, and shop and chill out in many restaurants.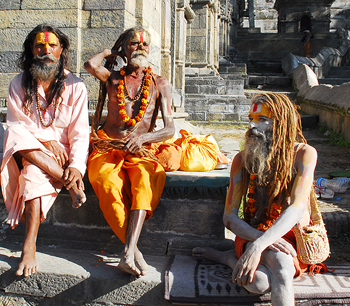 Day Two:
Start of your Nepalese language and cultural engagement classes. You'll learn Nepalese, the language that's a close cousin of Hindi, one of India's national languages. You'll learn to greet, ask people's names and say your own names. For those teaching in schools and working in orphanages, learning Nepalese will help to break the communication barrier.
You're classes run for about 3-4 hours everyday.
Day Three:
You're Nepalese language and cultural engagement class continues. Spend about 2 hours learning Nepalese and knowing Nepalese culture.
In the afternoon, you'll be involved in a half day sightseeing of Chovar. You'll walk around during the sightseeing and discover Chovar gorge from where the only river in Kathmandu Valley flows out. There is a local believe that one of the deities cut open the gorge thousands of years back to drain all the water from Kathmandu Valley, which was a lake then.
You'll also see beautiful vista of Kathmandu and Chovar Valleys from the place and marvel at Champadevi hill, the highest peak south of Chovar.
Day Four:
Continuation of Nepalese language and cultural engagement class. You'll spend about 3-4 hours learning Nepalese and Nepal's culture.
Day Five:
The day you'll venture out on a guided tour of Kathmandu Valley. You'll visit Bouddha and visit not only one of the largest Buddhist stupas in Kathmandu, but also see a thriving Buddhist culture of Kathmandu and Tibetan people.
From there move on to Pashupatinath, one of the holiest Hindu shrines. You'll see many temples, pilgrimages and Hindu holy men.
Finish your tour in Swayumbhunath, where you'll climb a small hill and enjoy spectacular views of Kathmandu. Atop the hill is one of the oldest Buddhist stupas in Kathmandu.
Day Six:
Continue with your Nepalese language and cultural engagement class. Spend 3-4 hours learning Nepalese.
Day Seven:
Revision of everything you've learned so far. Following that, you'll be quizzed. The person scoring the most in your group will win a small award. You'll be served light snacks and refreshments to celebrate the occasion.
Note: This itinerary is meant to serve solely as a guide and not as a set schedule. Our leader cannot be held responsible for changes in this itinerary.