Tired of expensive Cambodia Volunteer programs?
The best price, guaranteed; starts $99

Pay fees directly to your host families and projects

Safe and meaningful volunteer experience

It will change you forever ……………
When you volunteer in Cambodia, you will experience astounding grandeur side-by-side with overwhelming need. This is the Cambodia of today.
It is impossible not to be impressed by the intricate and ornate temples, dating back as far as the ninth century. But other more modern structures, like the white stone monolith that rises over the Killing Fields and houses 9,000 human skulls, tell another side of the story of this gracious, beautiful country.
Cambodia's people have literally lived through hell in the last 50 years. Their economy is rebounding, their government is stable and tourism is on the rise - always a sign of positive change in a nation. But the gap between rich and poor increases. Orphanages abound. Health care and development projects are desperately needed.
You can help. Contact Global Crossroad today for information about becoming a volunteer in Cambodia. Be forewarned - Cambodia will steal your heart, and you will be forever changed by the plight of its gentle people.
Dates and
Prices
All projects (Volunteer and travel options) begin on the 1st and 3rd Mondays of each month, though we allow for flexibility due to travel constraints.
Global Crossroad is committed to offering quality volunteer abroad programs at a very affordable price. We strive to keep our costs low so that our volunteers benefit from the lowered program prices. The humanitarian side of the business is our passion.
Global Crossroad's application/registration fee: US $299. The application fee covers our cost of advertising, program promotion, and office expenses (rent, utilities, and staff salaries in USA office).
In addition to the application fee, volunteers are required to pay weekly program fee. You pay your weekly fee directly to your host families and projects. This way, the fees you pay will benefit those who deserve it (not for company profit).
Weeks
All Other Projects
Medical project
What the fee covers or doesn't cover?
Mandatory Comprehensive Travel Insurance $3.49/day
Cambodia Volunteer Program:
Accommodations/Meals/Field Support
While volunteering in Cambodia, Global Crossroad's weekly fees include management of volunteers' meal plans and accommodations throughout projects. Three meals a day (breakfast, lunch and dinner) will be provided and consist of local ingredients and feature traditional cuisine choices for Cambodia. Generally, volunteers have breakfast at a local restaurant or at their accommodations or project. Dinners tend to be at accommodations and lunch is sometimes offered by the project. Food and drinks outside of meal times are the volunteer's responsibility. In most cases, there are restaurants and markets nearby the places in which our volunteers stay.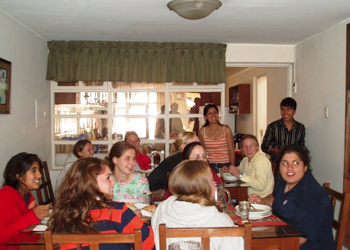 During your volunteer work in Cambodia, we normally place our volunteers in a guesthouse or with a host family depending on project location. The main guesthouse we place in is located in the center of Phnom Penh City near the Olympic Stadium and the Orussey Market. It is very comfortable and has a large roof terrace with hammocks, a TV, internet access and many amenities nearby. Staff members for our accommodations are chosen carefully and most have experience in the realm of hosting international travelers. Occasionally, volunteers receive rural placements in the provincial capitals and stay with a host family.
A unique and important part of Global Crossroad's successful volunteer in Cambodia programs is our volunteer support in-country. We put safety and comfort first as we deliver enriching and consistent experiences for our international travelers. Our support is multi-faceted while volunteers are in Cambodia and our staff is in contact with our volunteers on a regular basis either with face-to-face visits or via phone/email. Key support comes from our country coordinator and in-country field staff. These individuals are employed by our company and committed to ensuring your experience the best it can be. Your chosen project and accommodation staff offer support as well, and they are familiar with working with international volunteers and accustomed to answering questions and providing guidance. Volunteers also have access to our country coordinator's mobile number for emergencies. With longer assignments, our field staff visits regularly (every 2-4 weeks) to ensure the experience is meeting your expectations. Sometimes an assignment may be too far to visit physically, so staff members will touch-base via phone/email. You are also welcome to stop in the offices at any time. You are never alone.
Specific details regarding accommodations, food and contact details for our local coordinator will be provided in personalized volunteer placement documentation prior to arrival.
NOTE: Frequently Asked Questions (FAQ) is generic information and should not be used as a definitive travel guide. Travel information and situations abroad change constantly. Participants should consult Global Crossroad or travel advisors to verify this information.