About South Africa
Volunteer South Africa -

Cape Town
Minimum stay 4 weeks
Project Summary
Have you always wanted to live in the most popular tourist destination in all of Africa? Well, if so, consider volunteering at an orphanage while experiencing daily life in the beautiful Cape Town, South Africa!
Cape Town, the second largest city in South Africa sees all different types of people. There are those who live luxurious lives daily but also those who struggle to survive with even the most basic of necessities. Socio-economic problems like poverty, disease, and neglect have turned many South African children into helpless orphans. Orphanages throughout South Africa are trying their best to feed, clothe, and educate the children, but many face a shortage of funds and are in desperate need of volunteers to assist them. Global Crossroad has been working in collaboration with local orphanages in South Africa to give the orphans the quality of life they deserve. As a volunteer, you will help these orphanages achieve this, working with the kids on a daily basis to improve their lives!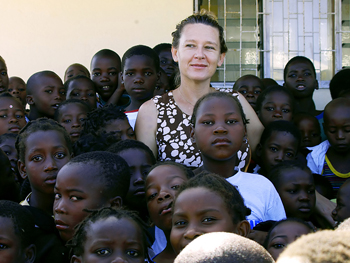 Program:

Volunteer in South Africa

Project:

Orphanage project in South Africa

Start dates:

1st and 3rd Mondays of each month

Departure and End Point:

Cape Town

Location:

Cape Town, South Africa

Language Need:

English fluency mandatory

Accommodation and meals:

Volunteer house or host family with three local meals a day

Working hours:

25-35 hours per week

Duration:

2-12 weeks
Role of
Volunteer
Volunteers will work with abused children and orphans, safe houses for women and children, and care for physically and mentally challenged children and adults. Though placements can happen at any time, placements over the month of December are limited as orphans are placed with foster parents at this time.
Volunteers will feed, clothe, and play with the children. They will assist the children with their homework, prepare meals, tidy up the orphanage, and assist with planned activities. Volunteers work times will vary, but will always start in the afternoon. Typical hours will be 1:00 p.m. to 6:00 p.m., but sometimes volunteers will work until 9:00 p.m.
Skills/Qualification
Needed
No prior experience is needed for this project, although we do require a love and passion for working with people. Volunteers will need to exhibit patience and a willingness to help out when needed. They must be willing to add value and upgrades to the facilities and kids in which they care for.
Additionally, volunteers must obtain a Police clearance certificate and must sometimes be 21 or older committing to staying at least two months. They have to have an interest in social welfare homes as most of the children are at school in the mornings, and they will visit these homes until the kids are free from school.
Major FAQs -
Orphanage Project
What's the number of hours a volunteer is expected to work in the orphanage?
The orphanage volunteers in South Africa can work different hours in this interval of the evening 1-2:30pm and 6-9pm
Where are the volunteers for the social welfare program going to stay in South Africa?
The volunteers in South Africa orphanage program will reside in Cape Town in a home. 3 meals /day are provided. The local communities are situated a 30-40 min drive away. The home where the volunteers live is within a short walking distance or short ride.
What's the distance between accommodation and the project location? What are the commuting options?
The orphanages are located in walking distance or short commuting distances from the homes of the orphanage volunteers in South Africa.
Is it possible for you to send me the contacts of the host family and the project location I'll be active in?
There is a large number of host families and orphanages involved in the program. Full information regarding the project location and your host family will be transferred to you a few weeks before your start volunteering.
What is the age of the orphans? How many orphans are there in an orphanage in South Africa?
We work with a number of orphanages in South Africa. Some are girls only/ boys only; others are co-ed's. The age of the orphans housed in the placement locations range between 0-18 years.
What is the daily routine in the orphanage? What are the volunteers expected to do in South Africa?
Volunteers help in a variety of ways in the orphanages, whether it is comforting a child, or assisting around the home, here are a few ways a volunteer may be of assistance:
Cooking, serving and feeding children
Assist with getting the children dressed
Assisting local teachers with educational programs within the center
Helping children with their homework
Assisting in keeping the orphanage tidy.
Is the orphanage placement program available all year long? Does it close? If yes, for how long?
This program closes the first week of December and resumes mid-January. In such volunteering over December is limited. It is custom to send the orphans to foster families for the holidays. We advise our volunteers to know that the placements are only available while staying with the host families.
Are there any other project details that the orphanage volunteers in South Africa should know about?
These are the type of placements available for the volunteers:
Homes for Children/Child and Youth Care Centre
Caring for Physically/Mentally Challenged Children & Adults
Competence and skills required in order to be considerate a coandidate:
Police Clearance Certificate
Minimum of 4-8 weeks stay
At least 21 years of age
Volunteer in South Africa: Project Locations and
Free Time Options
The project is located in the capital city of South Africa, Cape Town. Not only is Cape Town South Africa's second largest city, it is also the most popular tourist destination in all of Africa. Cape Town is the quintessential melting pot of South Africa; a city alive with creativity, color, sounds, and tastes. When strolling through the city streets of Cape Town, you will fall in love with the natural beauties that surround you, the creative freedom of the locals, and the ambiance of it all.
There is lots to do and see in your free time in and around Cape Town. You can visit many popular sites such as Table Mountain National Park, City Bowl, various popular beaches, Chapman's Peak Drive, The Victoria and Alfred Waterfront, Two Oceans Aquarium, and much more. You can also see places like Bo Kaap, a historical areal inhabited by slaves from Southeast Also known for colorful buildings, quaint streets, mosques, and the prettiest views of Cape Town. The Castle of Good Hope, the oldest surviving building is another attraction you can visit. There is also the Kistenbosch botanical gardens and Robben Island, two ocean aquariums if you are into glimpsing wildlife and water. You will never get tired of visiting and exploring the beautiful city! If your weekends are free, you can also take trips to the wine countries like Stellenbosch, Paarl, and Frankschoek.