Volunteer Work in the Ecuador Galapagos!
Have you always dreamed of visiting the Galapagos Islands? Would you like to help protect and conserve this fragile ecosystem while immersing in local cultures?
Your help is needed at San Cristobal Island in the Galapagos! Off the coast of Ecuador, this famed island chain developed in unique isolation, spawning myriad bird species, giant tortoises, sea lions, and marine iguanas, all which inspired Charles Darwin's theory of evolution.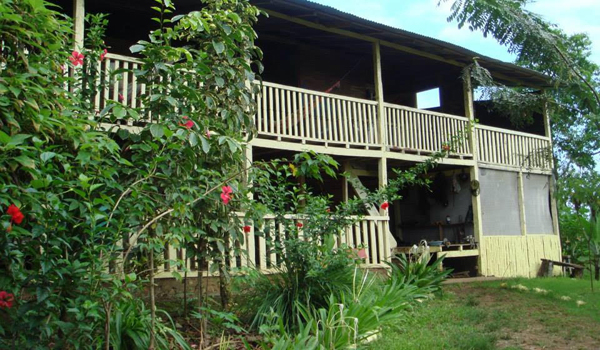 Follow in the footsteps of a legendary naturalist!
Unfortunately, this unique biodiversity is under threat, and nearly 80% of the island has been taken over by invasive species or developed for unsustainable agriculture. Because no fruits or vegetables are grown on the island, 2 invasive species a day make their way onto the island on boats.
Join our exciting conservation volunteer program in the Galapagos Islands! Help conserve and protect this fragile ecosystem by collecting and classifying seeds, maintaining trails, promoting sustainable farming, and establishing much-needed biological corridors throughout the island.
Help save this natural treasure for future generations! Contact Global Crossroad today to launch your Galapagos Island volunteer adventure!
Volunteer Responsibilities & Impacts
At our Galapagos conservation volunteer program in Ecuador, you'll find yourself getting involved in a variety of exciting and meaningful activities. You'll help collect and classify seeds, plant native species, maintain trails, and more.
You'll also help promote sustainable agriculture by working with local farmers. You'll be planting and maintaining organic coffee plantations, as well as planting native species on the farmer's land, reintroducing the natural habitat to the island in partnership with the local community.
Start your own project! We encourage you to carry out your own project while you are volunteering  Galapagos conservation program. Investigate an amazing plant or animals on the island or come up with your own ideas you are passionate about and want to explore.
Help preserve the Galapagos Islands for future generations, restoring this natural wonder back to its unique former glory. Make an impact on your own future by gaining lots of great hands-on experience in the conservation field!
There are no specific qualifications to join this project. You will need a love and passion for the environment. We welcome volunteers from all backgrounds and from around the world, regardless of experience, so long as they are 18 years of age. You should be flexible, willing to pitch wherever your help is needed, and not worried about getting dirty.
Although you don't need a scientific background to join us an Galapagos conservation volunteer opportunity, if you have one, we welcome you to come and share your skills and knowledge. You can initiate a project of your own to carry out while you're here, regardless of your background, and may be able to join in on exciting scientific research currently underway.
Volunteer in Ecuador Galapagos: Dates and Fees
Dates: Volunteer in Ecuador
All volunteer programs in Ecuador start every Monday of each month. However, if there is travel constrains, you can start any project on any day.
Fees: Volunteer in Ecuador
Global Crossroad is committed to offering the most affordable and highest quality Ecuador volunteer trips. We strive to keep our costs low. The humanitarian side of the business is our passion.
Global Crossroad's volunteer opportunity in Ecuador application and registration fee cost US $299. The application fee covers the cost of advertising, program promotion, and office expenses (rent, utilities, and staff salaries in USA office).
In addition to the application fee, you are required to pay a weekly program fee. You will pay your weekly fee directly to your host family and project. This way, the fees that you pay will benefit those who rightfully deserve them, and not for company profit.
| Duration | Conservation Galapagos |
| --- | --- |
| 1 Week | $575 |
| 2 Weeks | $1,030 |
| 3 Weeks | $1,485 |
| 4 Weeks | $1,940 |
| 5 Weeks | $2,395 |
| 6 Weeks | $2,850 |
| 7 Weeks | $3,305 |
| 8 Weeks | $3,760 |
| 9 Weeks | $4,215 |
| 10 Weeks | $4,670 |
| 11 Weeks | $5,125 |
| 12 Weeks | $5,580 |
Comprehensive Travel Insurance $3.49/day ( below 28 years) and $4.49/day ( above 28 years) »
How your fee is allocated?
National Park Entrance Fee - USD 100
Airport Pick up and Drop - 60
Program fees cover:
Accommodation (volunteer house or host family)
Food (local food 3 times a day)
Program Orientation
In-country support
Personalized project
Pre-departure information
Certificate of completion
Fundraising ideas and letters
Discount for returning volunteers
Program fees exclude:
Visas
Airfare
Airfare Galapagos
Personal expenses on soft drinks and foods
Daily transportation
Airport return transfer
Food (if you are volunteering on the Galapagos Islands); Please allot $60-$70 a week to cover the cost of your meals)
The volunteering programs in Ecuador fees will cover expenses that will begin on the first day of the program (usually the first or third Monday of the month) to the last day of the program. If you arrive before the first day of the program or you decide you stay beyond your program's last day, you will be responsible for the additional expenses, which would typically be around $30 a day for room and meals at a hostel.
Accommodation and Meal
You will have the once-in-a-lifetime chance to stay on San Cristobal Island while volunteering in Galapagos conservation program, the eastern most point of the famed Galapagos island chain.
The volunteer accommodations are composed of two houses constructed with bamboo and cement. There are 11 rooms and resting areas. The kitchen and dining room are located in another building.
The space can house up to 35 people, and you will find yourself in the company of researchers, guided natural history groups and other international volunteers just like you!
You will have three meals a day included in the Galapagos conservation volunteer program fee.
Facilities: Multiple shared rooms (same gender), single beds with tidy bedding materials, comfortable beds, electricity, clean comfortable restroom (shared), western style toilets, running tap water, safe and sound living environment, quality home cooked meals.
Learn more about your accommodation and meal plans in Ecuador.
Free Time and Weekend Exploration
When you're in the world-famous Galapagos Islands, you're definitely going to want to get out and explore! Who knows when you'll be here again, so get out on the weekends and hike, birdwatch, surf, take photographs, and bask in the glory of the unique natural environment you will have right at your fingertips.
You can also visit the nearby town of Puerto Baquerizo Moreno to get on the internet and call home when you have time off from your Galapagos conservation volunteer experience.
Learn more about your free time and weekend travel options in Ecuador.
Safety and In Country Support
Your safety is our number one concern here at Global Crossroad. We have carefully vetted every single aspect of your trip. We work with only trusted local partners and offer comprehensive insurance.
You can rest easy while volunteering abroad knowing that we have you covered every step of the way. You'll also have the support and guidance of our talented and experienced in-country team.
Learn more about our safety and in-country support in Ecuador.
Volunteer Work in the Ecuador Galapagos: FAQs
You probably have quite a few questions before you're ready to hop on a plane to the Galapagos. Here's some handy info to provide some answers for you:
Arrival and departure
For our Galapagos Island conservation volunteer program in Galapagos, you should fly into Quito International Airport. Before your departure, do inform our country coordinator of when you'll be arriving in Ecuador so that airport pickup can be arranged on time. We'll have someone waiting for you when you land to take you to your accommodations.
We highly advise you to come to Ecuador one day before the start date of your volunteer project. It is also very important to notify us about flight delays and missed flights as soon as possible, so we can make the needed adjustments.
You will need to book your own departure transportation when you finish up, so budget accordingly.
Visa
You'll need a tourist visa to volunteer with Galapagos conservation in Ecuador. If you're from the US, you can obtain your visa upon arrival at the airport. Be sure to research the requirements for your home country.
You can apply for a 30-90 day single-entry tourist visa at your local Ecuadorian embassy, or save yourself a trip and apply online:
If you'd like to extend your time in Ecuador, you'll need to visit the Immigration Office in Quito and apply for an extra 90 days.
You can learn more about Ecuador's visa requirements and policies here:
Vaccination
Be sure to make an appointment with your doctor to discuss your travel plans and get up to date on vaccines. This will help protect you against any foreign illnesses you might be exposed to while traveling abroad.
For a volunteering trip in Ecuador, you need to get vaccinated for hepatitis A, yellow fever, rabies, polio, hepatitis B, typhoid, pneumonia, chickenpox, measles, mumps and rubella (MMR), Tdap (tetanus, diphtheria and pertussis), shingles, meningitis, and influenza.
You can learn more about these vaccinations here.
Why Volunteer Work in the Ecuador Galapagos?
Protect threatened species
The native species of the Galapagos need your help! While taking part in volunteer in Galapagos program you will be help protect threatened species and help them return to their former glory. With your help, these plants and animals will remain in the Galapagos for a very long time to come.
Gain experience in the conservation field
Gain valuable experience working in the conservation field and learn professional techniques that can help you in your future career. Looks great on a resume!
Walk in Darwin's footsteps
Walk in the footsteps of famed evolutionary biologist Charles Darwin and see his beloved Galapagos Islands up close and personal. Now that science recognizes the destructive influence humans can have on an environment, you join the new evolution of low-impact development and research being carried out here!
Travel to the Galapagos!
If the Galapagos Islands are on your bucket list, this conservation volunteer program in Galapagos, Ecuador is perfect for you! Observe countless totally unique bird species, the massive giant tortoises, spirited sea lions, intrepid marine iguanas, and more!
Other Volunteer Opportunities In Ecuador
No matter your passion or interests, we offer a variety of life-changing, volunteer programs in Ecuador, such as
Teaching English,
Orphanage,
Street Children,
Conservation and much more. 
For more information on our exciting programs in Ecuador, contact us today.
Conservation program available in other countries: