Volunteer in an
Orphanage in Ecuador
Are you searching for a way to travel abroad on a budget while doing something impactful and meaningful in an effort to help disadvantaged children? Look no further! Global Crossroad's volunteer in an orphanage program in Ecuador is the perfect way to give back.
Volunteer in an orphanage opportunity in Ecuador for as low as $316

Safety is our number one priority, which you will feel with constant in country support

Established and well-reviewed volunteering work in an orphanage in Ecuador

Your chance to see a vibrant new country while bringing a new light into the dark lives of orphans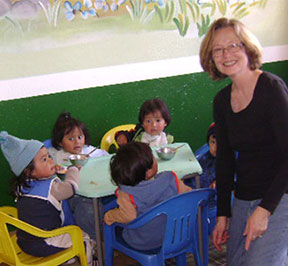 The population of Ecuador has doubled in the last 2 decades – creating a growing population of abandoned children. Most of these children are from poor and/or indigenous families. Growing poverty, lacking education, and limited governmental resources further exacerbate the problem of street children and orphans in Ecuador.
In all regions throughout Ecuador – regardless of urban or rural locations – our local partners have instituted a number of organizations to help protect these vulnerable children from further exploitation and potential homelessness. However, the volunteer in orphanage program in Ecuador cannot exist without volunteers who are willing to share their time, efforts, skills, and love with these forgotten children.
Role of Volunteer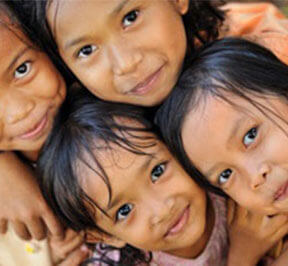 When you commit to volunteer work in an orphanage in Ecuador, you will help the underprivileged children of the orphanage by teaching Basic English or Spanish. During your stay, you will also have the opportunity to explore and learn Spanish. You will help by feeding, caring for, and simply playing with these very young children.
You may also help in developing creative programs for art, music, dance and sports. Additional assistance with day trips, sanitation, personal hygiene, cooking, and administrative duties might be requested. Additionally, you can assist in the reintegration of the children into families or society.
You will be involved in various activities such as:
Teaching Basic English
Helping children with homework and teaching basic conversational English skills
Supporting recreational and artistic activities focused on educational learning
Reading stories, performing puppet shows, caring for and simply playing with the children
Organizing and developing sports activities
Supporting in the kitchen/helping to serve meals in the dining room
Participating/assisting with location-specific duties: routine maintenance, construction, etc.
Skills and Qualifications Needed
There are no specific qualifications required in order to volunteer abroad in orphanage in Ecuador since the project staff will provide any necessary orientation and training to perform volunteer activities adequately. Beginner to intermediate knowledge of Spanish is preferred. If you cannot speak Spanish, we recommend enrolling in our Spanish Language Studies program, which can run simultaneous to your volunteer project or immerse in this program for a week prior to your project start date. Individuals who are enthusiastic about caring for other and compassionate to the often-unfortunate situations of these children are desperately needed.
Dates: Volunteer in Ecuador
All volunteer programs in Ecuador start every Monday of each month. However, if there is travel constrains, you can start any project on any day.
Prices: Volunteer in Ecuador
Global Crossroad is committed to offering the most affordable and highest quality Ecuador volunteer trips. We strive to keep our costs low. The humanitarian side of the business is our passion.
Global Crossroad's volunteer opportunity in Ecuador application and registration fee cost US $299. The application fee covers the cost of advertising, program promotion, and office expenses (rent, utilities, and staff salaries in USA office).
In addition to the application fee, you are required to pay a weekly program fee. You will pay your weekly fee directly to your host family and project. This way, the fees that you pay will benefit those who rightfully deserve them, and not for company profit.
| Weeks | Quito | Galapagos |
| --- | --- | --- |
| 1 Week | $266 | $573 |
| 2 Weeks | $427 | $816 |
| 3 Weeks | $588 | $1,059 |
| 4 Weeks | $749 | $1,296 |
| 5 Weeks | $910 | $1,514 |
| 6 Weeks | $1,071 | $1,721 |
| 7 Weeks | $1,232 | $1,933 |
| 8 Weeks | $1,393 | $2,140 |
| 9 Weeks | $1,554 | $2,359 |
| 10 Weeks | $1,715 | $2,559 |
| 11 Weeks | $1,876 | $2,778 |
| 12 Weeks | $2,037 | $2,984 |
Program fees cover:
Accommodation (volunteer house or host family)
Food (local food 3 times a day)
Airport Pick up/Transfer
Program Orientation
In-country support
Personalized project
Pre-departure information
Certificate of completion
Fundraising ideas and letters
Discount for returning volunteers
Program fees exclude:
Visas
Airfare
Airfare Galapagos
Personal expenses on soft drinks and foods
Daily transportation
Airport return transfer
Food (if you are volunteering on the Galapagos Islands); Please allot $60-$70 a week to cover the cost of your meals)
The volunteering programs in Ecuador fees will cover expenses that will begin on the first day of the program (usually the first or third Monday of the month) to the last day of the program. If you arrive before the first day of the program or you decide you stay beyond your program's last day, you will be responsible for the additional expenses, which would typically be around $30 a day for room and meals at a hostel.
Most Frequently Asked Questions: Volunteering in Orphanage
A various number of orphanages in Quito are partaking this program. In one placement there can be from 5-100 kids between the ages of 2-12.

All Ecuador orphanage volunteers will work around 4 h/daily (from 9am-1pm).

Yes it is.