Accommodation and Meals !
Global Crossroads makes sure you have safe, clean, comfortable accommodations while you are volunteering in Ecuador. Where you'll be staying depends on which project you end up at.
We have projects in the exciting colonial city of Quito, the famed Galapagos Islands, and the pristine setting of the Los Cedros Biological Preserve.
Quito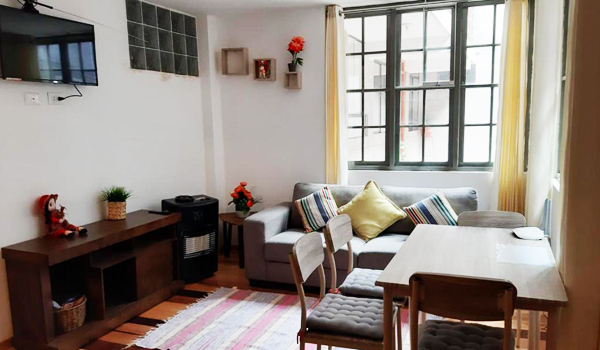 Most of our Ecuador volunteer programs are located in Quito, a city with colonial architecture nestled on the side of a volcano.
 In Quito, you'll be staying with one of our welcoming local host families, and they'll offer you a safe and culturally immersive home away from home. They'll serve you three local meals a day which they'll share around the table with you.
You'll be staying in a comfortable room shared with other volunteers of the same gender. You'll have access to a communal bathroom with running water and a western style flush toilet.
You can expect clean, fresh linens and a homey, comfortable environment. You can wash your clothing by hand or pay a fee at a local laundromat. Your project site will be within easy walking distance of your host family's home, making for an easy commute.
San Cristobal Island in the Galapagos
Our Ecuador Galapagos volunteers will have the chance to stay on the famed Galapagos Island that inspired Charles Darwin and his theory of evolution. You'll be stationed on San Cristobal, the most developed of the island chain.
In Galapagos, you will stay at the project site in shared volunteer housing. Two bamboo houses with eleven rooms can house up to 35 volunteers, with shared kitchen, bathroom, and living areas with modern amenities. You will find yourself in the company of fellow international volunteers, research scientists, and guided natural history groups.
Food will be provided to you at your project site.
Los Cedros Biological Preserve
At this unique Ecuador volunteer program, you'll be staying deep in a pristine 17,000 nature preserve located in the Andes cloud forest. You'll be sharing comfortable, basic accommodations with volunteers and conservationists from around the world.
Be prepared to live the simple life and experience a return to nature. You'll be far from towns, without WiFi, and utilizing green friendly amenities like composting toilets.  
Basic local staples like rice, beans, fresh fruit, etc. will be provided for you at the project site, many of which will be grown in the organic garden!
Meals
Your project fee pays for your meal plans throughout your stay in Ecuador, so you can count on three fresh healthy local meals a day.
If you're staying with a host family in Quito while volunteering in Ecuador, you'll eat these meals with your new Ecuadorian family. This is a great chance to practice Spanish and immerse yourself in daily life. If you have a busy day volunteering that does not allow you to eat lunch at home, you can take a lunch to go.
You'll be provided with tea/coffee, fruits, toasts, eggs, etc. during breakfast. The Ecuadorian staples are usually rice with chicken or shrimp, soup, vegetables etc. If the local fare isn't to your liking, you can try out nearby restaurants or buy food to prepare for yourself. Please refrain from using family's personal food items for your personal use.
If you are volunteering at our conservation projects, you will be provided food at the project sites, and can expect basic local fare.
Get a true taste of the culture while volunteering in Ecuador by eating local foods. Typical cuisine includes Arroz con Pollo (rice with chicken), arroz con camarones (rice with shrimp), Ceviche, Choclo, Cuy (Guinea Pig), and ceviche.