About Tanzania
Volunteer
Project-Tanzania
Volunteer Project-Tanzania
The schools in Tanzania are closed in June and December. During this time, volunteers can work in orphanage teaching the children.
Project Summary
English is a common language in Tanzania as the country was once a British colony. However, there is still a lack of quality English education in the country. English fluency is proving more and more vital due to the growing tourism industries and increasing foreign investments in Tanzania. Private schools run by individuals and communities are helping educate children of Tanzania. In our volunteer teaching in Tanzania, you teach English in nurseries, primary and secondary schools to students aged 6 to 16-years-old. Volunteer teachers may also teach math and/or science and additional help is needed with art lessons, games, various extracurricular activities and administrative office work. The students come from deprived families and the schools are resource poor, so your help will be great appreciated.
Program:

Volunteer in Tanzania

Project:

Teaching English in Tanzania

Start dates:

1st and 3rd Mondays of each month

Locations:

Moshi

Departure and End Point:

Kilimanjaro International Airport

Language Need:

English fluency

Accommodation and meals:

Home base/ Host family and Tanzanian cuisine three times daily

Activities:

Teach English to elementary schoolchildren and support other curriculum needs

Working hours:

20-25 hours per week
Role of
Volunteer
In teaching English in Tanzania project, you will work for 4 -5 hours/day; five or six days a week. In Tanzania, each school usually has its own English teachers who direct our volunteers with methods/curricula and offer advice on solving communication barriers in the classroom and beyond.
"Teaching English" consists of developing conversational skills with students aged 5 to 10-years-old mostly in primary schools and 11 to 16-years-old in junior secondary schools. Reading literature to and with them helps improve their low comprehension level and practicing conversations develops the poor pronunciation levels of students. Volunteers will also be able to provide theoretical and practical assistance while assisting local teachers as they interact with and teach the students.
Tanzania has four academic terms per year: January-March, April-June, July-September and October-December.
Skills/
Qualification Needed
There are no specific qualifications needed to join our teach English in Africa (including Tanzania) project beyond a fluency in English, but your understanding of Tanzanian culture and diversity can help improve the experience for you and your students. Consider enrolling in our one-week Language & Cultural Immersion program. No previous teaching experience is required. Volunteers should have a love for teaching, English and conversation. Volunteers should be enthusiastic, reliable, flexible, patient and be positive role models for students.
Major FAQs -
Teaching English Project
What's a usual days work look like?
This is what a daily schedule for the English teaching in Tanzania can look like: 8:00 am: arrival of English teachers at school 8 -12:30: two teaching sessions (incl. 30mins intermission) 12:30 – 1:30: Lunch-break 1:30 - 3:00: teaching sessions 3:30: pupils get released and there is a 30 mins break before that in which students tidy the classrooms
Where are the volunteers supposed to stay? How can I get to the project location?
It is common for the volunteers to reside with host families or at a volunteer house. The distance from the homes to the schools varies from 5-45 mins. You'll be provided with transportation details upon arrival.
What's the school I'd be working in called?
There is a number of public school included in this program. All details will be sent to you upon completion of the registration.
How old are the kids I'd be teaching?
The English teaching in Tanzania volunteers will teach pupils aged between 5-12 years.
What's the average number of pupils in one classroom?
It is common for classes to have over 45 pupils.
Is there a set curriculum?
Yes. This curriculum is expected to be followed by all teachers and volunteers.
How many hours/day would I be teaching?
This depends on the ability of the English teaching in Tanzania volunteers. A minimum of 4h/day are custom.
Am I supposed to bring my own teaching stuff? DO they have teaching stuff in the school?
All volunteers in the English teaching in Tanzania project are advised to bring auxiliary material, since the materials the school have are hardly sufficient.
Is the teaching project available all year long?
Yes the teaching English in Tanzania is available all year long, except for the public holidays. This is the usual school year in Tanzania: January-June/ late June- early December
Are there any other details about the program you'd like to share?
Please feel free to bring any school supplies you see fit. These are highly appreciated. The schools don't have enough supplies for all pupils so pencils, books, pens etc are highly valued. It is also much cheaper to bring them from your own country than buying them here.
Volunteer in Tanzania:
Project Locations and Free Time Options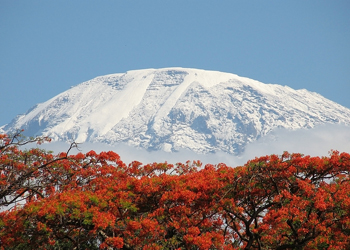 Our volunteer in Tanzania projects are located in and around Arusha and Moshi. Arusha is one of the bigger cities in the north of Tanzania and sits at the base of Mount Meru, not far from the Kenyan border. It is well-known African congress center and contains the site where the International Tribunal for the Rwandese Genocide was held. Safari tours to the Serengeti, N'gorongoro, Manyara and Tarangire usually launch in Arusha. The city is also an excellent base for visiting the Arusha National Park, where volunteers can experience a wide range of habitats and experiences. There are lakes that serve as a gathering point for a kaleidoscope of waterfowl, the imposing summit of Mount Meru is nearby and Moshi is approximately an hour-and-a-half (90 minutes) drive from Arusha.
Moshi sits on the lower slopes of Mount Kilimanjaro. It is an often over-looked tourist destination, but offers many intriguing cultural exposure opportunities. The Chagga people call Moshi home and it is in the middle of a major coffee growing region. Central Moshi is busy and colorful making an interesting walking excursion. The area around the market and Mawenzi Road is recommended, as there is a slight Asian flavor to the area and a Hindu temple, mosques and Indian traders.