Overview of the Project
Volunteer in Peru in the healthcare and medical project to help provide healthcare to Peruvians who need it the most. Healthcare in Peru is often too expensive for locals and the quality is lacking. Global Crossroad's medical volunteer project provides volunteers with the opportunity to work in hospitals, clinics and specialized projects to provide healthcare to disadvantaged Peruvians. Volunteers will work alongside doctors, nurses, therapists and other medical professionals in urban or rural settings in the fields of rehabilitation for children, general medicine, gynecology, pediatrics, obstetrics, neurology, dental, family medicine, psychology, counseling, social work, physical and occupational rehabilitation, etc. In addition, Global Crossroad partners with a mobile hospital to provide medical attention to those who are incapable of traveling to Cusco. This mobile hospital desperately needs specialized medical teams and mental health workers. As a volunteer in Peru working in the healthcare project, your responsibilities will depend on your
Program:

Volunteer in Peru

Project:

Healthcare and Medical Project

Start Dates:

Every Monday of each month

Language Needed:

Strong English Skills

Accommodation and meals:

Volunteers will live in either a hostel or with a host family. Those with host families will receive 3 meals a day.

Working Hours:

30 hours a week

Activities:

Assist clinics and hospitals with workshops, basic care and organization
medical experience and Spanish language skills, but you may be asked to assist with various procedures such as delivering babies, suturing wounds, and giving vaccinations. Some volunteers may also be asked to help with vaccination and public health campaigns. Regardless of your qualifications and projects in Peru, you will undoubtedly change the lives of others, allowing them to live healthier and productive lives.
Note: Medical volunteers who do not speak Spanish are required to attend a 7-day Spanish crash course at our Spanish school in Cusco.
Medical placements ARE available for people without medical training. These volunteers can observe the healthcare in Peru, assist with basic tasks and learn from others with medical experience. Those without experience must be able to handle observing doctors and nurses with procedures that may involve blood and minor surgeries.
Role of
Volunteer
Depending on skills and qualifications, volunteers in this project are involved in various activities such as:
Observing and supporting healthcare professionals by shadowing doctors
Public outreach and education
Supporting healthcare professionals (as dictated by individual experience/qualifications)
Organizing and developing educational seminars
Educating the general population on topics related to healthcare
Assisting pre-established healthcare programs (health clinics, non-profits, NGOs)
Assisting clinics and hospitals with administrative tasks
Providing basic patient care
Doctors with qualifications may diagnose and treat patients
Medical volunteers will shadow local doctors and learn mostly from observation. Due to inherent risk involved and medical regulations, volunteers cannot treat patients or become involved in surgery during the project.
Skills
/Qualification Needed
Beginner to intermediate knowledge of Spanish is highly beneficial for medical volunteering in Peru project. If you cannot speak Spanish, we require enrolment in a 1-week crash course Spanish Language Studies program. Additional lessons beyond the first week of studies can run simultaneous to your volunteer project; however, a basic level of fluency is required to begin.
Interested volunteers who have certification or proof of experience in a medical field, such as a medical student ID, EMT or paramedic certification, or nursing or physician's credentials must bring copies of qualifications. Note: Medical placements ARE available for people without medical training, but placements will not be in the role of a doctor/nurse's assistant.
Major FAQs
- Healthcare Project
What does a daily routine suppose?
We recommend this project for those who are fluent or speak Spanish on a intermediate level. This is what a daily schedule could look like:
7 am- breakfast
8am – start of your volunteering day – you will assist doctors or nurses: visiting patients, cleaning wounds, taking blood pressure and sometimes watching surgeries
.
12pm-1pm- lunch at host family
1:30pm- leave for Spanish class
2pm-4pm- Spanish class
7:30- dinner with host family
What's the distance between dorms and project location? What are the commuting possibilities? Where will I live?
The healthcare volunteers in Peru are going to live aprox. 20' from the project location. Public transport or taxis ($4 USD /ride) are the alternatives.
What will the volunteers be involved in, activity wise?
It depends a lot on the medical background of the healthcare volunteers in Peru. If you are a doctor, nurse, physical therapist, occupational therapist or medical student you'll assist with actual patient work: general medical procedure observation, helping administration and distributing medicines; take blood pressure or temperatures and partake in activities based on your personal area of expertise. If you have no experience you'll be mainly assisting the local medical staff and observing the on going procedures. The specifics of your involvement will be set out upon arrival with the clinic staff.
Where do the volunteers work – hospital or clinics?
The clinics are in Cusco or 20' away. Your local coordinator will take you to your project location on your first day.
What skills are required in order to apply for this project?
It's recommended that all healthcare volunteers in Peru speak Spanish, at least intermediate level. The local staff, won't speak English. There are Spanish classes available to the volunteers in Cusco. It's recommended that the volunteers are interested in medicine and have some training/education in the medical field.
Is there any hands-on experience to be obtained?
This depends on your medical experience/background and on the level of Spanish you speak.
Who assists the volunteers during their assignement?
While healthcare volunteering in Peru you'll be assisted by your local coordinator.
What's the daily schedule, what's the work timetable?
It's common to spend 4h/day in the clinic. However you can work longer hours if you wish.
Is the project going throughout the year? Can I volunteer for it whenever I want?
The healthcare volunteers project in Peru is available all year long except for Christmas and public holidays
Any other details regarding the project that volunteers should know of?
It is important to respect that in Peru the workflow may vary from the one that you are used to in your home country. Volunteers within the healthcare project need to have an open mind to experience a new culture. We recommend you to mind the fact that you're travelling to a new country with a different culture than you own; in such you need to be open-minded and flexible about anything you might 'stumble' upon while volunteering.
Volunteer in Peru: Project Locations and
Free Time Options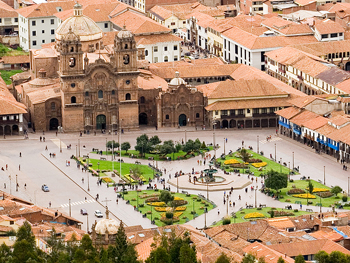 Our Peru in-country staff and other volunteers will gladly help you plan cultural and outdoor excursions and trips. Global Crossroad's projects are located in either Cusco or Manu National Park. Cusco is a fabulous place for cultural activities or for further travel or adventure. The city contains many attractions like historical museums, beautiful parks, colonial squares, stunning churches, ancient ruins, Incan streets, colorful markets and endless adventure opportunities such as river rafting, quad biking, horseback riding, paragliding, zip lining, trekking and tours through the Amazon jungle and the Sacred Valley. Of course, the famous lost city, Machu Picchu is another destination volunteers can head to for its majestic and alluring simplicity beckoning from its perch high in the mountains. Reaching the summit does not have to be a weeklong commitment! There are options for everyone – trains or trekking (the original Inca Trail or jungle treks) will get you to the top in time to witness a breathtaking and magical sunrise.
Manu National Park is one of the largest parks in South America and is famed as one of the best places to explore the Amazon jungle. UNESCO names the biological reserve a World Heritage Site as more than 15,000 plant species and up to 250 varieties of trees can be found in one single hector! The variety of flora and fauna are endless, providing natural entertainment for any outdoor enthusiast.
Peru's landscape is varied and ranges from the high tips of the Andes Mountain, to dense Amazonian jungles, to the exquisite beaches along the Pacific. There is truly something for everyone in Peru.