Volunteer With Disabled Children in Argentina!
Do you have a passion for working with disabled children? Would you like to travel to Argentina while giving back to the disabled children? Global Crossroads has this perfect program for you!
Argentina is a spicy, unique, and memorable South American destination with an intoxicating allure that draws in travelers from around the world. Dance the night away in bustling Latin clubs or explore the varied natural terrain of Argentina for an adventure you won't soon forget.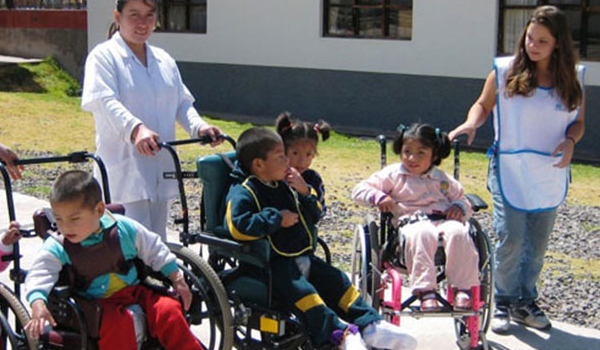 Sadly, Argentina has a high population of disabled children, and they struggle to receive the specialized care they so desperately need. Though the government and other organizations attempt to serve these children the best they can, these programs are often lacking manpower and support.
The poor disabled children in Argentina are in need of your help! Team up with Global Crossroad's disabled children volunteer program and offer much-needed care to most needy and vulnerable children.
Contact Global Crossroads today to start making a true difference in the lives of kids with special needs!
Volunteer Responsibilities & Impacts
You will be working with AYSAD (Assistance and Service to Children with Disabilities), a group which has been providing therapy, occupational training, and recreational services to disabled Argentinian youth for 13 years.  The facility has a capacity of 120 children at a time, and the need is so great there is always a long waiting list for more disabled kids who are hoping to receive care.
Your duties will vary based on your skills, background, interests, and the current needs of the project, but you can be sure you will be making a profound and lasting difference volunteering with disabled children. Here are some tasks you might lend a hand with:
Organizing educational and extracurricular activities, such as games, sports, art, music, and dance
Helping teachers and staff with daily chores
Evaluating physical and mental health conditions of the children
Setting up events
Assisting with rehabilitation
Promoting therapeutic activities
Planning and leading educational classes or workshops
Carrying out organizational and management tasks
Leading program development
Fundraising
Maintaining the facilities
Making the children smile and feel loved
Your time volunteering in Argentina with disabled children will have a huge impact on the lives of each unique child you help. In turn, you will be touched forever by the beauty in their innocent minds and the joy in their pure hearts. Contact IFRE today to start making a difference!
Skills and Qualifications
There are no specific qualifications to join this program. If you are passionate about providing care to disabled children and have the love, patience, and compassion in your heart to do this important work, we want you to join us in Argentina! What we need is your dedication to help kids with special needs.
You'll also need to be 18 years old and have some basic Spanish skills. Intermediate Spanish is preferred, as this will really help you in working with the kids. If you'd like to brush up on your skills, we offer Spanish classes in Cordoba that are available while you volunteer.
So long as you meet these requirements, you are more than qualified to join our Argentina disabled children volunteer program!
You're inspired to take off to Argentina on an exciting and meaningful volunteer abroad adventure, but you're probably wondering what a typical day is going to look like for you. You should expect to work Monday-Friday for an average of 4-5 hours per day, and to get involved in a variety of activities wherever your help is needed.
Here's a sample daily schedule to give you an idea of what to expect:
First Day: On your first day of volunteering with disabled children, our helpful in-country coordinator is going to bring you to the AYSAD facility and introduce you to the hard-working and dedicated staff. You'll also meet some of the disabled children you'll be working with, and finally see their smiling faces in person.
You'll have your orientation, and you'll learn all about the project, what you'll be doing, your daily schedule, safety protocol, and we'll also go over some of the customs and cultures of Argentina to get you started off on your adventure abroad on the right foot.
Weekdays: (Again, this is just a sample schedule and does not reflect your actual hours worked.)
7.00 to 7.30 AM​: You'll enjoy a traditional Argentinian breakfast with either your host family or make your own in the hostel kitchen alongside fellow volunteers for a great start to your day.
7.45 AM:  Head out for a rewarding day volunteering with children in Argentina, touching their lives and helping them in any way you can.
12.00 PM: Take a break for lunch. Chat with your fellow volunteers and local project staff about what's going on in the day, and also talk about your home countries and have a cultural exchange! Volunteer projects are a great place to make friends from around the world.
3.00 PM: You'll usually have the afternoons and evenings free. This is a great chance to sightsee, explore, and experience more of Argentina. Your new volunteer friends make great adventure partners!
6.45 PM: Dinner. Argentinian cuisine is known the world-over for mouth-watering grilled beef, delicious empanadas, and the delectably sweet dulce de leche. Experience culture through food and enjoy a traditional dinner nightly with your host family, or dine out at the numerous tempting restaurant options.
Volunteer With Disabled Children in Argentina: Dates and Fees
Dates: Volunteer in Argentina
All volunteer programs in Argentina start every Monday of each month. However, if there is travel constrains, you can start any project on any day.
Fees: Volunteer in Argentina
Global Crossroad is committed to offering quality volunteer work in Argentina at the world's most affordable price. We strive to keep our costs low. The humanitarian side of the business is our passion.
Global Crossroad's volunteer abroad in Argentina application and registration fee cost US $299. The application fee covers the cost of advertising, program promotion, and office expenses (rent, utilities, and staff salaries in USA office).
In addition to the application fee, you are required to pay a weekly program fee. You will pay your weekly fee directly to the country coordinator, who in turn will allocate it to your host family, project and other in-country support we offer to our volunteers. This way, the fees that you pay will benefit those who rightfully deserve them, and not for company profit.
| Duration | Hostel Shared Room/ No Meals | Host Family Private Room/Half Food |
| --- | --- | --- |
| 1 Week | $404 | $460 |
| 2 Weeks | $488 | $600 |
| 3 Weeks | $572 | $740 |
| 4 Weeks | $656 | $880 |
| 5 Weeks | $740 | $1,020 |
| 6 Weeks | $824 | $1,160 |
| 7 Weeks | $908 | $1,300 |
| 8 Weeks | $992 | $1,440 |
| 9 Weeks | $1,076 | $1,580 |
| 10 Weeks | $1,160 | $1,720 |
| 11 Weeks | $1,244 | $1,860 |
| 12 Weeks | $1,328 | $2,000 |
Mandatory comprehensive travel insurance $3.49 a day »
How your fee is allocated?
Spanish Lesson $12 per hour
Program fees cover:
Accommodation (hostel or host family)
Food (see price table for different options)
Program Orientation
In-country support
Personalized project
Pre-departure information
Certificate of completion
Fundraising ideas and letters
Discount for returning volunteers
Program fees exclude:
Visas
Airfare
Personal expenses on soft drinks and foods
Daily transportation
Airport return transfer
The volunteering in Argentina program fees will cover expenses that will begin on the first day of the program (usually the first or third Monday of the month) to the last day of the program. If you arrive before the first day of the program or you decide you stay beyond your program's last day, you will be responsible for the additional expenses, which would typically be around $30 a day for room and meals at a hostel.
Accommodation and Meal
When you volunteer in disabled children program, you will have the choice of staying in a hostel or a host family. In both places, our volunteers enjoy safe, clean, comfortable accommodations with all the facilities you would expect, like a western toilet, electricity, running water, etc.
In the hostel, you will need to provide your own meals and can expect to be housed with fellow volunteers and travelers from around the world. In the host family, you will have breakfast and dinner provided, and have the once-in-a-lifetime chance to be immersed in a foreign culture through a rewarding and personal experience and true home away from home.
Free Time and Weekend Exploration
Argentina is a vibrant and unique destination, and Global Crossroad's makes sure you have plenty of free time to experience it. From subtropical climates and impressive waterfalls to glaciers and penguins to a sizzling Latin culture, Argentina has a lot to offer the international traveler.
During your volunteer program in Argentina, you'll work an average of 5-6 hours a day, so use your afternoons and evenings to explore unique and culturally rich city of Cordoba. On the weekends, head off and see more of Argentina!
Discover your free time and weekend travel options in Argentina.
Safety and In Country Support
The best reason to volunteer abroad with a trusted and experienced volunteer organization like Global Crossroads is to ensure your safety while traveling. We frequently visit each and every project and have a dedicated in-country team right there on the ground in Argentina that is there to guide and support you. Your safety is our number one priority, and from pre-trip guidance, comprehensive insurance, airport pick-up, and more, Global Crossroads has you covered every step of the way.
Learn more about our safety and in-country support in Argentina.
Volunteer With Disabled Children in Argentina: FAQs
Before you board a plane to Argentina, you probably have a few questions. Here's some handy information that will help answer some of them for you:
Arrival and departure
For Global Crossroad's disabled  children volunteer program in Argentina, you will need to fly into Pajas Blancas International Airport. We recommend our volunteers schedule their flights to Argentina one day prior to the start date of our volunteer projects.
Global Crossroad provides airport pickup services to its volunteers. A local representative will be there at the airport terminal waiting to transfer you to your accommodations. Make sure to provide our local country coordinator with correct flight details for hassle-free airport pickup.
If you miss your flight or your flight gets cancelled/delayed, then you should inform us as quickly as possible, and we will reschedule your airport pickup for you.
You'll need to plan to set up your own departure transport after completing the project.
Visa
It's a requirement all our volunteers obtain a tourist visa to volunteer with children in Argentina. This will be checked by immigration officials at the airport. You'll need to head to your local embassy and apply ahead of time, or you can also apply for tourist visa online by clicking here. You can learn more about Argentina's visa requirements and policies here.    
Vaccination
Getting vaccinated before volunteering abroad is an important step in protecting yourself, and the kids you're going to be working with.
To work in our disadvantaged children Argentina volunteer program, you need to get vaccinations for pneumonia, hepatitis A, hepatitis B, polio, measles, mumps, and rubella (MMR), influenza, meningitis, rabies, Tdap (tetanus, diphtheria, and pertussis), typhoid, shingles, yellow fever, & chickenpox.
Check out this link to find out more information about these vaccinations.
Why Volunteer With Disabled Children in Argentina?
Touch the lives of kids in desperate need.
Disabled children need highly specialized care, lots of love and patience, and a whole lot of time to give them their best possible life. All of these things are in short supply in a facility that struggles to keep up with the flood of special needs kids that require care. Give these special kids exactly what they need and touch their lives in countless ways.
Get experience working in residential care facility.
If you'd like to start a career helping care for disabled people, this is a great chance to see what it's like and to gain valuable professional experience.
See the world in a new way.
The most beautiful thing about working with disabled individuals is how each one looks at the world in such a unique and special way. See the world through the eyes of a special child while volunteering in Argentina with children.
Help support the dedicated AYSAD staff.
For nearly a decade and a half this facility has done its best to keep up with the growing need for specialized care of disabled children in Argentina. The staff dedicates their lives every single day to helping these kids and giving them the care they deserve. Join them and support them in compassionate efforts!
The disabled children of Argentina desperately need your help, so contact Global Crossroads today to learn more about getting started!
Other Volunteer Opportunities In Argentina
No matter your passion or interests, we offer a variety of life-changing, volunteer programs in Argentina, such as
community development,
dental care,
healthcare and much more. 
For more information on our exciting programs in Argentina, contact us today.
Volunteer Opportunities in Other Countries