Dental Volunteer Opportunities Abroad in Argentina !
Are you looking for experience in the dental healthcare field for your future career? How about joining an exciting dental volunteer program in Argentina?
Argentina is a fascinating country in South America that is like nowhere else in the world. You'll find friendly Spanish speaking locals, delicious foods, Latin dancing, and an astonishing array of varied landscapes that will give an experience of a lifetime.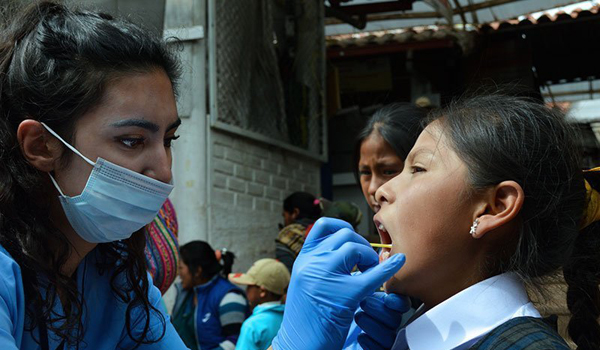 Gain valuable hands-on experience working in this professional dental volunteer program designed for dental students and professionals like you!
Contact Global Crossroads today to learn more about our exciting Argentina dental volunteer program!
Volunteer Responsibilities & Impacts
You'll spend about 20 hours each week working under the guidance of experienced dentists and dental assistants learning and practicing a variety of dental techniques. Here are some of the key skills you'll need for your future career that you'll be working on as a dental volunteer:
Helping with lab work
Making models
Assisting dental professionals
Learning about different procedures
Cleaning and disinfecting treatment areas
Sterilizing instruments
Stocking dental materials
Helping with office maintenance
Making and confirming patient appointments
Following up with patients
Learning how to perform diagnosis and treatment plans for patient cases
Working with case presentations
Reading and understanding radiographs
Learning types, numbers, and notation for teeth
Practicing terms related to dentistry, such as instrument names, tooth names, tooth surfaces, etc.
Reviewing oral hygiene with patients
Making patients comfortable
Assisting with administrative tasks and office procedures
Get ready to put your dental career on the fast-track with this dental volunteer experience in Argentina! Learn valuable skills you'll use on the job, experience an exciting new culture, and make valuable professional contacts in your field! This program also looks fantastic on your resume!
Every day volunteering in dental program in Argentina, you will find yourself on an exciting journey learning so many new things that will help you in your future career. The actual hours you work will vary based on your final placement, but you're probably wondering what a typical day might look like for you.
Here's a sample schedule to give you an idea:
First Day: On your first day as a dental volunteer in Argentina, our in-country coordinator will bring you to your project site and introduce you to the helpful dentist and dental assistants you'll be working with.
You'll undergo an orientation that will get you started on the right foot. We'll go over your internship duties, your schedule, safety protocol, and a quick briefing on the fascinating customs and culture of Argentina.
Weekdays: A typical day as a dental volunteer is as follows:
7.00 to 7.30 AM​: Start your day with a simple Argentinian breakfast, which is typically toast or sweet crescent rolls called medialunas paired with coffee and juice.
7.45 AM:  Head out for an exciting day of learning and practicing a range of dental techniques. You'll be getting that on the job experience that will really put you ahead in your career.
12.00 PM: Lunch time. You can prepare your own to-go lunch or try a new restaurant for a mid-day treat!
3.00 PM: Once your volunteering concludes for the day, your afternoons and evenings are free to explore the unique and culturally rich city of Cordoba. Fellow volunteers make great new friends to travel around with!
6.45 PM: Dinner is a great chance to get a true taste of Argentina and its world-renowned cuisine. If you're staying with a host family, you'll have the chance to gather around the table, practice your Spanish, and immerse yourself in the culture. Hostel volunteers can cook in the shared kitchen or head out on the town.