Summer Volunteer and Travel Program in Sri Lanka (4 weeks)
Global Crossroad's Sri Lanka volunteer abroad program is a unique chance to volunteer abroad, immerse yourself in the cultural and language of this beautiful country, and embark on an exciting wildlife adventure. Global Crossroad has been providing this affordable, safe, and reputable summer volunteering opportunity in Sri since 2003! This summer volunteering program in Sri Lanka is composed of three different parts: language classes and cultural orientation, home stay and community service project, and travel and exploration.
Homestay and Community Service Project (14 days)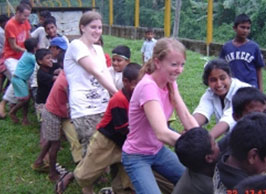 You will spend two weeks of your best summer volunteering program in Sri Lanka helping in an orphanage. While you are dedicating your time to these children in need, you will also be staying with a host family. This will be an exiting way to truly become part of the culture and learn a great deal about Sri Lankan life, culture, and traditions.
Cultural and Language Orientation (7 days)
The language and cultural immersion program, which takes place the first week, will greatly benefit you and your ability to interact and communicate while doing your community service. You will also spend twenty-two days working at an orphanage and staying with a local family. Your homestay is an excellent way to become fully immersed in the culture of Sri Lanka.
Travel and Exploration (7 days)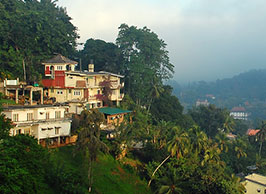 The travel and exploration segment of your summer volunteering program in Sri Lanka will include a visit to the Yala Wildlife Sanctuary. You will also have the chance to experience Buddhist culture, view ancient temples, sunbathe next to the Indian Ocean, explore dense mangrove forests, and interact with the warm and friendly Sri Lankan people.
Program: Summer Volunteer Program in Sri Lanka
Highlights: Volunteer service project, cultural and language immersion, and wildlife safari
Arrival and Departure: Bandanaika International Airport in Colombo
Accommodations/Meals: As per itinerary
Duration: 4 Weeks
Start Date: June 25, 2018
End Date: July 20, 2018
Program fee: $1,699 for 4 weeks, which includes 4 days/3 nights safari
Summer Volunteer Program in Sri Lanka Complete Itinerary
Day Prior to Start of Best Summer Volunteering Program in Sri Lanka:
Airport pickup and transfer to Galle, which is about a four-hour drive from Colombo.
Day 1: Orientation
You will be introduced to Sri Lankan history, culture, and customs. You will take a brief trip to visit the Tsunami Reconstruction Project.
Day 2: Language Class
You will start language (Singhalese) classes today for approximately four hours. After 2PM, you will set off for the beach of Galle to further explore the enduring beauty of Sri Lanka.
Day 3: Singhalese Language Classes Continue
In the afternoon, you will venture on a hike through local villages, all-the-while exploring the beautiful landscapes, local farming system, local ways of life, and, most importantly, the people of Sri Lanka.
Day 4: Full Day of Travel and Exploration in the Yala Wildlife Sanctuary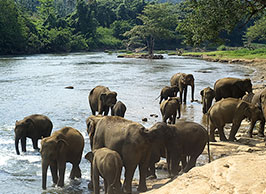 Ruhuna's National Park at Yala is Sri Lanka 's most popular wildlife safari destination. Situated approximately 300km from Colombo, this expansive, 1250km 2 park is home to a kaleidoscope of wildlife, including: leopards, crocodiles, elephants, deer, sambar, bears, wild bores, wild buffalo as well as peacocks and various other species of migratory birds such as flamingos. The uniqueness of the park is the varying multitudes of habitat diversities ranging from dense jungles and lagoons to open park areas and a beautiful sea - all spotted with a cornucopia of jutting, rocky outcroppings.
Day 5: Singhalese Language Classes Continue
In the afternoon, you are given the opportunity to view a movie in local theater - further immersing yourself in the surrounding culture.
Day 6: Singhalese Language Classes Continue
In the afternoon, you will have the opportunity to visit the local fisherman village, in effect further grasping and comprehending the Sri Lankan culture by observing and understand the daily life of the fishermen's families of Sri Lanka.
Day 7
Tour of Galle
Day 7-23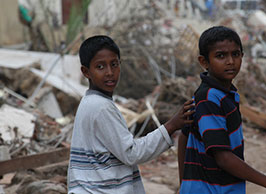 For 22 days, you will volunteer in an orphanage as part of your summer volunteering opportunity in Sri Lanka. The orphanage is home to 74 children who have lost their parents or have been abandoned by them. You will volunteer for 5 to 8 hours, 5 days a week. Your responsibilities will include helping with meals, playing, cleaning, and also teaching. You will also help the local staff. You might also be asked to assist with maintenance and renovations to the orphanage.
Day 24
Whale Safari and Snorkeling Trip
Day 25
Safari to Yala National Park and Visit to Elephant Orphanage
Day 26
Depart for Dambala for another Safari
Day 27
Climb the Citadel of Sigiriya
Day 28
Overnight Stay in Kandy and Tea Factory/Plantation Tour Before Airport Departure
Summer volunteering program in Sri Lanka itineraries are merely samples and may change to meet the needs of the volunteers and changes in the field conditions. This itinerary will be revised and finalized during orientation program.
Prices and Dates
Start Date: 21-June-2021
End Date: 16-July-2021
Program Fee: $1,699 for 4 weeks, which includes 4 days/3 nights safari
Fees Cover:
Airport pickup/drop off
Accommodations (host family, cabin) and local food 3 times a day during entire volunteer period
Accommodation (budget hotel, hostel family) and local food 3 times a day during travel
Local transportation (primarily local buses) during travel
Entry fees
Insurance
Airport pickup/drop off
In-country support
Fees do not cover:
Airfare
Visa
Personal expenses on soft drinks and food
Domestic transportation during volunteering
Any tips to guides, gifts to host family or projects