Mini Volunteer and Travel Escape in Sri Lanka (2 weeks)
Help make a difference while exploring the stunning country of Sri Lanka
Volunteer in Sri Lanka for ten days and then venture off for a three day adventure
Most affordable and reputable programs since 2003; only $1299
Set off on a journey of a lifetime that will leave a positive impact on Sri Lanka
Do you want to embark on an escape to Sri Lanka where you will have the opportunity to volunteer and explore? Global Crossroad offers a highly acclaimed short term volunteer and travel opportunity in Sri Lanka for those seeking adventure and a chance to give back to the local community. The 2-week volunteer abroad program in Sri Lanka offers you an once-in-a-lifetime experience and opportunity to lend a helping hand to some of the country's neediest people.
The program starts with a commitment to work in an orphanage. For the first 10 days of your volunteer abroad for two weeks in Sri Lanka program, you will be sharing your love and energy with orphan children.
After working as a volunteer, you will embark on a journey to explore the breathtaking and awe-inspiring beauties of Sri Lanka. The last few days of program covers the major tourist attractions in Sri Lanka.
Program: Mini Volunteer and Travel Escape in Sri Lanka (2 weeks)
Start dates: 1st and 3rd Monday of each month
Departure and End Point: Colombo International Airport, Colombo
Language Requirements: None
Accommodation/Meals: Host family with Sri Lankan food three times a day
Activities: working with Orphans and 3 days explore south Sri Lanka
Mini Volunteer and Travel Escape in Sri Lanka (2 weeks) Proposed Itinerary
Global Crossroad's mini volunteer and travel escape in Sri Lanka is a harmonious blend of volunteer work and travel opportunities.
Day 0
You will be picked up at the airport and transferred to Galle (4-5 hour drive from the airport) and then transferred to your host family.
Day 1: Orientation and Project visit
The first day of the charity work abroad for two weeks in Sri Lanka program starts with orientation. The orientation covers history, geography, religion, culture, and related topics of Sri Lanka. During orientation, we will also have a discussion about health, safety, dos & don'ts, and a Q&A session. You will also visit the project and get familiar with the local staffs.
Days 2-10: Volunteer Work in an Orphanage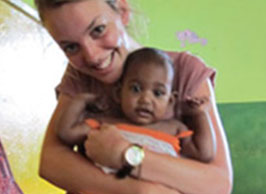 For the next 10 days of your volunteer abroad for two weeks in Sri Lanka escape, you will work in an orphanage. As a volunteer in an orphanage, you will teach English to the children and organize extra-curricular activities like singing, dancing, drawing, etc. You will work 5-6 hours in day. In your free time or in the evenings, you can explore the beautiful city of Galle and its world famous beaches.
Exploration of Sri Lanka for 4 days
Day 11 and 12: Yala National Park (Home of Asian Elephant and Leopard
Your Sri Lanka exploration starts with a visit to the Yala Natoinal Park. For these two days, you will explore the Yala National Park. The Yala National Park is a truly magical place where you will have the chance to witness a vast array of Sri Lanka's untamed wildlife in their natural habitats. It is most famous for its Asian elephants and leopards. This will be an epic experience! http://www.yalasrilanka.lk/
Accommodations: Tent or Cabin
Day 13: Whale Watching Tour
You will be taken on a 3 to 5 hours whale watching adventure led by a professional and experienced naturalist from Sri Lanka. You will start your adventure in the south coast fishing village of Mirissa. Not only will you have the opportunity to see whales, there is also a great chance you will encounter dolphins, sea turtles, eagles, and flying fish too! This will be an exciting and beautiful day at sea!
Day 14
Last Day of Short Term Volunteer Trip in Sri Lanka and Free Time to Explore Galle.
The proposed itinerary is a sample and is subject to change to meet the changes in the local field conditions and our office
Prices and Dates
Price: $1299
Global Crossroads offers the most affordable volunteering and traveling escapes. We strive to keep costs low so that more people are able to embark on these meaningful and impactful trips.
Program Fees cover
Room (host family, hostel) and local food 3 times a day during volunteering
Room (host family, economy hotel) and local food 3 times a day during travel
Local transportation during travel
Comprehensive travel insurance
Entrance fees
Airport pick up/drop off
Support of in country staff
Program Fees exclude:
Airfare
Visa
Personal expenses on soft drink and food
Food / room before the start of the program
Domestic daily transportation during volunteering
Tips (for guide and/or staff)