Volunteer in Costa Rica Conserving Wildlife & Sea Turtles (Tortuga Beach, Puntarenas) !
Is it your dream to research animals like crocodiles, Scarlet macaws, and monkeys in the rainforest? Would you like to help conserve endangered sea turtles? Join Global Crossroad in Costa Rica and make your volunteer abroad adventure come true!
Costa Rica is a natural wonder, its lush rainforests, beaches, and mountains home to over an astonishing half a million species of animals. The wildlife of Costa Rica is exotic and unique, coming in all shapes, colors and sizes from the majestic jaguar to the awkward anteater to the brilliant giant Blue Morpho butterfly.
Unfortunately, human development and encroachment into the habitat of all this extraordinary wildlife has devastating consequences. Animals are stolen from their rainforests home and sold into the illegal pet trade, and their biological corridors are destroyed, leading to death or injury trying to cross roads or power lines.
Do your part to help save the rainforest as a wildlife volunteer in Costa Rica! You'll join important scientific research on rainforest species that will contribute to establishing and maintaining vital biological corridors animals need to survive alongside humans. During sea turtle season, you can help save nests from poachers and release hatchlings!
Contact Global Crossroad today to learn more about volunteering with wildlife in Costa Rica!
Volunteer Responsibilities & Impacts
You'll be joining an exciting non-profit research center based in a beautiful reserve which includes rainforest, mangroves and an important nesting beach for endangered sea turtles. You'll be joining a team of scientists and fellow volunteers from around the world, and you can expect to get involved in the full range of projects offered at the reserve.
Your time volunteering with turtles and wildlife in Costa Rica will have a tremendous impact on both you and the rainforest you will be working hard to study and save. You will learn many valuable scientific techniques and contribute to efforts to conserve the rainforest and all the plants and animals who make their home there.
Many Exciting Research and Conservation Projects!
Sea Turtle Conservation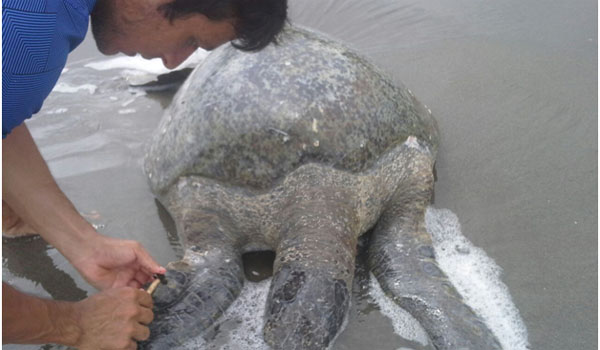 Your help is needed protecting endangered sea turtle. During sea turtle season, (July-January), sea turtles come to lay their eggs on the beach in the reserve. Three species visit the beach, with Olive Ridley being the most common. Groups of 8 volunteers will go out nightly, patrolling the beach for nests.
To protect the eggs from poachers and ensure the next generation of endangered sea turtles, you and other
Costa Rica sea turtle conservation volunteers will help gather eggs and bring them to a protected hatchery. The nests are monitored all day long, and you will help collect important scientific data.
In September, the eggs begin to hatch, and continue through January. You'll gather more data and help release the hatchlings as they make their way out into their ocean homes. Since its inception, this incredible project has released 60,000 baby sea turtles back into the wild, and you can be a part of it!
Most work volunteering with sea turtles in Costa Rica is done at night. You'll need dark clothing, a headlamp w/red light, and to be open to working odd hours. If you're out late doing beach patrol, you won't volunteer again until the next afternoon so you can get some rest. This project is quite popular, so book as far in advance as possible to ensure space.
Tree Boa Population Study
Head out into the rainforest on fascinating night walks with an experienced biologist. Though you'll likely see many species along the way, you'll be looking out for Tree Boas. When you find an individual, it will be caught, measured, and identified with a pit tag. A great chance to join in on a unique and exciting research project in the field!
Beach Clean-Up
Pitch in and do your part to help keep the beach clean while volunteering conserving wildlife in Costa Rica. This helps prevent wildlife from becoming entangled in debris like fishing line and helps animals like the sea turtles avoid accidentally ingesting plastic and other trash that has been discarded.

Bird Monitoring Study
You and fellow volunteers will do a weekly study identifying the many beautiful and exotic bird species that are seen in the reserve. At low tide, you'll head out to the beach to look for Scarlet Macaws. You'll be studying their diet and population. These magnificent birds are only just now returning to this beach and many other parts of the coast after habitat loss.
Crocodilian Research
This is an exciting chance to work hands-on volunteering with wildlife in Costa Rica! Twice a week (depending on the weather and tide), you'll go out on a boat between 5 pm- 2 am looking for the different crocodilian species that make their home in the reserve. You'll shine a flashlight looking for eyes, count the animals seen, and mark their points on a GPS.
Crocodilians less than one meter in length will be
captured, measured, observed, and tagged before being released back into the wild. Join thrilling research being carried out to determine crocodilian populations, how the animals are being affected by humans, and how best to manage and conserve these ancient and magnificent animals.
Butterfly Garden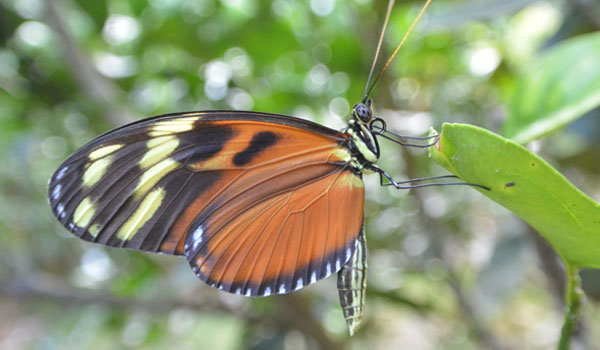 You will help work in a fascinating butterfly garden built at the research center for educational purposes. Jungle species of butterflies, like the giant Blue Morpho, are raised along with native plants to demonstrate the life cycle.
While volunteering in wildlife conservation opportunity in Costa Rica, you will help tend the garden, transplant host plants, pupae, and larvae, collect and identify
different butterfly species, and work in the lab portion of the garden collecting data. You may help local kids learn all about the butterflies and their important role in nature.
Mammal Inventory
There are a large number of unique animal species that make their home in the reserve or pass through it finding food. These animals desperately need biological corridors in order to safely navigate an increasingly developed world, and you will help gather data in a study being done to establish and maintain these corridors throughout the region.
Through the use of camera traps and direct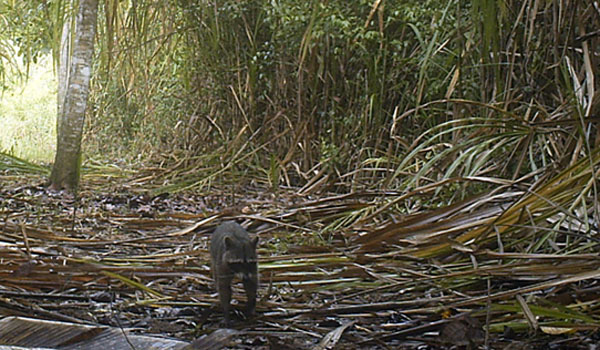 observation, you and other Costa Rica wildlife volunteers will gather data in the rainforest about the various mammal species found and their diet, behavior, and movement. Animals you might encounter include sloths, toucans, howler and capuchin monkeys, anteaters, an ocelot, river otters, coatimundi, and more!
Educational Outreach
Although the country of Costa Rica as a whole has made great strides in protecting the natural environment in recent years, more work is needed on a local level to educate people about living in respectful and sustainable ways. Meet with local schools and inspire the younger generation to care about wildlife and their rainforest home!
Skills and Qualifications
There are no specific qualifications needed to join this program. You will need to be over the age of 18, and ready and willing to engage in important scientific research protecting rainforest animals, and to help conserve endangered sea turtles. Families can join us, as well.
Spanish will be helpful while volunteering with wildlife program in Costa Rica but is not required. If you'd like to work on your Spanish while you're in Costa Rica, ask us about our language programs that allow you to learn while you travel.
If you are pursuing a degree/career in wildlife conservation, research or a related field, longer internships are available at this project. If you are a scientist and would like to carry out a research project of your own at the reserve, we welcome you to get in touch!
Volunteer Schedule
You can expect to volunteer in Costa Rica with wildlife and sea turtles 6 days a week, Monday-Saturday, for an average of about 6 hours per day. A schedule will be made each Sunday or Monday, and this will vary from week to week.
You'll be getting involved in the full range of projects available at the research center, so your schedule and activities will vary considerably from day to day. One day you might be working in the butterfly garden, another observing mammals in the rainforest, and the next night you might be patrolling the beach for sea turtles laying their nest.
Any time you stay out late volunteering conserving wildlife in Costa Rica, whether for sea turtle conservation, doing the Tree Boa study, or going out on a boat to study crocodilians, you'll be given time to rest and you won't resume volunteering until the next afternoon.
Volunteer in Costa Rica Conserving Wildlife & Sea Turtles: Dates and Fees
Dates: Volunteer in Costa Rica
All volunteer programs in Costa Rica start every Monday of each month. However, if there is travel constrains, you can start any project on any day.
Fees: Volunteer In Costa Rica
Global Crossroad is committed to offering the most affordable and highest quality volunteering programs in Costa Rica. We strive to keep our costs low. The humanitarian side of the business is our passion.
Global Crossroad's volunteer program in Costa Rica application and registration fee cost US $299. The application fee covers the cost of advertising, program promotion, and office expenses (rent, utilities, and staff salaries in USA office).
In addition to the application fee, you are required to pay a weekly program fee. You will pay your weekly fee directly to the country coordinator, who in turn will allocate it to your host family, project and other in-country support we offer to our volunteers. This way, the fees that you pay will benefit those who rightfully deserve them, and not for company profit.
| Duration | Wildlife Volunteer(Tortuga Beach, Puntarenas |
| --- | --- |
| 1 Week | $372 |
| 2 Weeks | $520 |
| 3 Weeks | $780 |
| 4 Weeks | $1040 |
| 5 Weeks | $1300 |
| 6 Weeks | $1560 |
| 7 Weeks | $1820 |
| 8 Weeks | $2080 |
| 9 Weeks | $2340 |
| 10 Weeks | $2600 |
| 11 Weeks | $2860 |
| 12 Weeks | $3120 |
Mandatory comprehensive travel insurance $3.49 a day »
No Spanish Language Program with the Turtle Conservation Project
Wildlife Conservation Program - Transportation from Airport Juan Santamaria $80/one way
How your fee is allocated?
Program fees cover:
Accommodation (host family)
Food (local food 3 times a day)
Airport Pick up/Transfer
Program Orientation
In-country support
Personalized project
Pre-departure information
Certificate of completion
Fundraising ideas and letters
Discount for returning volunteers
Program fees exclude:
Visas
Airfare
Personal expenses on soft drinks and foods
Daily transportation
Airport return transfer
Osa Peninsula (Airport Pick up and Transportation)
The Osa Turtle Conservation site is 100 miles from San Jose. Here are the details of the airport pick up and transfer fee.
Airport Pick, first night at a hotel in San Jose $45
Sanjose to Punterenas by bus $8
Punterenas to Osa by bus $6
You will pay your airport pick up/transfer cost directly to staff in Costa Rica
Pacuare (Airport Pick Up and Transportation)
Pacuare Turtle Conservation site is 80 miles from San Jose. There are two options for you to choose from.
Option one- organized by IFRE Volunteers
Airport Pick, spend the first night in a hotel in San Jose $45
(If you arrive before 2 p.m. you can go directly to the project by taxi without staying in a hotel.)
San Jose to Pecaure in a private taxi $150
The boat transportation cost is 35$
Option two- travel by yourself to the project
If your flight arrives early in the morning, or before 10 a.m., you can choose to go to the project directly by public bus
San Jose to Siquirres $6
Siquirres to Las Vegas de Imperio $3
The boat transportation cost is 35$
Bus Departure time from San Jose: 11 a.m.
Directions - traveling to your project
From the Gran Terminal del Caribe of San José, take the 11:00 a.m. bus to Siquirres. You will arrive at Siquirres around 1:15 p.m.
From the terminal at Siquirres walk to La Estación Intercantonal, also called Parada de los Calvos, (300m). (If you are not sure, just ask people where you can get on a bus to Las Vegas de Imperio).
Take the 2:30 p.m. bus to Las Vegas de Imperio, getting off at the last stop.
A staff member will be waiting for you there. The boat transportation cost is 35$ per person, both trips.
You will pay your airport pick up/transfer fee directly to staff in Costa Rica: Map
Gran Terminal del Caribe of San Jose: Map
The volunteering overseas in Costa Rica program fees will cover expenses that will begin on the first day of the program (usually the first or third Monday of the month) to the last day of the program. If you arrive before the first day of the program or you decide you stay beyond your program's last day, you will be responsible for the additional expenses, which would typically be around $30 a day for room and meals at a hostel.
Accommodation and Meal
While volunteering in sea turtle & wildlife conservation program in Costa Rica, you'll be staying in clean, comfortable, and safe housing at the project site. You'll have nice room equipped with a fan, screens, and storage. There are two rooms reserved for families, and another which is handicap accessible. You'll have common space to share, and free WiFi.
There is a nice, large kitchen stocked with basic local staples where you can prepare your own breakfast and dinner. Lunch is prepared daily, and everyone gathers together and chats about the exciting research going on at the project. If you have specific dietary needs or want something special, a grocery store and restaurants are a 15-minute-walk away.
Free Time and Weekend Exploration
You and your fellow Costa Rica wildlife volunteers will all be off together on Sunday, a fun chance to bond with your new friends. This will be your free time to walk to the beach and relax or head off on adventure! The on-site coordinator is happy to advise you on local attractions like ziplining, surfing, visiting wildlife sanctuaries, waterfalls, and more.
Learn more about the places you can visit while in Costa Rica. .
Safety and In Country Support
Your safety is our top priority here at Global Crossroad. We go out of our way to ensure a safe and satisfying volunteer abroad experience for you. We offer pre-trip support, carefully vetted projects, travel insurance, and the guidance and support of our talented team of humanitarian in-country staff.
Volunteer in Costa Rica Conserving Wildlife & Sea Turtles: FAQs:
You're ready to jump on a plane and dedicate yourself to volunteering with wildlife and sea turtles in Costa Rica. But first, there are a few details that need to be sorted out. Here's some helpful info to answer some of the questions you're probably asking yourself:
Arrival and departure
You'll fly into Juan Santamaria International Airport in San Jose, Costa Rica. Your airport pickup is included in your volunteer fee, and we'll have someone waiting for you when you land who will take you safely to your accommodations.  You will need to arrange your own departure transportation after completing the project.
Visa
You may be eligible to simply ask for a visa stamp after your arrival at the airport in San Jose. However, do your research to learn the requirements for your home country before heading out on your Costa Rica volunteer work with wildlife.
Most volunteers will be eligible for a 90-day tourist visa. You should know you will need to provide proof of onward travel. If you have a round trip ticket, this will serve as all the proof you need.
Wildlife volunteers in Costa Rica should know it is not possible to extend your Costa Rican tourist visa beyond 90 days. Should you desire to stay in the country longer, you will need to pass over the border and re-enter.
Research the visa requirements at the official Immigration site of Costa Rica:
Vaccination
You'll need to make an appointment with your doctor to discuss your upcoming trip and get up to date on your vaccines. This can really help to protect you and make sure you stay healthy while traveling abroad! You should be up to date on your routine vaccines, as well as Hepatitis A & B and Typhoid. You can also find information on CDC website.
Why volunteer in wildlife and sea turtle conservation program in Costa Rica?
Gain valuable experience doing scientific research
Whether you're pursuing a career in a related field or you just want to be a citizen scientist and make a difference, this project is an amazing chance to learn and practice a variety of scientific and field research techniques under the mentorship of passionate and experienced professionals.
Live your dream of working with sea turtles!
If volunteering with sea turtles is on your bucket list, join us between July-January and help conserve these endangered species. See a mother laying her eggs or a hatchling making its way out to sea and know you are helping protect these amazing animals from poachers and other threats to their survival!
Help save the rainforest!
By volunteering in wildlife program in Costa Rica and working with a such a wide variety of species from mammals to crocodilians, you will be playing a huge role in important work being done to better understand, protect and manage these amazing animals and their fragile rainforest home.
Make like-minded friends from around the world
Wildlife projects like this one are full of amazing people from all over the world who are just as passionate about animals and the environment as you are. There's nothing quite like bonding with another animal lover, and this is your chance to meet like-minded friends from around the globe!
Answer Costa Rica's call
Has the tropical paradise of Costa Rica been calling your name? Lush rainforests, beautiful beaches, and amazing wildlife await you! Answer that call by volunteering with wildlife in Costa Rica and make a difference in paradise!
Contact Global Crossroad today to learn more about researching wildlife and conserving sea turtles in Costa Rica!
Other Volunteer Opportunities Available in Costa Rica:
No matter your passion or interests, we offer a variety of life-changing, volunteer programs in Costa Rica such as
Caribbean Sea Turtle Conservation (Pacuare)
Wildlife Sanctuary and Rescue (Natuwa)
Sea Turtle Research and Conservation (Osa Peninsula)
For more information on our exciting programs in Costa Rica, contact us today.