Internship Opportunities in Uganda
Are you looking for an affordable, fun, and safe internship that will allow you to gain practical experience and make a real difference in the world? Have you always wanted to explore internship opportunities in Uganda?
Joining an internship in Uganda is an amazing opportunity because it will allow you to have a life-changing experience both personally and professionally. Uganda, also known as the heart of Africa, will amaze you with its natural wonders like Lake Victoria, endangered mountain gorillas, and the fine national parks. This international opportunity will also allow you to expand your cross-cultural perspectives as Uganda has rich and interesting cultural diversity. You will increase your global awareness as well, which may enable you to better understand your own cultural values and beliefs with respect to others.
If you are passionate about service work and a keen lover of nature, anour Uganda programs may be the perfect fit for you. You can choose from several different projects, including projects such as serving orphanages, treating HIV AIDS, healthcare and teaching English. No matter what type of internship opportunity you are looking for in Uganda, Global Crossroads will work with you to find what best suits your needs and interests.
Global Crossroads invites you to contact our Uganda country coordinator or send us an email for more information about these amazing opportunities. You may also browse our popular projects listed below for general details.
Popular Internship programs in Uganda
Global Crossroads offers a variety of internship programs and service work opportunities in Uganda that allow you to explore the country while gaining experience in your selected field of study. Here are a few of our most popular programs:
Internship opportunities in Uganda: Dates and Fees
All Uganda programs start every Monday, though we allow for flexibility due to travel constraints.
The most affordable and quality internships abroad are available through Global Crossroad. We strive to keep our costs low. The humanitarian side of the business is our passion. Global Crossroad's internship programs in Uganda application and registration fee cost US $299.
In addition to the application fee, you are required to pay a weekly program fee. You will pay your weekly fee directly to your host family and project. This way, the fees that you pay will benefit those who rightfully deserve them, and not for company profit.
The program fee for internship and volunteering is basically same. However, unlike volunteers, interns often work closely with guided supervision from a local project director, and a small weekly supervision fee ($25-50/ week) may be incurred in addition to volunteer program fees.
Learn more about our highly affordable volunteer program fees in Uganda.
Uganda Internships vs. Volunteers Programs
In general, volunteer programs focus on humanitarian outreach and project support. Volunteering is popular amongst people who want to share their love and passion for underprivileged children, impoverished communities, or conservation efforts in need of resources.
Internship programs focus on creating a real-world learning environment for interns and students so that they practice professional development and obtain new skills. Similar to volunteers, interns may work on a variety of projects (many times alongside volunteers) that benefits local communities, children, wildlife and similar projects. Teaching programs, medical outreach, and children's support are the most popular internship projects.
Room/Food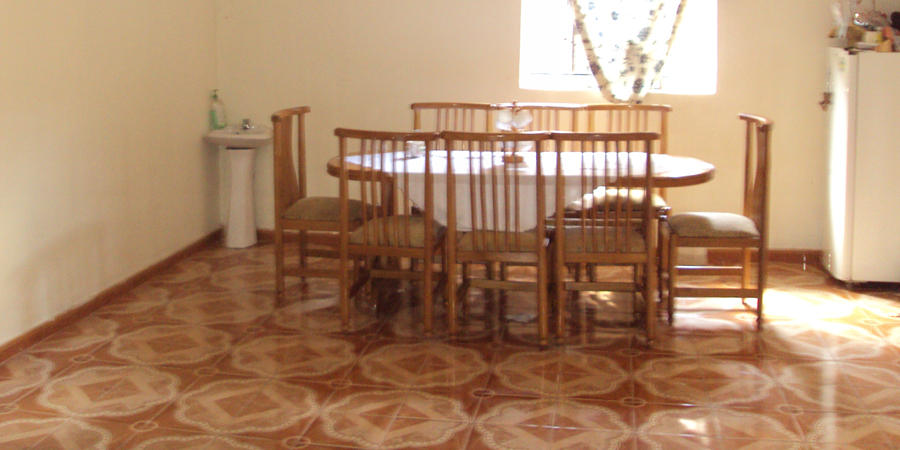 Global Crossroad arranges all shelter, food, and supervision throughout your stay while you're interning in Uganda program. We have host families to locate our interns.
Our host families are accustomed to having interns from different countries stay at their place and are equally delighted to welcome the international interns with homely environment. The experience of staying with the host families will help you learn vividly about the people, their culture and local food. Global Crossroad has provisions for three meals per day; breakfast, lunch and dinner.
College Credit
Global Crossroad does not provide our interns with college credit for internship projects. Our local office or your supervisor will provide you with a letter and certificate on the completion of your program verifying your work as an intern and your job responsibilities as an intern. You can earn an academic credit for an internship projects in Uganda by pre arranging the project with your college/university. The students shall have to coordinate with their faculties and professors regarding the college credit for internship prior to applying for Global Crossroad.
FAQs: Internship Opportunities in Uganda
Arrival and Departure
Please arrive at the Entebbe International Airport. Once you have bought your flight, it is important that you send us your correct flight information.
On the day of your departure, please consult your country coordinator to let them know you are leaving your home country. If you miss your flight or the flight is delayed, please contact us as soon as possible.
Once you arrive, a Global Crossroads representative will pick you up. We do not offer airport drop-off service.
Visa
Before you arrive for your Ugandan internship program, you must ensure that you have a valid tourist visa. Depending on your nationality, 'visa on arrival' may be available.
A visa extension through the department of immigration may be possible if you would like to extend your time in Uganda.
For the most up-to-date visa information including fees, contact the Embassy of Uganda at 5911 16th Street NW, Washington, DC 20011; telephone (202) 726-7100 or visit their website. Travelers may also contact the Permanent Mission of Uganda to the United Nations in New York. Overseas, inquiries can be made at the nearest Ugandan embassy or consulate.
Vaccination
Before you start your internship in Uganda, you need to obtain certain vaccinations. The CDC recommends that you get the following vaccinations before you arrive: Rabies, Cholera, Hepatitis A-B, Yellow Fever, Malaria, Meningitis, Typhoid
How can I apply to internship opportunities in Uganda?
Internship applications are very straightforward. All you need to do is apply online and then submit the application to us. Once we have received your application, we will follow up with you within 24 hours.
Why intern with Global Crossroads?
Global Crossroads is a well-respected global non-profit whose goal is to make a real and lasting impact on the world through our international programs. Established in 2003 and trusted by more than 20,000 individuals, our programs encourage individual and community growth. When you take advantage of an internship opportunity in Uganda with Global Crossroads, you know where your money goes because you pay your program fees directly to the locals involved in your project.
Our safety standards are outstanding, and despite being the most affordable program in the world, we still deliver impeccably high-quality programs. When you intern with Global Crossroads, you'll form strong bonds with our field staff and heart-warming local community members, who will enrich your experience and make your time abroad worth so much more than you expected.
Our Volunteer Abroad Programs
Globalcross road offers best affordable volunteer opportunities across 20 countries around the world. If you are interested in our highly impactful and rewarding volunteering opportunities in India, Sri Lanka, Thailand, China, Cambodia, Nepal ,Sri lanka, Bali, Ghana , Kenya, South Africa , Tanzania , Uganda, Zimbabwe, Morocco, Costa Rica , Ecuador, Peru, Guatemala , Argentina , and, Brazil