About Ghana
Volunteer in Ghana
Volunteer in Ghana
Overview of the Project
Like food, clothing and shelter, healthcare is also a basic need and right of a human being. However, due to deprivation and other hurdles, many people worldwide still have no or limited access to even the most basic healthcare. When education, awareness and quality facilities are lacking, people still fall prey to various diseases that are controlled, stopped and eradicated in the Western world. This is often the case in Ghana.
In Ghana, specific efforts are underway to improve specifically the health of women and children. High importance is placed on improving the quality of reproductive health services and on preventing and reducing the impact of widespread communicable diseases. Our projects are focused on bridging gaps that prevent efficient and effective delivery of health services and fostering partnerships that lead to improved health throughout Ghana. Government and non-governmental organizations facilitate a number of health facilities: hospitals, maternity clinics, children's hospitals, HIV/AIDS wards and alternative-medicine clinics in many cities and small rural villages.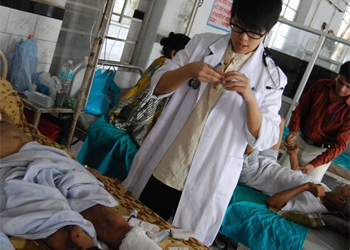 Program:

Volunteer in Ghana

Project:

Medical Volunteer in Ghana

Start dates:

1st and 3rd Mondays of each month

Location:

Kasoa, Accra, Kumasi, Hohoe

Departure and End Point:

Accra, Ghana (Kotoka International Airport)

Language Need:

none

Accommodation and meals:

Home base and Ghanaian cuisine three times daily

Activities:

support a developing healthcare system in an assistant capacity

Working hours:

25-35 hours per week
The specific goals of the healthcare volunteer program in Ghana are to increase access to basic healthcare for rural people, decrease the prevalence of endemic diseases and improve overall village health by providing assistance in public health services in all aspects of clinical nursing, and to promote health education in the villages.
Role of
Volunteer
The Ghanaian government and various other organizations are working to reach the needy and impoverished people to improve overall health in the country, but resources are absent, as are quality trained healthcare professionals. As a medically certified volunteer, you can make an immense difference in Ghana's healthcare industry.
Volunteers in our medical volunteer program in Ghana work alongside doctors, nurses and other medical professionals in various departments like Gynecology, Neurology, Orthopedics, Obstetrics, Pediatrics and Surgery, depending on their background and training. We have placements available in hospitals as well as more rural clinics.
A volunteer's role can range from observational to direct patient assistance, depending on their level of knowledge. An important element of these volunteer placements is being exposed to healthcare practices in a different culture, which can be a tremendous learning experience, no matter what your background might be.
Medical volunteers will shadow local doctors and learn mostly from observation. Due to inherent risk involved and medical regulations, volunteers cannot treat patients or become involved in surgery during the project.
Skills/Qualification
Needed
To participate in our medical volunteer program in Ghana, interested volunteers must have certification or proof of experience in a medical field, such as EMT or paramedic certification, or nursing or physician's credentials. Due to the health risks involved, volunteers who are not properly trained in healthcare cannot support this project. However, we do have internships available for medical and nursing students, as well as pre-med students. Interns will be placed on the same projects as volunteers, but their patient access will be much more limited and they will spend the majority of their time shadowing doctors and nurses, or possibly assisting with triage or other things the clinic or hospital might need help with.
Your understanding of Ghanaian culture and language can help improve the experience for both you and your patients. Consider enrolling in our one-week Language & Cultural Immersion program!
Major FAQs
- Healthcare Project
What does a typical day in the healthcare volunteering in Ghana project look like?
Usual working hours for the healthcare volunteering in Ghana project are daily from 8am-3pm.
What are the activities the healthcare volunteers in Ghana are expected to do?
These are the activities for the healthcare volunteering in Ghana project:
Weighing the patients
Retrieve temperatures
Retrieve bio-data
Prepping patients for the doctor visits
Assisting lab work: take blood samples
Assisting the doctor during consultations
Helping out in the delivery ward/delivery room
Are the volunteers placed in a hospital or in a clinic?
If they're looking for a complete medical experience in Ghana, we will place our volunteers in clinics where they can actively participate. Placement in a hospital on the other hand, is only intended for observation.
What is required from the volunteers in order to join the program in Ghana?
We are quite open-minded regarding the Healthcare Program in Ghana. Volunteers with no medical training will also be considered for positions in clinics and hospitals. However volunteers with a medical training or those wishing to commence their medical tuition are preferred.
Is there any hands-on experience to be obtained by participating in the healthcare volunteering in Ghana program?
Yes. The Volunteers Healthcare Program in Ghana will provide you with a lot of 'hands-on' experience in clinics. The clinics treat ~100 pers/ daily. The possibility of assisting in the labor ward/delivery room is also granted. No 'hands-on' experience can be guaranteed for the ones looking for a spot in hospitals.
By whom are the volunteers supported during the stay in Ghana?
There is a multilevel of assistance for the volunteers in the Healthcare Program in Ghana. The Country Coordinator will assist you primarily but obviously, the nurses and doctors involved in the program will offer their council.
How many hours per day will I work in Ghana?
The minimum of daily hours to be considered for the program in Ghana is 6hours.
Is the healthcare program available all-round the year? Does it close?
The program in Ghana doesn't close, it is available year-round.
Any specific details relevant for the program that I should be aware of, before applying?
One must consider upon applying, that Ghana is not as highly developed as other countries. The nurses and doctors don't rely on the complex devices when saving lives. The volunteers must be therefore ready to adapt to the on site situation and be willing to learn. The experience you might receive, whilst saving lives hands-on in Ghana, will help you throughout your career.
Volunteer in Ghana:
Project Locations and Free Time Options
The majority of our volunteer projects in Ghana are located in and around a village called Kasoa, which is very near the capital city of Accra. Kasoa is a small village with warm people who are very welcoming to visitors, and Accra is just a short ride away, where you can find internet cafes, restaurants and anything else you might be looking for!
Volunteers have a colorful assortment of choices for how to spend their free time away from projects. Ghana offers one of four rainforest tree canopy walks in the world! Get a literal bird's eye view and observe the breathtaking beauty of the rainforest below you. Explore Ghana's beaches. White sand and sea turtle sightings combine with water sports or lounging in the slight breeze to make an amazing beach experience. Wildlife is abundant throughout the country and Ghana is home savannah elephants and many other mammals, including seven types of monkeys. The urban experiences deliver cathedrals, museums, theaters, restaurants and more. Volunteers will not be bored in Ghana!