Volunteer On a Construction Project
A great way to use your DIY skills to make fast improvements to people's everyday lives
Insight into the great need many people round the world have for better housing and facilities.

Learn more about the valuable skills volunteers need to participate.

All of our volunteer programs are genuine and meaningful, and designed to improve the lives of those in real need.

No middlemen- all fees benefit those in need.

The fees our construction volunteers pay go directly to their project, local staff and homestay family.
Volunteer in a Construction Project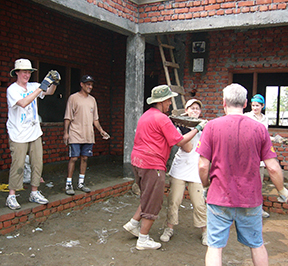 Are you a handy person and enjoy working to help improve the lives of others? Global Crossroad has two incredible volunteer in construction opportunities that you might be interested in pursuing.
Unfortunately, in developing and marginalized countries around the globe there is a lack of resources and manpower to tend to necessary infrastructure construction and restoration. By volunteering in a construction project through Global Crossroad, you can help solve these issues. Your dedication to a construction work overseas program can make a world of a difference for the community in which you volunteer.
More often than not, when you choose to become involved in something that you are truly passionate about and enjoy doing, the benefits will be far greater. You will find yourself in a joyous situation knowing that your hard work is paying off by making someone else's life better. There are all sorts of volunteer in construction opportunities that need someone with construction skills or interests in places like Thailand and Costa Rica.
Volunteering in a construction project is also an affordable way to set out into the world and experience a new country and culture. You will immediately become part of a team, a family, and a community. This will prove to be a highly rewarding experience that might inspire you to continue traveling in this fashion. You have it in your power to do something grand in a place that is currently not so grand. Join a construction work overseas program today and start your humanitarian adventure!
Volunteer in a Construction Project Options
Join this construction work overseas program and help build and restore community facilities, mainly orphanages and childcare centers, in the captivating country of Thailand.
This volunteer construction opportunity will place you in the culturally rich city of San Jose where you will help with various school and orphanage improvement projects.