Passionate about bringing small changes?
Are you on a tight budget for volunteering?
The best price, guaranteed; starts $350

Pay fees directly to your host families and projects

Safe and meaningful volunteer experience

It will change you forever……………
The Himalayan region of Nepal is well-known for its panorama of world's highest mountains, the unique culture of local people and also the rugged beauty of the valleys that lie below the mountains. The Everest region, which lies in the north-eastern part of Nepal, consistently ranks among the top 10 travel destinations in the world and is a paradise for nature lovers. Here, you can find the magnificent tumble of mighty snow summits, verdant mountains blossoming with rhododendrons, isolated villages and communities, and mountain top monasteries.
With Global Crossroad's new Himalayan Volunteer Program, you can now volunteer in the Everest region of Nepal and enjoy spectacular sceneries and learn about local Sherpa people and their community. We invite you to join the program and gain unique volunteer experience in the land of Himalayas.
Volunteer in Nepal Himalaya Programs
Global Crossroad offers variety of fascinating volunteering opportunities in Nepal! Click on the links below and check them all out to find the one that fits you.
Special Programs (Volunteer + Travel, Group)
Dates and Prices
All projects start every 1st and 3rd Monday of each month. However, if there is travel constrains, you can start any project on any day.
Global Crossroad is committed to offering quality volunteer abroad programs at a very affordable price. We strive to keep our costs low so that our volunteers benefit from the lowered program prices. The humanitarian side of the business is our passion.
Global Crossroad's application/registration fee: US $299. The application fee covers our cost of advertising, program promotion, and office expenses (rent, utilities, and staff salaries in USA office).
In addition to the application fee, volunteers are required to pay weekly program fee. You pay your weekly fee directly to your host families and projects. This way, the fees you pay will benefit those who deserve it (not for company profit).
Airport pickup, drop and first accomodation $50
Fly to Himalaya (Lukla) $330 (depends on season)
Language and Culture Program fee $250
Program fees cover:
Accommodation (volunteers house or host family)
Food (local food 3 times a day)
In-country support
Personalized project
Pre-departure information
Certificate of completion
Fundraising ideas and letters
Discount for returning volunteers
Program fees exclude:
Visas
Airfare
Personal expenses on soft drinks and foods
Daily transportation
Airport return transfer
Language and cultural immersion program includes:
One-week language and culture training, food and accommodations with host family (Breakfast, lunch & dinner), training materials (books, papers, etc) and Comprehensive Travel Insurance.
Additional costs for volunteers:
International flights, local flight to Lukla, visa application/extension, daily personal expenses on beverages/entertainment, laundry, telephone, immunizations
The Everest region- A spectacular
scenic region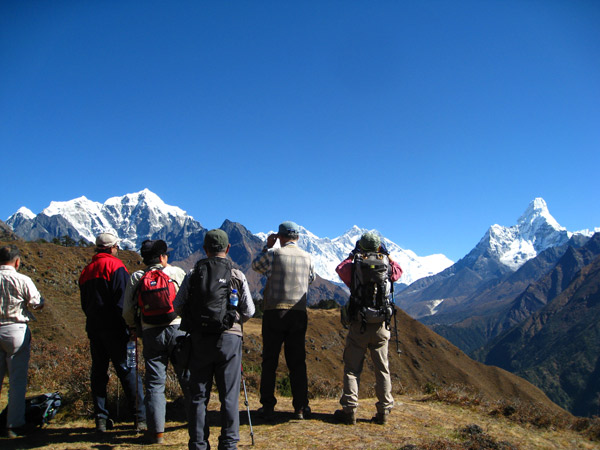 The Everest region or known locally as Khumbu region, is the most popular trekking region in Nepal. You will find Mount Everest, the world's highest mountain, in this region. There are also many high Himalayans peaks of over 6 thousand meters or over dotting the landscape. The region starts from the altitude of 2600 meters and the nearest motorable road is 7 days away. Volunteers will fly to Lukla, which is about 20 minutes by flight from Kathmandu, the capital of Nepal. From Lukla, volunteers will make their way on foot to the project site.
The Everest is home to Sherpas, who have lived for centuries attending cattle, farming vegetables or trading with Tibet and the low lands of Nepal. Today, with the arrival of tourists, Sherpas have seen their lives transformed. Many of them now enjoy a steady stream of good income working as porters, guides, climbers and many have opened lodges, hotels and tea houses. But for those Sherpas who aren't involved in tourism industry or whose houses aren't in the tourist trail, including other ethnic groups who have migrated to the region, life is still a hard toil with very little hope for a better future. Their children, their only hope for a better future, attend schools that aren't well funded and many continue to have no motivation to continue their studies.
About
Sherpa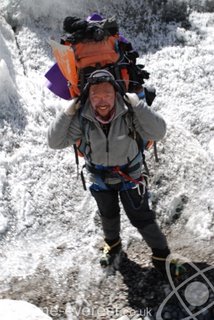 The Sherpas are an ethnic group of Nepal that originated in Tibet. They live in the high valleys around the base of Mount Everest in northeastern Nepal. Their villages in region range from 2600 meters to as high as 5000 meters. They have to brace severe winter from November to February.
Much of Sherpa culture and language bears a close resemblance to the people of Tibet. Though most Sherpas speak Nepalese, they have their own language which is a Tibetan dialect. The Sherpas also use Tibetan script for writing. The Sherpas are all Buddhist, but besides the Buddha, they also believe in numerous other spirits that inhabit the mountains, caves and forests. Many mountains, like the Khumbila, which overlooks the Sherpa villages of Namche Bazaar and Khumjung, are worshipped by the Sherpas and considered guardian deity of the region. Because of this, the Sherpas do not kill any animals in the region but many do not consume meat. A monastery (known locally as Gompa) plays a very important role in the religious life of the Sherpas. The monasteries are usually located just outside the village and during religious festivals, all the Sherpas gather in the monastery to participate in the festival. The monks recite prayers and give blessings to the local people.
Until recently, most of the Sherpas depended on agriculture and trade to sustain themselves. When Khumbu region was discovered and promoted as a tourist destination, the Sherpas started working as porters, guides and climbers and this saw their lifestyle transformed. Many families also prospered by opening hotels, lodges and restaurants along the trekking routes. Sir Edmund Hillary, the first to summit Everest, used his fame to raise funds to open an airport in Lukla, connecting Khumbu region with the rest of the world. He also opened schools and hospitals.
Many Sherpas have benefited from this. Today, people from other regions and other ethnic groups are migrating to the Khumbu region to take advantage of this prosperity. But they find themselves paying high rent, and are dependent on seasonal hard labor. They also find it hard to send their children to well run schools. It is these people who need your help the most.