Summer Volunteer and Travel Program in Thailand (4 weeks)
Orientation, Language, and Cultural Immersion in Bangkok (7 days)
Your first three days of your three-week summer volunteering program in Thailand will include a welcome meeting, an in-depth orientation, and a guided tour through the lively city of Bangkok. This will be your first introduction to Thai culture! You will have the opportunity to visit the Chattuchak Market and volunteer at a local NGO while you are in Bangkok. This will definitely set the tone for this exciting and memorable summer volunteering opportunity in Thailand.
Explore Thailand (14 days)
Global Crossroad offers the best Thailand summer volunteer abroad program for the most affordable price. Global Crossroad has been offering safe and reputable programs since 2003! Over the course of your three-week Thailand summer volunteer abroad program, you will explore Bangkok, Surin, and the Khao Yui National Park, amongst many other great destinations along the way.
Home Stay and Community Service Project (14 days)
You will dedicate some of your time during your summer volunteering program in Thailand to helping children and elephants, while also having free time to set off on a mini adventure of your own. There will be an opportunity to learn to cook authentic Thai food, visit some of the numerous ancient temples, and even, if the timing is right, take part in the world famous full moon party in Koh Phangan. Thailand is a culturally and naturally rich country with so much to offer the big-hearted humanitarian traveler!
Program: Summer Volunteer Program in Thailand
Highlights: Community service, cultural orientation, and travel
Departure and End Point: Suvarnabhumi International Airport in Bangkok
Accommodation/meals: Hostel or host family; three meals a day
Special Requirements: Must be in good physical health for hiking
Start Date: June 25, 2018
End Date: July 20, 2018
Program Fee: $1,699 for 4-week program, which includes 4 days/3nights travel and tour
Summer Volunteer Program in Thailand Complete Itinerary
Orientation, Language, and Cultural Immersion (7 days)
Day 1: Arrival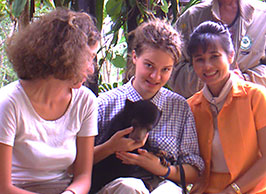 When you arrive for your summer volunteering opportunity in Thailand, you will be met and greeted at the airport by someone from our dedicated and professional team. You will be transferred to your first accommodations in Bangkok where you will have the rest of the day to explore the area, relax, and settle in for your next three weeks.
Day 2: Welcome Meeting, Orientation, and Guided Tour of Bangkok
In the morning, you will attend your orientation. This is where everything will be explained to you regarding your Thailand summer volunteer abroad program. You will also meet your fellow volunteers. After orientation, you will set out on a guided tour and explore some of Bangkok's most famous landmarks. (Wat Pho, Way Phra Kea, and Wat Arun). Following your tour, you will freshen up and attend a welcome dinner of authentic and delicious Thai food.
Note: Entry to the Grand Palace (Wat Phra Keaw) is optional, as there is an additional cost to enter.
Day 3: Visit to Chattuchak Market
You will visit one of the most famous market's in Thailand. Here you can find anything and everything! Be prepared for a pleasant assault of the senses. Your transfer to and from the market is included.
Day 4: Volunteer at Local NGO
This will be your first day of volunteering with your Thailand summer volunteer abroad program. You will work with children in need. Your role will depend on the specific needs of the NGO and your interests and skills.
Day 5: Travel to Surin
Today you will escape the concrete jungle and head to Surin.
Day 6: Orientation in Surin
During this orientation, you will be introduced to the next volunteer projects and have a chance to learn about local culture. You will visit the famous Surin Silk Village. Tonight is the perfect night to explore the Night market and sample an array of Thai food.
Day 7-10: Volunteer at the Elephant Village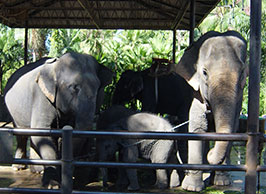 During this part of your summer volunteer program in Thailand, you will help feed, bathe, clean, and care for elephants! You will stay with a local family, where you will also help them with daily chores and small community-based projects. This is a truly special experience where you will even have the opportunity to also take your elephant for a swim in the river. You might also be asked to help with fishing.
Day 11
Free Day
Day 12-16: Volunteer with Children
You will spend the next five days helping with a childcare and/or building project. You can decide which project you would like to volunteer with.
Day 17
Free Time
Day 18: Trek through Khao Yai National Park
Travel to the enchanted Khao Yai National Park.
Day 19: Guided Trek through the Jungle
Take a beautiful and truly memorable hike through the jungle with our knowledgeable guide. Enjoy waterfalls and panoramic views. Don't forget your camera!
Day 20: Return to Bangkok
Enjoy a night of partying in the city with your new and probably lifelong friends! Celebrate your best Thailand summer volunteering program!
Day 21
Return Home or Extend your Trip
Summer volunteering program in Thailand itineraries are merely samples and may change to meet the needs of the volunteers as well as field conditions. This itinerary will be finalized on the start day of this program.
Prices and Dates
Start Date: 21-June-2021
End Date: 16-July-2021
Program Fee: $1,699 for 4-week program, which includes 4 days/3nights travel and tour
Fees cover:
Airport pick-up on arrival
Two night guest house accommodation in Bangkok
Guided Bangkok Tour
Train transfer to Surin
Accommodation in Surin at a volunteer house
Full orientation of project and surrounding areas
Daily transfers to and from project location
Full ongoing support
24 hour emergency support
Fees do not cover:
Flights
Meals – Please allow around $10USD/day
Visa (if required)
Travel insurance
Any additional activities not mentioned in the itinerary