Mini Volunteer and Safari Escape in Kenya
Make a grand difference in Kenya while on a grand adventure there
Volunteer in Kenya for ten days and then embark on a 3 day safari; only $1199
Travel abroad confidently with this highly reputable, since 2003, program
Set off on an escape of a lifetime that will leave a lasting impact on Kenya
Are you interested in exploring the nature-rich country of Kenya, while also lending a much needed helping hand? Kenya is a great country to volunteer and to explore. Global Crossroad's short term volunteer abroad in Kenya program offers those interested in volunteering, engaging with local community, immersing one's self in a new culture, and having an adventure to be able to do so in an affordable and safe way. The short term volunteer opportunity in Kenya is a way to impact others while impacting yourself in a positive and memorable way.
In this program, you will begin the first stage of your 2 week volunteer abroad program in Kenya by participating in one of four volunteer programs. You can volunteer in an orphanage and serve some of the underprivileged and abandoned children of Kenya. Or, you can join a medical program, a HIV/AIDS awareness project, or a teaching English opportunity at a local school.
In the second phase of the program, you will explore the Maasai Mara plains and game reserve. You will have intriguing cultural encounters while tracking game cross-country in spacious minivans. Live the adventure!
Program: Mini Volunteer and Safari Escape in Kenya (2 weeks)
Start dates: First and Third Monday of each month
Departure and End Point: Nairobi International Airport
Language Requirement: None
Accommodation and meals: hostel, hotel, & host family & local foods 3 times a day
Activities: Support orphan kids on teaching, & extra activities, medical, counseling etc
Working hours: 20-30/week
Proposed Mini Volunteer and Safari Escape in Kenya (2 weeks) Itinerary
Kenya mini volunteer and safari escapes combine the heart-fulfilling act of volunteering with the excitement of a safari adventure!
Day 0: Arrival and Welcome
You will arrive at Jomo Kenyatta International Airport (Nairobi) and be transferred to you host family.
Day 1: Orientation & Visitation of the project
The next day your orientation starts. Orientation includes a 3 to 4 hour lecture covering history, politics, culture, people, and other important issues related to Kenya. The short term volunteer trip in Kenya orientation also covers projects, field conditions, host family, and anticipated living conditions, safety issues, climate, working projects, and related topics. Immediately after the orientation, you will visit the project, get familiar with local staff, and get ready for the project and start of your volunteer work.
Day 2-11: Volunteer Work
For the 10 days, you will work as a volunteer in variety of volunteer projects. As a volunteer at the orphanage or school, you mostly teach English and organize extra-curricular activities like drawing, playing, singing, and dancing. In the medical project, you will be given responsibilities based on your educational background and medical experience. You will typically work 4-6 hours a day.
In evening, you are free to explore the surrounding areas. Kenya is a great country to explore. You will enjoy the wonders of this truly beautiful land.
Day 11-14 Safari and Exploration of Kenya
In the last 4 days you will join Kenya Safari program.
Day 1: Nairobi - Maasai Mara
You will depart from our Nairobi office around 9am for a journey south along the floor of the Great Rift Valley. You will have lunch at Narok and then climb the western wall entering Hemmingway's country, the Serengeti Plains. Late in the afternoon, you will enter the Maasai Mara Game Reserve, with a game drive en route. You will have dinner and stay overnight at the campsite.
Accommodation: Shared tent
Meals: All meals are included
Day 2: Maasai Mara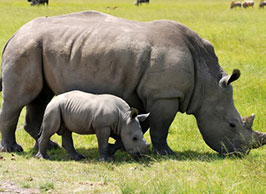 During this day of your 2 week volunteer abroad in Kenya experience, you will have a full day on the rich tree-studded grasslands and rolling hills of the Maasai Mara. The famous Maasai Mara is renowned for its great herds of plains game, including some of the largest lion prides in Africa, as well as leopard and cheetah. It also has numerous elephants, rhinos, giraffes, African buffalo, zebras, élan, gazelles, and virtually every type of wildlife can be found in Kenya. You will have dinner and stay overnight at the campsite.
Day 3: Maasai Mara - Nairobi
After breakfast, you will depart for Nairobi. You will have a game drive en route. You will drive through Maasai country and interact with the Maasai, the traditional "keepers" of this spectacular wilderness. Enjoy a picnic lunch en route and arrive in Nairobi in the afternoon.
Accommodation: Host family
Meals: All meals are included
Farewell, evaluation, and end of program.
*The proposed itinerary is a sample and is subject to change to meet the changes in the local field conditions.
Prices and Dates
Global Crossroad offers the most reasonably priced volunteer and travel adventures. We strive to keep our costs low so that our trips are more accessible to those who are seeking this type of travel and safari experience.
Program fee: $1,199
Program Fees Cover
Room (host family, hostel) and local food 3 times a day during volunteering
Room (host family, camp) and local food 3 times a day during safari
Local transportation during travel
Comprehensive travel insurance
Entrance fees
Airport pick up/drop off
Support of in country staff
Program Fees Exclude
Airfare
Visa
Personal expenses on soft drink and food
Food/room before the start of the program
Domestic daily transportation during volunteering
Tips (for guide and/or staff)