Mini Volunteer and Travel Escape in Costa Rica
Make a difference while exploring the stunning country of Costa Rica

Volunteer for ten days and embark on three days of adventure for only $1499

Highly reputable programs that has been trusted by thousands of volunteers since 2003

This will surely be a journey of a lifetime
Do you want to embark on an volunteer travel abroad that also has the power to improve the live of others? Our Mini Volunteer and Travel Escape in Costa Rica is a fantastic opportunity to be immersed in Costa Rica's unique culture and be intimately involved in one of our social or conservation projects, while at the same time touring this beautiful, tropical country.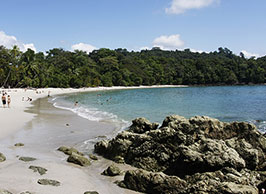 The 2-week volunteer & travel program in Costa Rica experience is an excellent alternative to the typical tourist journey and provides you with the opportunity to work in Costa Rica as a volunteer. Your volunteer experience will be followed by a 3-day journey where you will have the opportunity to explore the amazing natural beauty of Costa Rica.
Global Crossroad will take you on tours where you will discover the astounding natural wonders of Costa Rica. Your adventure will you give you a chance to relax on sparkling beaches and explore untouched rainforests. This will be an experience like no other. There is no better blend of humanitarian work and exploration than Global Crossroad's two-week volunteer abroad in Costa Rica experience.
Program: Mini volunteer and travel escape in Costa Rica (2 Weeks)
Start Dates: 1st and 3rd Monday of each month
Arrival/Departure: Juan Santa Maria International Airport in San Jose
Language Needed: none
Accommodations/Meals: Host family or hotel and Traditional Costa Rica Food (3 meals a day)
Working Hours: 25-35 Hours Per Week
The proposed Itinerary
Costa Rica Mini Volunteer and Travel Escape combine a wonderful volunteering experience with an opportunity to truly explore the country.
Day 0 : Arrival and Orientation
A Global Crossroad staff member will meet you at San Jose airport upon your arrival for your short-term volunteer opportunity in Costa Rica. You will be swiftly transferred to our local office. An orientation will then take place in the office where you will be briefed about the 2-week volunteer abroad program in Costa Rica. After the orientation, you will travel to your project site and settle in with host family.
Days 1-11: Volunteer Work in an Orphanage, School, or Children's Project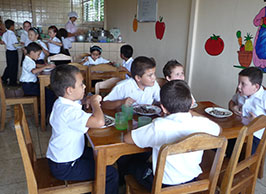 For the next 10 days of your volunteer abroad for two weeks in Costa Rica program, you will dedicate your time to a volunteer project. You will have the chance to help disadvantaged local children. You will teach English and organize many creative activities like drawing, singing dancing for the children. You will also look after the children by cleaning them, tidying their beds, changing clothes, etc. This will be an amazing and rewarding experience for you!
Days 12-14: Explore Costa Rica
After working with the children, you will explore the beautiful country of Costa Rica. Costa Rica is an amazing travel destination because of its great nature, national parks, and beaches. During the last 3 days of your short-term volunteer program in Costa Rica, you will explore some of the best tourist attractions of the country.
Day 1: Manuel Antonio National Park & Beach Day Trip
You will meet your experienced tour guide at the entrance to the park in the early morning. You will spend your morning walking through the park, viewing easily missed wildlife through the use of a special binocular lens, and learn about the rich flora and fauna of this special area. You will end your little trek through the forest at the beach. There are three beaches that you can explore and enjoy.
Accommodations: Budget Hotel or host family
Meals: All meals included
Day 2: Zip Lining, Waterfall Repelling, and Horseback Riding Adventure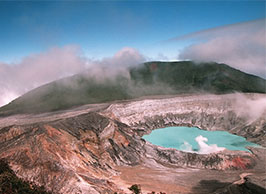 Today will be an action-packed day! You will head into the rainforest and zip line over 850 acres of pristine forest by means of 11 different platforms. This will be your bird's eye view of the rainforest. Then you will have the opportunity to explore this rich forest by means of horseback! Following your horseback ride, you will get your heart pumping with some waterfall repelling. You will have an experienced tour guide with you the entire time. Today is a day you will surely never forget.
Accommodation: simple hotel or host family
Meals: All meals included
Day 3: Surfing Day
You can't come to Costa Rica without at least surfing one day! You will take a two-hour surf lesson with an experienced and bilingual instructor to learn the basics. Then you will have the rest of the day to practice your new skills. Costa Rica is the perfect place to learn how to surf.
Accommodations: simple hotel or host family
Meals: All meals included
The Itinerary presented above is a sampled one and is subject to change depending upon field conditions.
Prices and Dates
Price: $1499
Global Crossroad has been offering the most affordable volunteer abroad programs since 2003. We have also kept the price of our mini volunteer and travel programs highly affordable. It is our goal to provide you will the most affordable and most satisfying experience overseas, while you have the unique opportunity to make a difference in the world.
Program fees cover:
Room (host family, volunteer house) and local food 3 times a day during volunteering
Room (host family, economy hotel) and local food 3 times a day during travel
Local transportation during travel
Comprehensive travel insurance
Entrance fees
Airport pick up/drop off
Support of in-country staff
Program fees excludes:
Airfare
Visa
Personal expenses on soft drink and food
Food / room before the start of the program
Domestic daily transportation during volunteering
Tips (for guide and/or staff)