Mini Volunteer and Trekking Escape in Nepal (2 weeks)
Make a grand difference in Nepal while exploring this fascinating country

Volunteer in Nepal for eight days and then set off on trekking adventure for five days

Highly reviewed, recommended, and affordable program since 2003; only $1299

Embark on a rewarding escape that will change your life and the lives of others
Are you interested in embarking on a trek though the Himalayan region of Nepal while also lending a helping hand to those in need? Global Crossroad's short term volunteer program in Nepal offers participants the opportunity to explore the mystical and awe-inspiring beauty of this mountainous dreamscape while simultaneously making a much-needed, positive impact on the lives of the underprivileged children and people of Nepal.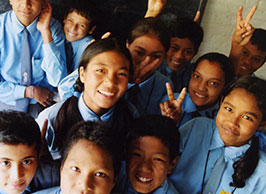 During your 2-week volunteer abroad in Nepal program, you will stay with a warm and welcoming host family, where you will experience home away from home and immerse yourself in Nepali culture. The program starts with a week of volunteer work helping orphan children, teaching English at a rural school, or assisting in a medical program.
After you have completed your volunteer commitment, you will then embark on a five-day journey, which includes joining a Himalayan trekking team as they venture in the heart of Himalayan region to visit this spectacular place. You will also be treated to a one-day tour of the famous and wondrous city of Kathmandu - experiencing the country through the eyes of its warm, smiling, and hospitable people.
Program: Mini Volunteer and Trekking Escape in Nepal (2 weeks)
Start Dates: First and Third Mondays of each month
Departure and End Point: Tribhubhan Airport, Kathmandu
Language Need: none
Accommodation and Meals: Host family and Nepali foods three times a day Working Hours: 20-30 hours a week
Activities: Please see itinerary
Mini Volunteer and Trekking Escape in Nepal Program Itinerary
This mini volunteer and trekking escape in Nepal is a balanced blend of humanatarian work and spending time in the beautiful outdoors of Nepal.
Day 0
Arrive at Tribhuvan International Airport and transfer to Global Crossroad hostel.
Day 1: Orientation and Welcome
You will have your Global Crossroad short term volunteer opportunity in Nepal orientation at the Kathmandu office. Orientation covers history, culture, religion, projects, host family and anticipated living conditions, safety issues, climate expectations, working projects, and related topics. After your orientation, you will leave for your projects.
Days 2-9: Volunteer in an Orphanage, School or Hospital
For the next 8 days of your charity work abroad for two weeks in Nepal, you will work in at the project as per your request. In your free time, you can explore the wonders of rural Nepal - its natural beauty, its intriguing culture, and its spirited people. Our local field staff will assist you as needed.
Himalayan Trekking (5 Days)
Nepal is world famous for trekking. Beautiful Nepal has the world's most amazing trekking routes and scenery to experience. For the next 5 days, you will explore the incredible Himalayas, serene forest, and ethnic villages while joining Himalayan trek as part of your short term volunteer trip in Nepal.
DAY ONE: Kathmandu to Pokhara to Tirkhe Dhunga
In the first day, you will travel from Kathmandu and be transferred to the starting point of the trek at Naya Pul - a trading town located along the banks of the Modi River - and take an easy stroll along the sub-tropical Modi Khola River Valley to Birethanti (a large village on the old Nepal-Tibet trading route). You will pass through the Nepal/Tibet checkpoint before continuing through the intricately-terraced rice paddies. At the end of the day, you will arrive at Tirkhe Dhunga for an overnight stay.
Overnight Accommodations: Tourist class hotel/tea house
Meals Included: None
DAY TWO: Tirkhe Dhunga to Ghorepani
From Tirkhe Dhunga, you will cross a stream before ascending a steep, stone staircase to the large Magar Village at Ulleri (2070 m). Then you will trek through rhododendron and oak forests; across streams before making a short, final ascent to Nangethanti. From Nangethanti, you will continue the trek up to Ghorepani (2850m) for an overnight stay.
Overnight Accommodations: Tourist hotel/Guesthouse
Meals Included: None
DAY THREE: Ghorepani to Ghandrung
In the early morning, you will ascent to Poon Hill (3195m) where you will be treated to an enlightening scene as the sun climbs the sky to peak out from behind the Himalayan titans of Dhaulagiri, Annapurna , and Manalsu.
You will return to the lodge after this early morning excursion before beginning your return-descent to Ghorepani and setting out for Tadapani. You will descend downhill and observe a cornucopia of breath-taking views of the Annapurna mountains before taking a somewhat-steep drop at Kimche (1630m) where you will rest for a moment before pressing onto Chane. Next, you will walk atop a flag-filled path which slides through the Gurung-inhabited village of Ghandrung . The true beauty of this town is revealed by the astonishing view of south side of the Annapurna as well as the Hiunchuli.
Overnight Accommodations: Tourist hotel/Guesthouse
Meals Included: None
DAY FOUR: Ghandrung to Dhampus
From Ghandrung, you will descend to the river known as Modi Khola, crossing it via a suspension bridge then ascending to the village of Landrung - a small village offering big views of Mt. Annapurna South, Fishtail and Himchuli. All along the trail, capture amazing glimpses of both Annapurna and Machhapuchhre. You will head for the town of Deurali and view the Dhaulagiri Mountain (the highest mountain in western Nepal ). From Deurali, you will descend gradually to Dhampus - a large village spread along a hilltop inhabited by numerous ethnic groups (Gurung, Brahman, Magar, etc.) - and end your day's journey.
Overnight Accommodations: Tourist hotel/Guesthouse
Meals Included: None
DAY FIVE: Dhampus to Pokhara to Kathmandu
On your last day of your 2-week volunteer abroad in Nepal adventure, you will begin your day upon a ridge, departing from Dhampus and trekking through small, sporadic villages and settlements and paddy fields. You will take a drastic descent as the trails leads to the Pokhara-Baglung Highway, where you can journey back to Pokhara (approximately 30-minute drive) followed by a return-journey to Kathmandu .
Overnight Accommodations: Global Crossroad hostel
Meals Included: Breakfast and lunch
*The proposed itinerary is a sample and is subject to change to meet the changes in the local field conditions.
Prices and Dates
Global Crossroad offers the most affordable volunteering and trekking adventures. We want to ensure that those who seek out this wonderful type of travel and humanitarian experience are able to afford it.
Program fee: USD $1299
Program Fee Covers
Room (host family, volunteer house) and local food 3 times day during volunteering)
Room (tea house, economy hotel) during trekking
Services of a professional guide
All entry fees
Airport pick up/drop off
Comprehensive insurance
Transportation to and from Pokhara
Program Fee excludes:
Airfare
Visa
Tips (for guide and/or staff)
Meals during trekking
Other items of personal consumption (i.e. soft drink, bottled water, etc.)