Mini Volunteer and Travel Escape in Peru (2 Weeks)
Make a significant different in Peru while exploring this captivating country
Volunteer in Peru for a total of nine days and then venture off on three different trips
Most affordable and reputable programs since 2003; only $1299
Feel part of something monumental while embarking on a grand escape to Peru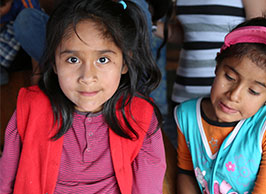 Are you seeking out an escape to a fascinating country in Peru, while also have the chance to give back to a community in need? Global Crossroad's 2-week volunteer abroad program in Peru invites participants to explore the enchanting country of Peru while also lending a helping hand. This particular program offers an excellent alternative to the typical tourist journey by giving you the opportunity to work in Peru as a volunteer, as well as explore all the Peru has to offer.
Following your volunteer commitment portion of your short term volunteer program in Peru, you will embark on a three day journey in and around Cusco, Peru's most enigmatic city. You will experience Peru's rich and diverse history, culture, traditions, and natural beauties. You will also get to explore the immensely mysterious Incan Empire during your short term volunteer opportunity in Peru.
Program: Mini Volunteer and Travel Escape in Peru (2 Weeks)
Start Dates: 1st and 3rd Monday of each month
Arrival and Departure: Alejandro Velasco Astete International Airport in Cusco
Language Needed: none
Accommodations and Meals: Host Family and/or Hostel; three traditional meals a day
Working Hours: 25-35 Hours per Day
Mini Volunteer and Travel Escape in Peru (2 Weeks) Proposed Itinerary
Our mini volunteer and travel escape to Peru gives you a perfectly balanced blend of volunteering and traveling in Peru.
Day 0: Arrival
You will be met at the airport by a member of Global Crossroad's team in Peru and transferred from the Cusco Airport to your new home base.
Day 1-6: Volunteer in Cusco (Monday – Friday) (Orphanage/Teaching/Medicine Program)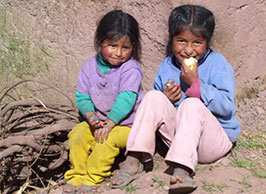 The several days of your short term volunteer trip in Peru, you will dedicate your time to either volunteering at an orphanage, volunteering teaching English at a local school, or assisting with the medical program. It is your choice.
Regardless of which program you choice as part of your 2-week volunteer abroad program in Peru, you will be making a monumental impact on the lives of the less fortunate. Working with children is amazing and life changing opportunity for you. As a volunteer in an orphanage or at a local school, you will teach English and other subjects such as geography, history, music, computer, art and crafts. You will also play music, sing songs, draw pictures, and conduct other creative activities that children will enjoy.
If you decide to join the medical program, you will work alongside healthcare professionals at a local hospital or clinic. Your specific roles and responsibilities will depend on your educational background and medical experience.
Day 7: Free time (Saturday)
Saturday is a free day. On Saturday, you will be free to explore the beautiful city of Cusco. Cusco is a great city to explore. There are countless attractions including Plaza de Armas of Cusco, The Cathedral of Cusco, Templo de la Compañía de Jesus (Jesuit Temple), Barrio de San Blas, Barrio de San Blas, and many others.
Day 8: Sacred Valley of the Incas (Sunday)
The next day you will depart to explore the world's famous Sacred Valley. You will travel by bus from Cusco down into the lush Sacred Valley. Your first stop will be in the pueblo of Pisac, and then onto Urubamba, and the archeological ruins at Ollantaytambo. Your tour will also take you into the high mountain plains to the small village of Chincheros; all while surrounded by the amazing snow-capped mountain peaks of the Andes.
Days 9-11: Volunteer Work (Monday to Wednesday)
You will return to Cusco and continue to work in the program of your choice.
Day 12: Aguas Calientes (Thursday)
Today you will again explore Peru. Early in the morning, you will depart Cusco and head to the village of Aguas Calientes, right on the edge of the Amazon Rainforest and literally at the foot of the mystical Machupicchu Mountains.
When you arrive in Aguas Calientes, you will be met by our guide as you get off the train. Be sure to take a relaxing dip in the natural hot springs, which give the village its name, Aguas Calientes. There are a multitude of little restaurants and shops in Aguas Calientes and you can enjoy one of the 3-for-1 happy hour specials too.
Day 13: Machu Picchu (Friday)
You will travel by bus up to the entrance of the sanctuary-city of Machupicchu. Then you will take a 3-hour guided tour of the ancient ruins, which are still 60 % intact today. At the end of the tour, you will have plenty of free time to hike and explore independently, including a trek to the top of Huayna Picchu, the Temple of the Moon, or to the very last part of the Inca Trail and the Inkti Punktu (Sun Gate).
Accommodation: Hotel
Meal: Breakfast only
Day 14: Free Day (Saturday)
This is the final day of the volunteer abroad for two weeks in Peru program. It is time to say good bye to Cusco and to your volunteer project.
The proposed itinerary is a sample and is subject to change to meet the changes in the local field conditions.
Prices
Fee: $1299
Global Crossroad prides itself on providing you with the most affordable volunteer and travel programs since 2003.
Program fees cover:
Food and meals (3 local food) during volunteering by host family
Accommodation (only breakfast – no lunch or dinner) during travelling
Comprehensive insurance
Airport Pick-up
In-country support
Train ticket to Machu Picchu
Entrance fees (Machu Picchu)
Program fees Excludes:
Airfare
Visa
Lunch and dinner during travelling
Tips (for guide and/or local staff)
Other items of personal consumption (i.e. soft drinks, bottled water, etc.)