Nepal's fascinating Mini-Venture offers participants the opportunity to explore the mystical, awe-inspiring beauty of this mountainous dreamscape while simultaneously making a much-needed, positive impact in the lives of the underprivileged children of Nepal who live in orphanages that are resource poor and understaffed. During the program, you will stay with a warm and welcoming host family, where you will experience home away from home and immerse yourself in Nepali culture.
The program starts with a week of volunteer work helping the deprived children after which you will then embark on a 4-day journey - joining a Himalayan trekking team as they venture in the heart of Himalayan region to visit spectacular place. Participants will also be treated to a one-day tour of the famous and wondrous city of Kathmandu - experiencing the country through the eyes of its warm, smiling hospitable people.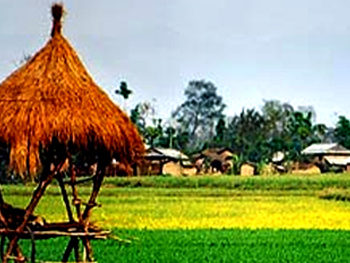 Program:

Mini-Venture Nepal

Start Dates:

1st and 3rd Mondays of each month

Departure and End Point:

Tribhubhan Airport, Kathmandu

Language Need:

none

Accommodation and meals:

Host family and Nepali foods three times a day by host family

Working Hours:

None

Activities:

Please see itinerary
Program
outlines
Day 1:
Global Crossroad orientation at the Kathmandu office. Orientation covers children's issues, field conditions, host family or anticipated living conditions, safety issues, climate expectations, working projects, and related topics.
Immediately following the orientation, our staff will lead you through a tour of the cultural city of Kathmandu. Our visits will cover most of the famous tourist, cultural, and religious sites in Nepal.
Day 2:
After breakfast, you will leave for your projects. Introductions will be held with orphans, staff, and host families.
Days 3-6:
Share your love and enthusiasm with the orphans. In your free time, explore the wonders of rural Nepal -its natural beauty, its intriguing culture, and its spirited people. Our local field staff will assist you in pointing out sites that are off the beaten path.
Day 7:
Our one-day village hiking program allows you to discover the delightful village life of Nepal, have a small picnic with the area's children, and enjoy a riveting Nepali cultural program.
Days 8-10:
Work continues with orphaned children. You will find that your support and encouragement of Nepal's orphans will be the most enriching part of your Nepali adventure.
Explore
Nepal
DAY One:
Kathmandu to Chitwan
Take an early tourist bus to Chitwan, experiencing Nepal's river rafting experience - passing by scenic hills and landscapes from Fishling. Then journey onto Mungling before continuing to Chitwan National Park (estimated 3 hour drive). Upon arrival in Chitwan, check-in at a lodge for an overnight stay.
Overnight Accommodations : Tourist hotel/Guesthouse
Meals Included: None
DAY Two :
Explore Chitwan National Park
After an early wake-up time and breakfast, tour the jungle while simultaneously experiencing the unique bird species within Chitwan's National Park. After this tour, canoe the Rapti and Narayani Rivers. These river waters are inhabited by carnivorous crocodiles, as well as other unique species of animals and birds. Return to camp and break for lunch before voyaging through the culture-rich village of Tharu followed by dinner and an overnight at the lodge.
Overnight Accommodations: Tourist hotel/Guesthouse
Meals Included: None
DAY three:
Explore Chitwan National Park
In the morning, safari though Chitwan National Park's jungles atop an elephant while simultaneously witnessing an abundance of the park's flora and fauna. Upon return to the camp and after lunch, participants can visit the park's elephant stables where the senior naturalists will provide an in-depth lecture about the behavior/life of these majestically giant, often gentle creatures.
Overnight Accommodations: Tourist hotel/Guesthouse Meals Included: None
The proposed itinerary is a sample and is subject to change to meet the changes in the local field conditions.
Program Fee Covers:
Airport pick up
Services of a professional guide
Entry fees
Comprehensive insurance
Fee excluded
Airport Drop-off
Tips (for guide and/or staff)
Other items of personal consumption (i.e. soft drink, bottled water, etc.)