Quick Links
Volunteer Project
Nepal-Himalaya Region
Volunteer Project Nepal-Himalaya Region
Teaching English to Buddhist Monks in the Himalayan Region of Nepal
Monk Teaching is not available from the Last week of December to First week of March
Overview of the Project
A monastery plays a vital role in the lives of Sherpas. Every major festival is held in the monastery and the monks conduct rituals and offer blessings. In the monastery, the monks are enrolled in the services of the monastery from an early age. While some choose to remain monks all their life, many marry and start a family later on. For the young monks, it is very important to learn English as well as their traditional scriptures. Learning English will allow the monks who choose to become householder later in life, to work as guides or start a business. Whereas those who prefer to stay on as a monk can use their English language skills to communicate effectively with outsiders. But the monastery does not have the manpower to train the monks in English and they also don't have the resources to hire a teacher.
Teaching in a monastery can be your once-in-a-lifetime opportunity. When you volunteer in the monastery, you will help the monks with their English and give them the confidence to communicate with the outside world. You will also witness colorful rituals in the monastery and you can even participate in meditation and prayer ceremonies.
As a volunteer in Teaching English to Buddhist Monks Program, you will provide basic conversational English instruction to the Sherpa monks. Volunteers will also organize games, paintings, drawings, and other creative activities. As a unique facet of this placement, volunteers can also witness and participate in traditional Buddhist rituals.
Role of Volunteer: Teaching English to Monks in Nepal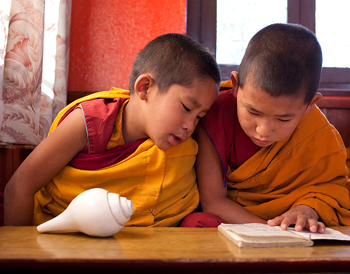 As a volunteer, you will enjoy the project because you will find the monks extremely enthusiastic about learning from an international volunteer. You will conduct 2 to 3 classes per day, each 45 minutes to an hour. The monks range from the age of 5 to 17. Some monks understand and can speak few words of English whereas some won't have any knowledge of English. The class will be divided according to their level of English. You may have to conduct kindergarten level to class once, and a class for grade 2 to 4. There will be a resident Lopon (a master) who will be assisting you. The Lopon will be able to communicate with you well in English.
Skills and Qualifications Needed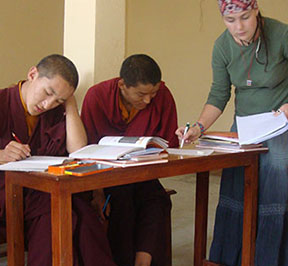 You must have good English (not necessarily of very high standard). No other skills or qualifications are required to volunteer in this project. Volunteers are expected to be respectful to monks, Sherpa community and observe rules inside the monastery. Volunteers should also dress conservatively. You will not be allowed to wear shorts or tank tops except in your room.
Dates and Prices
All projects start every 1st and 3rd Monday of each month. However, if there is travel constrains, you can start any project on any day.
Global Crossroad is committed to offering quality volunteer abroad programs at a very affordable price. We strive to keep our costs low so that our volunteers benefit from the lowered program prices. The humanitarian side of the business is our passion.
Global Crossroad's application/registration fee: US $299. The application fee covers our cost of advertising, program promotion, and office expenses (rent, utilities, and staff salaries in USA office).
In addition to the application fee, volunteers are required to pay weekly program fee. You pay your weekly fee directly to your host families and projects. This way, the fees you pay will benefit those who deserve it (not for company profit).
Airport pickup, drop and first accomodation $50
Fly to Himalaya (Lukla) $330 (depends on season)
Language and Culture Program fee $250
Program fees cover:
Accommodation (volunteers house or host family)
Food (local food 3 times a day)
In-country support
Personalized project
Pre-departure information
Certificate of completion
Fundraising ideas and letters
Discount for returning volunteers
Program fees exclude:
Visas
Airfare
Personal expenses on soft drinks and foods
Daily transportation
Airport return transfer
Language and cultural immersion program includes:
One-week language and culture training, food and accommodations with host family (Breakfast, lunch & dinner), training materials (books, papers, etc) and Comprehensive Travel Insurance.
Additional costs for volunteers:
International flights, local flight to Lukla, visa application/extension, daily personal expenses on beverages/entertainment, laundry, telephone, immunizations
Room and Food
Volunteers will stay inside the monastery in an onsite location. You will be given a separate room or you may have to share the room with other volunteers as well. The monastery is situated on a hillside just 10 minutes from the village of Thulo Gumela. The village of Phakdin, which lies in the Everest trekking route, is 30 minutes directly below the monastery. Phakdin is about 60 to 90 minutes from Lukla. While volunteering, you will also enjoy 3 local meals (breakfast, lunch and dinner) with the monks in their dining room. The monastery is surrounded by pine trees and you can see spectacular views of Thamserku and Kongde Ri mountains. During the project, you will be supported by our Himalayan coordinator based in Ghat, about an hour away. You will also find the monks in the monastery extremely helpful. You can also call our Nepal coordinator in Kathmandu to discuss any problem you may come across.
Location
Descriptions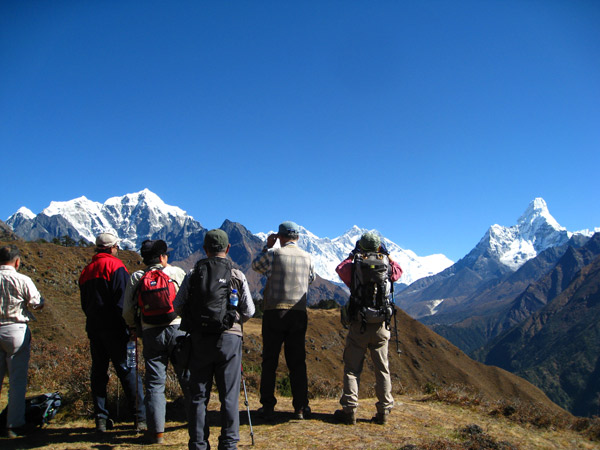 The Everest region or known locally as Khumbu region, is the most popular trekking region in Nepal. You will find Mount Everest, the world's highest mountain, in this region. There are also many high Himalayans peaks of over 6 thousand meters or over dotting the landscape. The region starts from the altitude of 2600 meters and the nearest motorable road is 7 days away. Volunteers will fly to Lukla, which is about 20 minutes by flight from Kathmandu, the capital of Nepal. From Lukla, volunteers will make their way on foot to the project site. The Everest is home to Sherpas, who have lived for centuries attending cattle, farming vegetables or trading with Tibet and the low lands of Nepal. Today, with the arrival of tourists, Sherpas have seen their lives transformed. Many of them now enjoy a steady stream of good income working as porters, guides, climbers and many have opened lodges, hotels and tea houses. But for those Sherpas who aren't involved in tourism industry or whose houses aren't in the tourist trail, including other ethnic groups who have migrated to Everest region, life is still a hard toil with very little hope for a better future. Their children, their only hope for a better future, attend schools that aren't well funded and many continue to have no motivation to continue their studies.