Quick Links
Volunteer Project
Nepal-Himalaya Region
Volunteer Project Nepal-Himalaya Region
Teaching English in School in the Himalayan Region of Nepal
Due to winter holiday the school is closed from Jan 01 to Feb 08.
The school is also be closed during Dasai and Tihar holidays (usually in October)
Overview of the Project
All well-to-do families in the Himalayan region can't afford to send their children to schools in the capital city of Kathmandu, where they are taught by well trained teachers. For the children from underprivileged Sherpa family and other families that have migrated to Khumbu region for work, the only option is to attend local school. These schools are resource poor and understaffed. Many teachers prefer not to work permanently in the region because of its remoteness. Therefore, the students find it difficult to progress in the studies. To compound their misery, the children find English as one of their hardest subject. But it is also one of the most important subjects, and without acquiring good skills to write and speak in English, young students will not be able to graduate and move on to good colleges.
When you volunteer in these schools in the region, you will have wonderful opportunity to contribute in making the future of these students better. You will also enjoy this experience and find it very satisfying as the students are very eager to learn and interact with you. By your very presence you will also inspire the students to work hard for a better future. The school is also located in a deep valley surrounded by high Himalayas.
Role of Volunteer: Teaching English to Monks in Nepal
Volunteers teach from 2 to 3 hours each day, six days a week. Most of the students range in age from 6 to 13. In Nepal, each school has its own on staff English teacher who assists our volunteers with teaching methods, offers advice on solving communication barriers and provides suitable curricula for the classrooms. English teaching volunteers do not have to be native English speakers. The schools in Nepal are closed during the holidays and exam periods.
Skills and Qualifications Needed
You must have good English (not necessarily of very high standard). Other than that, no other skills or qualifications are required to volunteer in this project. Volunteers must observe the rules and regulations of the school and be respectful to the teachers as well as local people.
Dates and Prices
All projects start every 1st and 3rd Monday of each month. However, if there is travel constrains, you can start any project on any day.
Global Crossroad is committed to offering quality volunteer abroad programs at a very affordable price. We strive to keep our costs low so that our volunteers benefit from the lowered program prices. The humanitarian side of the business is our passion.
Global Crossroad's application/registration fee: US $299. The application fee covers our cost of advertising, program promotion, and office expenses (rent, utilities, and staff salaries in USA office).
In addition to the application fee, volunteers are required to pay weekly program fee. You pay your weekly fee directly to your host families and projects. This way, the fees you pay will benefit those who deserve it (not for company profit).
Airport pickup, drop and first accomodation $50
Fly to Himalaya (Lukla) $330 (depends on season)
Language and Culture Program fee $250
Program fees cover:
Accommodation (volunteers house or host family)
Food (local food 3 times a day)
In-country support
Personalized project
Pre-departure information
Certificate of completion
Fundraising ideas and letters
Discount for returning volunteers
Program fees exclude:
Visas
Airfare
Personal expenses on soft drinks and foods
Daily transportation
Airport return transfer
Language and cultural immersion program includes:
One-week language and culture training, food and accommodations with host family (Breakfast, lunch & dinner), training materials (books, papers, etc) and Comprehensive Travel Insurance.
Additional costs for volunteers:
International flights, local flight to Lukla, visa application/extension, daily personal expenses on beverages/entertainment, laundry, telephone, immunizations
Room/Food/
Supervision
You will stay with a Sherpa host family located not far from the school. The Sherpa communities are known for their legendary hospitality and friendliness, so you will enjoy your stay with the host family. You will enjoy 3 local meals with the host family. Throughout the project, you will be supported by our Himalayan Coordinator, your host family and the staffs at the school. You can also call our Nepal coordinator in Kathmandu.
Location
Descriptions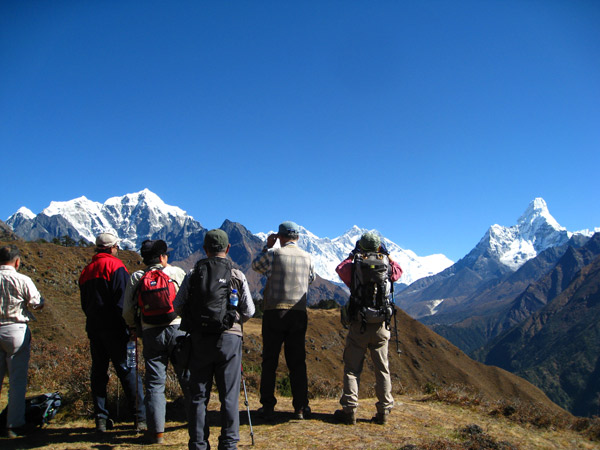 The Everest region or known locally as Khumbu region, is the most popular trekking area in Nepal. You will find Mount Everest, the world's highest mountain, in this region. There are also many high Himalayans of over 6 thousand meters or over dotting the landscape. This region starts from the altitude of 2600 meters and the nearest motorable road is 7 days away. Volunteers will have to fly to Lukla, which is about 20 minutes by flight from Kathmandu, the capital of Nepal. This region is also the place where the Sherpas have lived for centuries attending cattle, farming vegetables or trading with Tibet and the low lands of Nepal. Today, with the advent of tourists, Sherpas have seen their lives transformed. Many of them now enjoy a steady stream of good income working as porters, guides, climbers and many own lodges, hotels and tea houses. But for those Sherpas who aren't involved in tourism industry or whose houses aren't in the tourist trail, including other ethnic groups who have migrated to Khumbu region, life is still a hard toil with very little hope for better future. Their children, their only hope for a better future, attend schools that aren't well funded and many continue to have no motivation to continue their studies.