Enjoy the amazing combination of travel and volunteer abroad work on a worthwhile community service trip
Leave a lasting legacy of change in the communities you serve
Develop your coping, and caring skills in an unfamiliar environment

A great way to get involved in something which may be new to you

Gain invaluable practical experience on a new or developing career path
Take a minute to complete the form and we will be in touch.
Community Service Trips for College Students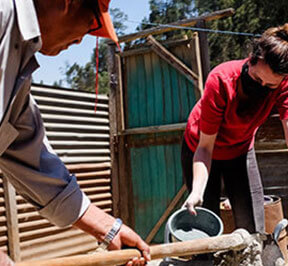 Do you fantasize about exploring all that community service trips for college students have to offer?
What does it feel like to picture yourself teaching in China, empowering women in Tanzania, or working with at-risk street children in India?
With Global Crossroad, the world is your playground: we offer a range of safe, affordable services that will expand your horizons and spark your senses.
There are so many people and projects in the world that need support from others. Why not lend your time to one of these worthwhile causes?
Volunteer trips for college students will improve your professional credibility, as well as your interpersonal skills. One of the best times to do this is while you're still a student, since you have your whole career ahead of you.
Joining one of Global Crossroad's exciting community service trips for college students might just be the first day of the rest of your life!
Globalcrossroad Best Cheap Community Service Trips for College Students
Discover Globalcrossroad's great selection of the most affordable Community service programs for college students:
When embarking on community mission trips for college students, it's always good to choose a place that you're genuinely curious to explore.
If you've always wanted to travel to China, this is the perfect opportunity to immerse yourself in local culture. By teaching English to communities in and around Qingdao, you'll interact with students and professionals during your work week.
No prior experience is necessary, though volunteers must speak English well.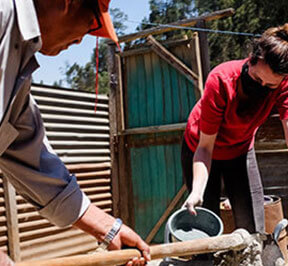 Volunteer trips for college students are always exciting, and even more so when they take place in astounding countries like Tanzania!
For volunteers with a passion for Africa and who enjoy learning about new cultures, consider jumping into this amazing opportunity.
Volunteers will have the chance to work alongside women of the Maasai tribe, and supporting them in their handicraft business ventures.
An ideal program for students looking to work with eco-sustainability, this is one of several community service programs for college students that brings volunteers to beautiful Costa Rica.
In addition to providing hands-on support to environmental projects, volunteers will also work to improve the quality of life of local homeless people.
Tasks will include community outreach, feeding the homeless, and assisting local project managers.
College students volunteer abroad programs are filled with opportunities to meet new people and give back.
This program offers volunteers the chance to work with local street children in India's Himalayan region.
Working between 25 and 30 hours per week, volunteers will be responsible for teaching these kids English, computer skills, and offering companionship.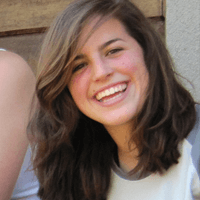 It was all worth it. I treasured the intimate moments travelling and experiencing together
Jessica Mills
- USA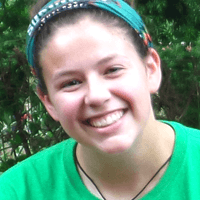 I was not ready to leave when my two months were up. It was an unforgettable experience.
Roberta Quis
- Australia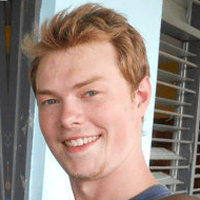 This was an amazing trip. I was immersed in new experiences, cultures, languages and people.
Kenneth Janes
- Canada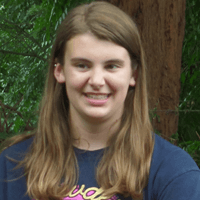 This experience was both exceptional and valuable. Project was extremely enlightening.
Lindsay Scott
- Germany
Buddhism is undoubtedly a fascinating religion, and you'll get to observe it first-hand with this opportunity in Sri Lanka-one of countless volunteer trips for college students that will open your eyes to the world around you.
Volunteers here will spend time teaching young Buddhist monks English.
You'll also get to soak up the local culture, and explore all that exotic Sri Lanka has to offer. No prior training is required for this exciting position, but volunteers must have strong English-speaking skills.
Have you always wanted to travel to South America? If so, consider trying this Argentina-based program, where volunteers help local non-profit organizations and government projects.
An ideal placement for students interested in international development or working in the non-profit sector, volunteers here will have a range of tasks.
From writing proposals and grants to interacting with local professionals, community service programs for college students offer plenty of valuable skills for your career.
With so many college students volunteer abroad programs to choose from, it's important to pick one that speak to your heart.
If you enjoy immersing yourself in new cultural experiences, this community development program in Kenya is ideal: volunteers work with the Maasai tribe in a variety of ways.
Depending on your particular skill-set, you can serve this fascinating group by supporting their business practices, helping with legal issues, and pursuing fundraising initiatives.
Community mission trips for college students are always valuable, but this one is particularly great for those who enjoy helping women in need. Unfortunately, many women in Guatemala's underserved communities struggle to escape the cycle of poverty.
Volunteers are responsible for helping these women in various ways, including teaching English, assisting with legal issues, and offering emotional support.
Your college years make up some of the most precious time in your life. Why not accelerate the experience you gain by embarking on one of these amazing volunteer trips for college students? No one ever regretted doing something valuable with their time and energy; we guarantee you'll come away from your journey full of wisdom and new perspectives.
Whether you're passionate about supporting community development, working toward eco-sustainability, or helping children in need, Global Crossroad provides programs that will help you explore all that life has to offer.
The benefits of volunteering on community service trips for college students
Participating in community mission trips for college students creates a ripple effect of positive energy. Not only are you serving other people in need, but you're offering your unique set of special talents and passions.
Plus, you'll reap countless rewards from community service trips for college students.
These opportunities are an ideal way to hone skills in specific fields, such as teaching, social work, animal conservation, and medicine.
Many volunteer trips for college students offer a chance for participants to work side-by-side local professionals. These doctors or teachers are at the top of their game-and you have the privilege of shadowing their every move!
Consider how beneficial that experience will be for your resume, or during a job interview. Not to mention that community service trips for college students also benefit the surrounding community.
Your presence there naturally stimulates the local economy: when you eat at local shops or purchase handicrafts to bring home, you're supporting local business. Volunteering abroad also lets you pass along practical skills to local people.
For instance, teaching them how to speak English, use computer technology, set up small businesses, and other tools can help improve their everyday lives.
Imagine you're traveling across Kenya, offering your time and energy to a community development project in Nairobi.
The relationships you'll form with local people will stay in your heart forever. By immersing yourself in a foreign culture, you'll learn new ways of thinking about life and problem-solving.
College students' volunteer abroad programs are a channel for helping others, no matter where you come from-or where you're going.
Global Crossroad offers a large selection of the best community service trips for college students, so what are you waiting for? Take a look and get a head start on adventure!