Volunteer Abroad Projects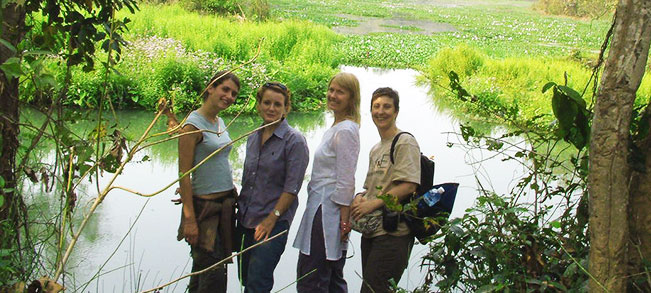 Are you an animal and or nature lover with a thirst for adventure? Global Crossroad has some exciting conservation opportunities just waiting to be explored by someone seeking a nature conservation volunteer opportunity abroad.
Global Crossroad is teamed up with five incredible and affordable nature conservation volunteer opportunities in places like Costa Rica, Nepal, and Ecuador. This is a unique opportunity to travel abroad, explore a culturally rich country, and work with a team of likeminded volunteers to protect the flora and fauna of the region you choose to travel to. Your passion and compassion for nature, the environment, and animals is invaluable to these projects.
When you decide to sign up for a nature conservation volunteer opportunity abroad, you are setting yourself up to feel a deep sense of satisfaction and purpose. You will take even more away from this experience because you are engaging in something that you are passionate about. Your dedication to any of the volunteering in nature conservation projects will be received with great gratitude and appreciation.
This opportunity overseas will be eye opening, heart fulfilling, and highly rewarding. Your selfless dedication to your nature conservation volunteer opportunity abroad of your choice will make a huge difference in the specific region in which you spend you time and energy. This is your chance to change the world by doing something that you love!
Volunteer in a Nature Conservation Project Options
Tree lover and huggers are needed to join this special nature conservation volunteer opportunity abroad. You will help with reforestation efforts in this beautiful country.
This volunteering in a nature conservation program is a unique chance to work within several small initiatives related to eco-sustainability and food production.
Volunteering in a nature conservation project like this one will give you the opportunity to live within nature while helping nature in a variety of ways.
Work within the Los Cedros Biological Reserve where you will help in a number of valuable ways to protect, conserve, and restore this incredibly beautiful and important environment.
Join this nature conservation volunteer opportunity abroad and help with the maintenance, restoration, and protection of this incredibly special zone of the world.