5 days/4 Nights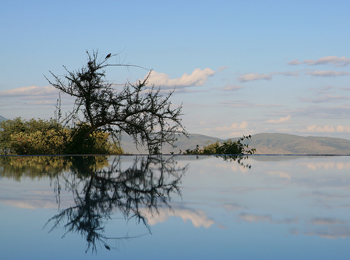 This exciting safari is an intense crash-course of Tanzania's Northern Safari Circuit experienced over five (5) days. During this short period, safari-goers will visit two of the most thrilling, world-renowned national parks – N'gorongoro Crater and Lake Manyara. Between these two awe-inspiring parks, participants will experience such naturally-occurring phenomena as a soda-lake and parts of the Great Rift Valley (just to name a few) in addition to the encyclopedic amount of wildlife roaming about the confines of said parks.
Proposed
Itinerary
Day One:
Pick up at your project after breakfast and transfer to Lake Manyara for full day safari with picnic lunch. Although one of the smaller Tanzanian parks (325 sq.kms) in the Rift Valley, Manyara National Parks boasts a large lake and during the months of July through April, the lake waters are tinged pink from the hundreds of greater and lesser flamingos who feed there. Other features of the park include its stable herds of elephants and buffalos, enormous troops of baboons and its famous tree-climbing lions.
Accommodation: Camp site (shared accommodation)
Meals Included: Breakfast, lunch & dinner
Day Two:
Transfer to Seronera in the middle of the Serengeti. Picnic lunch and wildlife observation en route. This most famous game park in the world encompasses nearly 15,000 sq. km and is unrivaled anywhere for its seasonally shifting concentrations of herbivores. Nearly 1.5 million wildebeest, 500,000 gazelle and 250,000 zebra completes a cyclical annual migration within the ecosystem between November and June. The Serengeti is also known for its large prides of lion, cheetah, wild dogs and leopard.
Accommodation: Campsite (shared accommodation)
Meals Included: Breakfast, lunch & dinner
Day Three:
Morning safari in the Serengeti. Afternoon transfer to the N'gorongoro Crater for an overnight stay on the crater rim.
Accommodation: Campsite (shared accommodation)
Meals Included: Breakfast, lunch & dinner
Day Four:
After breakfast, the group will depart on an early-morning safari before traveling to the N'gorongoro Crater in the afternoon.
The N'gorongoro Conservation Area is located on the far eastern area of the Serengeti and contains four distinct habitats – all offering unparalleled game-viewing opportunities year-round. Some of the phenomenal safari experiences may include such epic observations such as the Great Migration – tens of thousands of zebra and wildebeest stampeding across the Serengeti. Also contained within N'gorongoro area are world-renowned archeological sites of Laetoli where some of the oldest proof of human existence can be found – footprints over 3.6 million years old.
Accommodation: Campsite (shared accommodation)
Meals Included: Breakfast, lunch & dinner
Day Five:
Voyage to Tarangire National Park for a full day's safari accompanied by a picnic lunch. Native land to a vast number of elephants (in upwards of 1000), Tarangire National Park offers numerous chances to observe lions, cheetahs, and leopards in addition to its massive diversity of wildlife as well as the symbolic Baobab tree. Tarangire National is an ornithologist's paradise, offering a variety of feathered species, including some of the most aggressive birds of prey flapping their expansive wings over the famously varied fauna rich in birds of prey and an incredible diversity of avifauna.
Accommodation: Homebase/Budget hotel
Meals Included: Breakfast, lunch & dinner
This is sample Itinerary and can change to meet the changes in the field conditions
Dates and
Price
Dates:
Flexible/climate/ground coordinator determines
Price:
US $1,599 ONLY for current Global Crossroad volunteers
Program Fee Covers:
Domestic, in-park transportation in a modified 4-wheel-drive vehicle including a releasable roof hatch for documenting the experience
Services of a professional safari guide
All meals per itinerary
All wildlife reserve entry fees and camping fees
All accommodations as per itinerary
Program Fee Does Not Cover:
Tips (for safari guide and/or camp staff)
Other items of personal consumption (i.e. alcohol, bottled water, etc)
Please note: our safari packages are with verified, certified travel guides. When you arrive in Africa, you will almost certainly be approached by different people offering safaris to tourists for a cheaper price – in most cases, these are individuals with one vehicle and no back-up, and if they show you certification, it is almost always a forgery. We strongly encourage you to take advantage of our careful research and utilize the services of the partners we've formed in Africa. Our insurance will cover you through those trips, and you'll be in very safe hands, with people who take their responsibilities seriously and won't leave you unaccompanied at a campsite or on the road when their vehicle breaks down in the middle of a safari and they have nobody to call for back-up. Your safety is of the utmost importance to us, and we hope it's high on your priority list, as well!