(from/to Upington)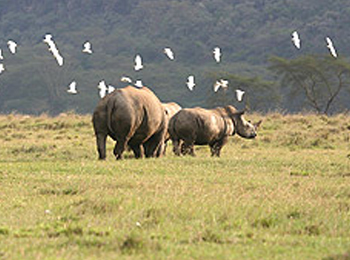 This extensive tour will travel through two incredible parks and one of them is one of the largest wildlife conservations in the world and is home to many big cats and over 300 species of birds. The other park is home to the 6 th largest waterfall in the world. Experience the wilderness like never before with this personal experience in the parks. The game drives on this tour will journey to both the north and south sides of the park and you will spot lions, leopards, cheetahs and other major predators as some of them even come in close range to the vehicle.
Then enjoy beautiful nights with nature as the animals howl within hearing distance. You will also visit waterfalls and water tunnels and have the chance to go rafting. This tour will bring you many memories as you become closer to the wildlife of South Africa.
Proposed
Itinerary
DAY 1: Upington to Kgalagadi
On the first day of your trip you will depart from Upington to the largest camp in Kgalagadi Trans Frontier Park for an afternoon game drive in this 37 000 square km park, which is one of the largest conservation areas in the world and one of the last truly unspoiled ecosystems. Endemic game such as gemsbok, springbok, eland, giraffe, blue wildebeest and red hartebeest roam the sparsely vegetated red sand dunes and the dry river valleys of the Nossob and Auob where a variety of acacia species thrive. The Park is also well known for sightings of lions, leopards, cheetahs and spotted brown hyena. Because of an abundance of prey in the form of mice, whistling rats, birds and insects, smaller predators thrive in the park. The park is home to caracal, honey badgers, black-backed jackals, bat-eared foxes, cape foxes, African wildcats, mongoose and the ever-popular suricate (meerkat). After your game drive you will have the option to take a 3 hr sunset drive or 2 hr night drive and a 3 hr morning walk (if available).
Accommodation: Twee Rivieren. Meals : BD
DAY 2: Kgalagadi Trans Frontier Park
Day two is another full day game drive to a different part of the park and the route will be determined by rainfall and game migration. Kgalagadi is also a bird watcher's paradise with more than 300 species recorded including at least 20 larger raptor species. The world's heaviest flying bird, the Kori bustard and the stately secretary bird patrol the riverbeds while the noisy northern black korhaan rule in the dunes. After your game drive you will have the option to take a 3 hr sunset drive or 2 hr night drive and a 3 hr morning walk (if available).
Accommodation : Camp in Park. Meals : BD
DAY 3: Kgalagadi - Upington
For your third and final day you will go on a game drive till midday. Then you will depart back to Upington. En route we stop at the last indigenous San tribe in South Africa , the Khomani. Today these earliest residents of the Kalahari, living here for 40 000 years, consist of only 400 people and are residents in an area between 40 and 70 km south of Twee Rivieren. Clients will have the opportunity to view and purchase their handcraft at one of the roadside stalls.
Accommodation : Molopo Lodge. Meals : BD
DAY 4: Molopo - Augrabies Falls National Park
After breakfast on your fourth day, you will depart to Augrabies Falls National Park . En route we visit Tierberg Nature Reserve in Keimoes, from where you will have a beautiful view of the lush foliage in the Orange River Valley , stop at the water tunnels at Kakamas and do some wine tasting at the second largest cooperative wine cellar in the world, the Orange River Wine Cellar. Then you will v isit the Augrabies Falls, which is the sixth largest waterfall in the world and enjoy an optional 2 hr sunset drive (if available)
Accommodation: Augrabies. Food: BD
DAY 5: Augrabies - Upington
On your fifth and final day you have the option to bring your tour to a conclusion in many different exciting ways. First you can go on a relaxed 2km morning walk to a beautiful viewpoint on the Augrabies gorge, Arrow Point or do a scenic drive in the park. Then your other optional activities include; the 4 hr Augrabies 3-in-1 Adventure, consisting of canoeing, hiking & mountain biking in the park or ; 2-3 hours of river rafting outside the park. From there you will depart to Upington. En route visit the Persian Water Wheels at Kakamas. Proceed to Keimoes on the Rockery Route , a scenic gravel road south of the Orange River , passing through a large quiver tree forest. Our next stop is at the largest inhabited inland island in South Africa , Kanoneiland, where virtually every inch of soil is under irrigation. You will arrive in Upington during the afternoon.
Accommodation : none. Food : B
NOTE: This is a sample itinerary and may be altered to accommodate changes in field conditions.
Dates and
Price
Price:
ONLY for Global Crossroad volunteers
Average Temperature
Persons
2 Persons
3 Persons
4 Persons
What's Included
Air conditioned transport & accredited driver/guide
Accommodation as per itinerary including camping equipment if needed
All entrance fees to National Parks and Nature Reserves
Meals & activities as per itinerary
Coffee, tea and cool box with ice in the vehicle
Guidebooks about flora, fauna, area etc. in vehicle
14% VAT
What's Not Included
Transportation to/from project (Air - or bus tickets to/from Upington (Bus from Cape Town +/- R330 -Flight +/- R 1037 One Way )
Lunches (Clients can take some fruit, biscuits, snacks, etc in the vehicle)
Optional 3 hr sunset-or 2 hr night drive and 3 hr morning guided walk (if available) @ R130-00 PP
Personal expenses on bottled water, soft and alcoholic drinks
Tips