Work for Orphans and Explore Kenya for 3 days
Kenya Mini-Venture program is very carefully designed with the concept of volunteering and traveling abroad, meeting local people, returning with a lasting memory, and impacting other lives as well as your own. Volunteers begin the first stage of their program by serving some of the most underprivileged and abandoned children in Kenya . These kids need love, hugs, and education. Spending time and energy in this project will indeed prove to be a truly noble endeavor, and provide hope for a better world for these children. In the second phase of the program we provide an opportunity to explore the grand country of the Maasai Mara plains and game reserve. Experience intriguing cultural encounters while tracking game cross-country in spacious minivans. Live the adventure!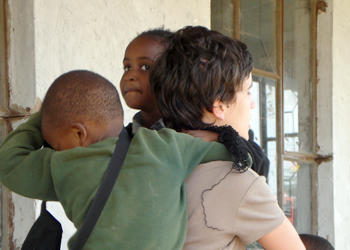 Program:

Mini-Venture -Kenya

Start dates:

1st and 3rd Mondays of each month

Departure and End Point:

Nairobi International Airport

Language Requirement:

None

Accommodation and meals:

Partner's hostel, hotel, & host family with daily schedule & local foods 3 times a day

Activities:

Support orphan kids on teaching, sanitation, & extra activities

Working hours:

20-30/week
Proposed Program Schedule:
Day-0
Arrival at Jomo Kenyatta International Airport (Nairobi), transfer to Global Crossroad's hostel
Day 1:
Orientation for the program at Global Crossroad's partner's office or the home of one of the host families. Orientation includes a 3 to 4 hour lecture covering children's issues, field conditions, host family or anticipated living conditions, safety issues, climate expectations, working projects, and related topics. Immediately after the orientation, our leaders will take you for a visit of the local village.
Day 2:
Volunteers will leave for their project early in the morning after breakfast. Introductions will be made with the orphans, staff, and the host family.
Day 3- 6:
Work with children. Share your love and talents with these orphaned children. Volunteers are free to explore the surrounding areas when not working. Enjoy the wonders of this truly beautiful land. Feel free to explore the nature, culture, and life of Kenya in your free time. Our local field staff will support you with any assistance that you may need.
Day 7:
Free for volunteers to explore Kenyan life. Volunteers can visit the city of Nairobi , wander through Nairobi National Park about 7 km from the city center, or visit Naivasha's fresh water lake and Hells-gate game reserve. Nakuru offers a world famous bird and white rhino sanctuary with over 400 bird species. The host family or program coordinator can advise volunteers.
Day 8 - 9:
Work continues with orphaned children. Please continue helping and supporting the orphaned children and making the most of your Kenya adventure.
Day 10:
End volunteer work. Farewell to the kids and evaluation of the program.
Jungle safari: The Ernest Hemmingway Trail (3 Days)
Days 11-13
Visit Maasai Mara Game Reserve following the famous Ernest Hemmingway Trail.
The Maasai Mara Great Rift Valley reserve is the seasonal home to literary thousands upon thousands of wild animals including rhino, buffalo, impala, waterbuck, lion, elephant, giraffe, cheetah and leopard.
It is also the seasonal home to thousands of wildebeests that spend about half of the year here and the other half in neighboring Serengeti National Park in Tanzania .
Day 11
Nairobi - Maasai Mara.
0900hrs. Depart from our Nairobi office for a journey south along the floor of the Great Rift Valley . Lunch at Narok and then climb the western wall entering Hemmingway's country "Serengeti Plains". Arrive late afternoon in the Maasai Mara Game Reserve, with a game drive enroute. Dinner and overnight at the campsite.
Day 12:
Maasai Mara
A full day is spent game viewing across the rich, tree-studded grasslands and rolling hills. The famous Mara is renowned for its great herds of plains game, including some of the largest lion prides in Africa , as well as leopard and cheetah. It also has numerous elephants, rhinos, giraffes, African buffalo, zebras, élan, gazelles, and virtually every type of wildlife to be found in Kenya . Dinner and overnight at the campsite.
Day 13:
Maasai Mara - Nairobi
After breakfast depart for Nairobi . Game drive enroute. Drive through Maasai country interacting with the Maasai, the traditional "keepers" of this spectacular wilderness. Enjoy a picnic lunch enroute and arrive in Nairobi in the afternoon.
Day 14:
Farewell, evaluation, and end of program.
*The proposed itinerary is a sample and is subject to change to meet the changes in the local field conditions .
Program Fee Covers:
Domestic, in-park transportation in a modified 4-wheel-drive vehicle including a releasable roof hatch for documenting the experience
Foods/Meals as per itinerary
Services of a professional safari guide
All wildlife reserve entry fees and camping fees
Comprehensive insurance
Fee
excluded
Airport Drop-off
Tips (for safari guide and/or camp staff)
Other items of personal consumption (i.e. soft drink, bottled water, etc.)